Hanne Jarmer is the inventor of a wall-mounted robot that exercises dogs' brains. She is also a role model for female entrepreneurs who generally find it far harder than men to attract investors.
Hanne Jarmer can thank her two dogs for becoming an entrepreneur. They needed good stimulation every day, especially when left alone at home while she worked as head of department at the Technical University of Denmark, DTU. This challenge made Hanne Jarmer think hard about how she could keep her dogs healthy and happy.
"One morning I was with my two dogs, I had the idea of combining hardware and software to make a robot that could give the dogs little tasks to solve in order to be rewarded with treats. I wanted to give my spoilt dogs tasks so they did not simply empty their food bowl before spending the rest of the day on the sofa."
She immediately started investigating whether this was a unique idea, and to her joy, she could conclude that nobody so far appeared to have had the same idea as her.
It took her nearly five years from idea to production and the first sales. Today she is the CEO of Go Dogo, a company with six employees plus the canine game testers Lous, Leo and Falka, who are also models for the company's marketing department. 
Special investor codes
The invention is based on technologies like machine learning and game development combined with dog psychology. In practical terms, it is a robot in the shape and size of an ostrich egg which is linked to the internet and your TV.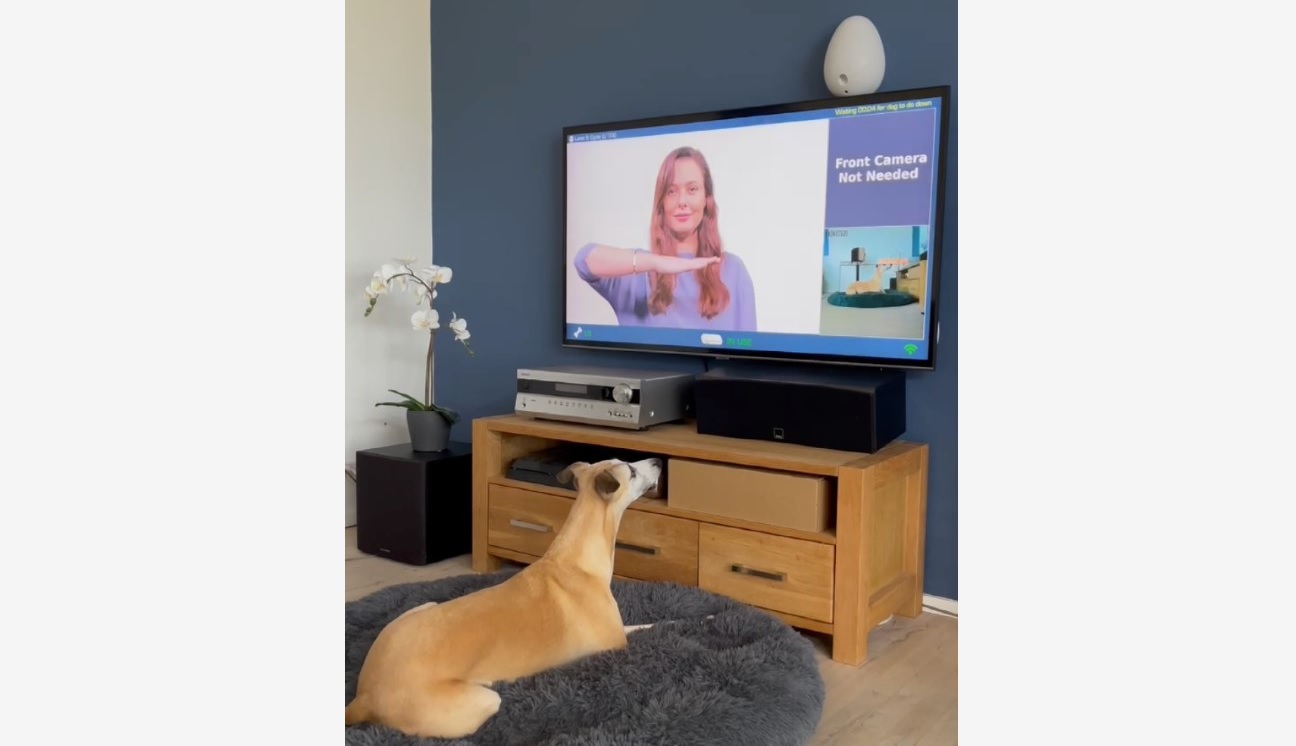 The robot "spits" treats when its built-in video function detects that the dog has performed certain tasks – for instance sitting, lying down or standing up. There are eight levels, and the dog gradually learns what to do in order to release a treat.
Each time a new trick is introduced, the dog is first rewarded just for waiting for increasing periods of time, up to three minutes.
"This is a good waiting game, but if the dog gets a bit tired and sits or lies down – which most dogs do every so often – it is immediately rewarded with a 'Good boy!' and a treat. So the dog quite quickly finds out how it can avoid waiting and it is ready for the next level and a new challenge," explains Hanne Jarmer. 
Unlike with other products on the market, with Go Dogo, there is no need for the dogs to have physical contact with the machine in order to release a treat. 
"This removes the risk of a keen, hungry or frustrated dog starting to gnaw on the machine, which can lead to the dog damaging their nose or paws or swallowing splinters," says Hanne Jarmer.
She has needed to raise capital from several sources in order to develop and produce Go Dogo. Hanne Jarmer is a trained chemical engineer and believes the fact that she has always worked in male-dominated sectors has helped her in her dialogue with investors.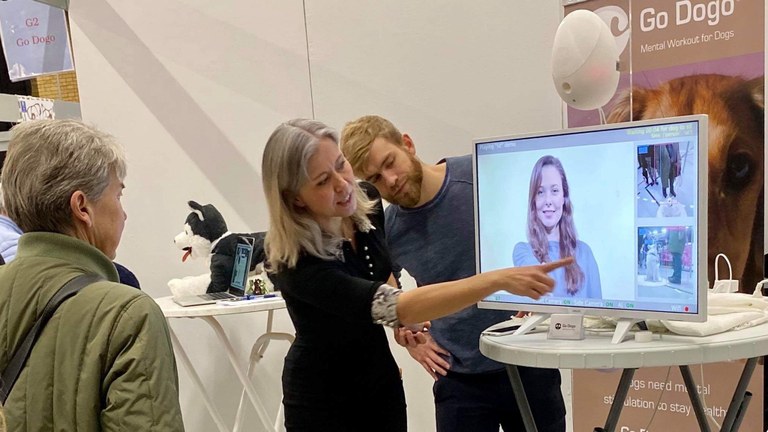 To create a mental workout for dogs, you need investment capital.
"Securing capital as an entrepreneur can be an uphill battle if you don't know the investors' unwritten rules and codes. It can be even harder as a woman because the majority of investors are men. Personally, I think I have had a small advantage as a woman because I have always been used to navigating professional projects with a majority of male colleagues."
Aiming for gender balance
When Hanne Jarmer wrote her PhD thesis, she was the only woman among 20 academics, and other students and lecturers were also predominantly male. Now she has created a company where there is a gender balance both among staff and in the leadership, something she is very pleased about.
"I feel that having gender balance has a positive effect both on the wellbeing of staff and the company's results." 
On the investor side, there is no gender balance, however. Only four of Go Dogo's 20 investors are women. And Hanne Jarmer is the only woman among Go Dogo's founders. Her three co-founders are all younger men who she got to know while studying at DTU, and who have been part of the team developing Go Dogo.
Hanne Jarmer is one of the female entrepreneurs that the Danish Chamber of Commerce highlights in their 2022 report "25 female entrepreneurs you should know". It focuses on how Denmark and the other Nordic countries could promote more female entrepreneurs.
Nordic region lags behind
Both Denmark, Sweden and Norway lag behind the OECD average of new, female entrepreneurs, the report says. Far fewer women than men become entrepreneurs. For every 10 male entrepreneurs, only six women in Denmark, five in Sweden and just four in Norway become entrepreneurs. 
The report also shows that female entrepreneurs face obstacles more often than men when trying to raise capital for their companies. Just 1.5 per cent of investments in Danish startups go to all-female startups. One of the reasons could be that many venture capital firms have very few women partners. Four in five European venture capital firms have only male partners, and Danish 'business angels' invest 90 per cent of their capital in all-male startups.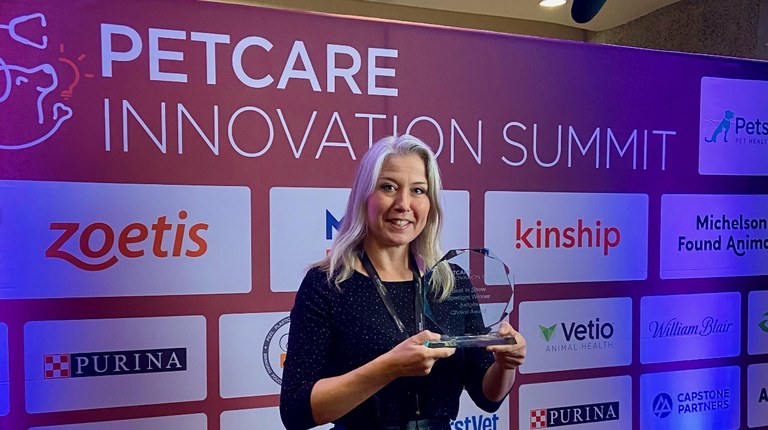 Go Dogo has equal gender representation in their workforce and on the board.
The Danish Chamber of Commerce wants to end this disparity, and also works to increase the number of female board members. The Chamber's own board welcomed Mia Wagner in 2022. She is a former participant in the well-known pitch and invest TV series 'The Dragon's Den'. She is the co-founder of Nordic Female Founders, which works to promote more female entrepreneurs by investing in startups with a diverse gender mix.  
A need for role models
One explanation for the low number of female entrepreneurs, according to the Chamber of Commerce's report, is that fewer than one in six Danish entrepreneurs have a female role model. The number of female entrepreneurs who name a female role model is rising though, and it is a development that pleases Hanne Jarmer.
"Role models are incredibly important. When girls and women meet someone from their own gender who dared to become entrepreneurs, it becomes infectious."
That is also why it is important to choose the right examples of entrepreneurship to present in primary and secondary schools and later on, she thinks. 
"Show the girls how entrepreneurs can create something that makes a difference for someone."
Hanne Jarmer's vision is for Go Dogo to become a large international business and to use the technology for a range of applications in the future – including online veterinary services for dogs and training dogs to tolerate loud noises like fireworks and thunder. She will also not rule out developing Go Dogo to activate indoor cats too, although cats have less of a need for activation and generally are harder to activate than dogs. 
"The great breakthrough is within reach now, as the robot's last teething problems are nearly cured," she says.