Mass production of fossil-free steel is to be the arrowhead of the green transition in Northern Sweden. The initiative aims to mitigate climate change and meet the world's needs for sustainability. With it come many new jobs and a need for new housing.
It is hard to see exactly where it starts and where it ends. The area where H2 Green Steel plans to construct their steelworks measures 2 square kilometres, if you do not count a green area which the company has proposed to use after a dialogue with various authorities.
"The green area is meant to be set aside for amphibians and precious plants, but might also be used by staff and neighbours," says Erik Bohman, the head of unit in Boden.
Forest was cleared after the municipality recently made way for new buildings. This is where the Nordic Labour Journal meets Erik Bohman to gaze across the Norrland landscape around Boden, an inland municipality bordering Luleå. It is around 130 kilometres from the border with Finland. 
Ready to start construction
As soon as all permissions are ready, H2 Green Steel will start constructing the plant which will use hydrogen for the large-scale production of what is called fossil-free steel. On their website, H2 Green Steel write: 
Our green steel reduces C02 emissions by 95 percent compared to traditional steelmaking. Our long-term aim is a completely fossil-free manufacturing process.
"We have applied for an environmental permit and would like to start construction as soon as we have a so-called building judgement, which is part of the overarching permit process. This is what we are planning for. If things do not turn out that way, we have a plan for that too," says Erik Bohman.  
The technology for producing fossil-free steel already exists, but only on a smaller scale. 
Many kinds of sustainability
Erik Bohman was born and raised in Fagersta, 170 kilometres north of Stockholm, while both his parents come from Norrland. But other factors besides family links made him choose to work for H2 Green Steel's plant in Norrbotten, Sweden's northernmost county. 
"I worked with steel in a different company earlier, and we had begun experimenting with hydrogen to reduce CO2 emissions. When I met some of the founders of this project, which is so groundbreaking in so many ways, I felt it would be very exciting to join them," he says. 
What Erik Bohman calls groundbreaking is, according to himself, the actual technology, the sustainability perspective and creating desirable products although there is not yet a great demand. He likes the ambitious environmental standards too. 
"We want to be part of the wider society and be a positive force through sustainability in all its forms. I am not only talking about the climate perspective but about social sustainability too," he says.
H2 Green Steel was founded in 2020 by investment company Vargas, which is also the main shareholder. Vargas is also one of the founders and main owners of Northvolt, the company building a battery factory in Skellefteå in Västerbotten, the county to the south of Norrbotten. 
Vargas' experience from Skellefteå will be useful in Boden, explains Erik Bohman. This is why he and the steel company believe they can be ready for large-scale production as early as 2025 – as long as the necessary infrastructure for the energy needed to run the plant is in place by then.
Existing energy
"The energy is there, in rivers, in the wind. That is not what we worry about. What we are looking into is how to get it to the plant so that it is available where we need it. It takes time to get the transmission capacity in place," says Erik Bohman. 
The electricity transmission system operator Svenska kraftnät has got the government's go-ahead to invest 8.4 billion kronor (€796.4m) in transmission and power stations along the coast of Norrland as part of the green expansion happening there.
"Only partners like Svensk kraftnät can solve this, as they are responsible for the transmission system, and this work is going to plan," says Erik Bohman.
To produce steel you need iron ore. This is extracted from mines and according to Erik Bohman, Norrbotten has Europe's largest iron ore deposits. 
"It is good if we can buy iron ore locally when we need it, but if we can't we will import it from abroad. Perhaps from Brazil," he says, ruling out both Ukraine and Russia as iron ore providers. 
Another initiative
H2 Green Steel are not the only Swedish company wanting to produce fossil-free steel. The competitor is called Hybrit, an acronym for Hydrogen Breakthrough Ironmaking Technology. The owners are the steel company SSAB, the mining company LKAB and the energy giant Vattenfall.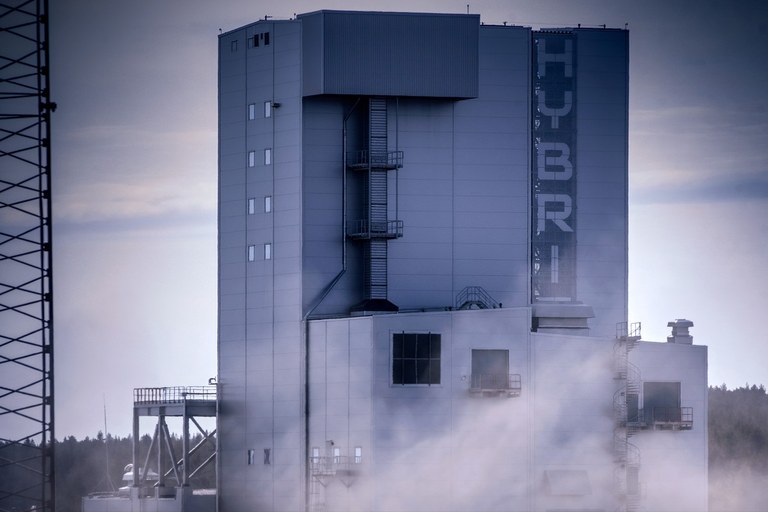 Hybrit's pilot plant in Luleå.
Like H2 Green Steel, Hybrit's business model is based on using hydrogen to produce steel and reduce the large amounts of CO2 emitted by traditional steel plants using coal and coke. 
Hybrit runs a pilot plant in Luleå. The company says it has already delivered its first batch of fossil-free steel to a customer. 
H2 Green Steel has yet to deliver any product. Yet a press release dated 10 May says orders for half of what the Boden plant will be producing by 2025 are already in place. That amounts to contracts worth more than 100 billion kronor (€94.8m). Among the buyers are BMW, Electrolux and Scania. 
New workers
The construction of H2 Green Steel's steel plant in all its stages will need a labour force of 4,000 to 5,000 people, predicts Erik Bohman. When the plant is ready and produces fossil-free steel, it will employ more than 1,500 people. 
Most of them will be in various operational jobs. Others will work with safety and sustainability as well as with different types of automation and digital solutions, explains Erik Bohman. 
"The trickiest recruitments might be for jobs involving hydrogen solutions and the reduction of iron ore. This is a technology that does not yet exist in Europe, so we will have to recruit from countries where it is more commonplace." 
In parallel with international recruitment, Erik Bohman believes H2 Green Steel will also hire local people.
Local knowledge
"The fact is that so many people live in the vicinity of the steel plant. In a one hour radius by car around Boden, you take in Luleå and other towns too. There are long traditions and a lot of knowledge linked to mining and steel production here, so we might be able to recruit some of the labour force from the local area," he says.
Erik Bohman also believes they might recruit people who now work in the health sector and who want to try something new.
"Our plant will not be a workplace where there will be a lot of hard physical work, unlike in traditional steel production. We value precision work more, and will make conscious decisions to employ a diverse workforce, including an equal number of men and women," he says.
Although there will be some local recruitment to the steel plant, the majority of labour will come from other parts of Sweden, the Nordics and the rest of the world, since right now there are few people in Norrbotten who have no work.
Low unemployment
Norrbotten has one of the lowest unemployment rates out of all of Sweden's 21 counties. Norrbotten is on a shared fourth lowest place with Halland. Only Västerbotten, Jämtland and Gotland counties have lower rates.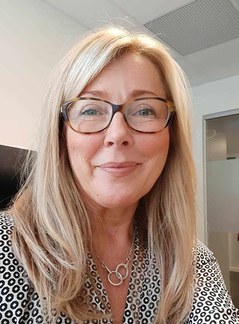 The numbers come from the Public Employment Service, where Marita Lundgren is in charge of the whole of Norrbotten county.
"If you look at the employment service's business model, how our resources are being allocated, unemployment is one of the parameters. That means Norrbotten does not get the largest share, which is a challenge when you work in a county that is developing fast," she tells the Nordic Labour Journal.
Last December, the government tasked the employment service with providing upskilling during larger expansions and the establishment of new business. Norrbotten and Västerbotten were mentioned because of the large-scale change to fossil-free production within the region's base industries. 
"We will be reporting back on 1 June about progress on a local, regional and national level," says Marita Lundgren. 
Digital platform with international reach
The local Norrland recruitment programme T25 aims to attract 25,000 new talents Norrbotten and Västerbotten over five years. It was set up in 2019 as a cooperation between the Luleå University of Technology and several major businesses, including the SSAB steel company, LKAB mining company, Boliden metal company and software company Mobilaris.
The T25 cooperation also resulted in a digital platform – called Minddig. It went live last year and has a lot of useful information for people with poor or no knowledge about Northern Sweden. 
There is information about the green revolution and some Norrland places, how life is like in "the Swedish Arctic", suggested wildlife adventures and details of which businesses operate here. 
The site also carries job ads and allows job seekers to upload their CVs.  
But there are also local initiatives that work with upskilling.  
Hope to create 15,000 jobs
That is the reasoning of Luleå and Boden. Both municipalities have therefore started cooperating to meet the demand for skilled labour.
The cooperation follows the model for upskilling created by the labour market administration in Luleå municipality called Kompetenslotsen (the competence pilot). The model has four keywords: coordinate, cooperate, guide, develop.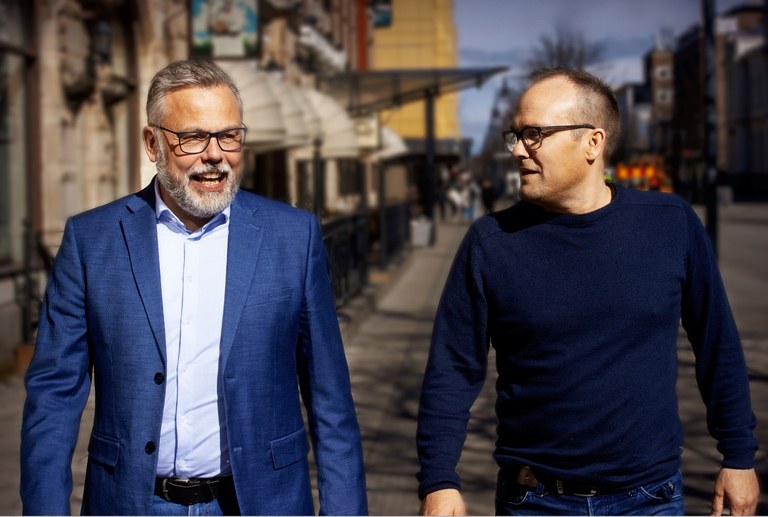 Viktor Kåreborn and Björn Markinhuhta.
"We believe the green transition will create 15,000 new jobs in our region. That number includes those who build and work in the new factories and the new jobs which they, in turn, generate in for example education, transport, trade and health care," says Viktor Kåreborn, one of two recruitment strategists who the Nordic Labour Journal meet at the Luleå labour market administration. 
The competence project tries to link city and countryside and has circled new job openings on the map in order to measure the commuting distance.  
"A new way of thinking is emerging," says Björn Markinhuhta, the other recruitment strategist.
To make the region more attractive for jobseekers, the two municipalities need to highlight the advantages of living and working in the region, believe the two recruitment strategists. 
"In Luleå and Boden, we can offer a great selection of good and interesting occupations. There is also a good number of small and medium-sized enterprises which means good work opportunities," says Viktor Kåreborn.
Matching, a top priority
Björn Markinhuhta is mainly working with internships. In order to map which skills are needed he visits active companies around Luleå och Boden. He talks to them about what training programmes might help match their needs.
Around Boden and Luleå there are smaller municipalities that have not managed to create the training programmes that are needed. 
"Within the adult education service we have something called Femkanten (the Pentagon), a cooperation between Bodens, Luleå, Pieå, Kalix and Älvsbyn municipalities," says Björn Markinhuhta. 
Those who enter the training courses come from different backgrounds and get different training plans.
New jobs for plumbers
Right now, internships are running for car mechanics, plumbers, property technicians and caretakers in a large training hall right next to Luleå airport. 
When the Nordic Labour Journal visits, an Audi sits on a vehicle lift a few metres into the air and in a bathroom, Moa Ekblom is busy installing a sink. 
"This work is much more fun than I thought it would be and not at all particularly messy. It is also satisfying to build and work on constructions that involve assembly, welding and soldering," she says. 
The accuracy needed for all the parts to work properly can be challenging, but it is worth practising for, she thinks. 
"I used to be with a removal firm but the work was too heavy. In future, I want to work as a plumber in Luleå where I live. There aren't enough of them so I know I will get a job after my training," says Moa Ekblom. 
Attracting local labour
There are some 3,000 people looking for work in Luleå and Boden, says Viktor Kåreborn.
"We want to get as many of them as possible into the labour market. We also have many students at the Lund University of Technology (LTU) who we hope will stay when they have graduated," he says.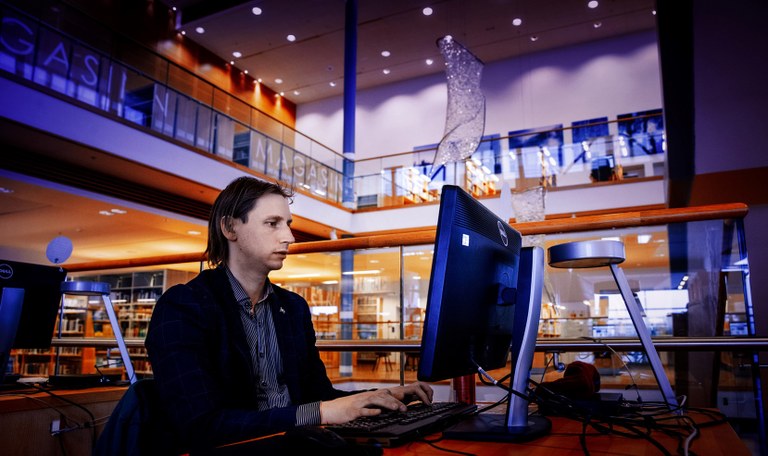 Dennis Larsson is studying political science, which will qualify him for a job as an administrator in public administration.
One of the students who has decided to stay is Dennis. The Nordic Labour Journal meets him at the city library where he is sat studying. 
"I read political science at LTU and have lived in Luleå for eight years," he says. His degree will allow him to work as an administrator in public administration. 
Cultural offerings
Dennis LArsson is originally from Stockholm, a city whose cafés have their own roasted coffees and where there are bakeries on every corner.
"But what I really miss is Stockholm's broad cultural offerings, although the big artists do come to Luleå too," he says.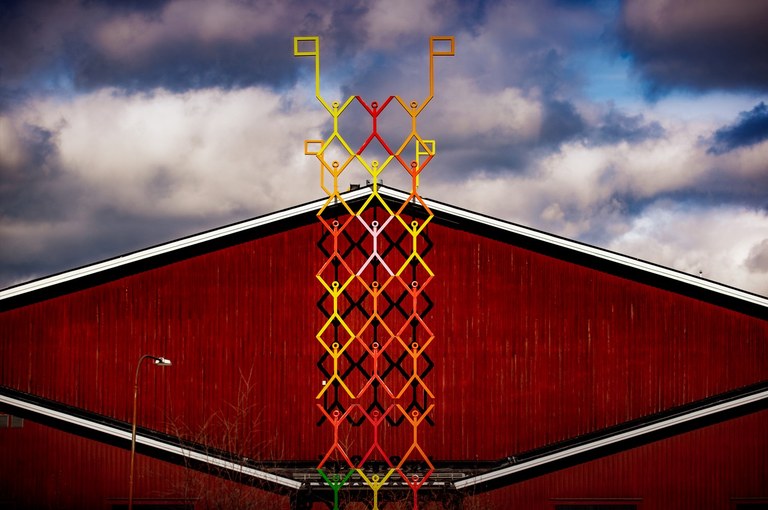 Norrbottensteatern is part of the Luleå cultural offerings.
Dennis enjoys the city where he studies, so it was not difficult for him to decide to stay. He is also pretty sure he will find a job here. 
"There is a desire for innovation in Luleå, the city is open to new ideas. And the entire area is growing too," says Dennis.
His view of the place is very different from what you sometimes hear about "tired Norrland", he points out.
Housing issues solved for now
Dennis Larsson's first home in Luleå was a small student room where he lived when he started studying at LTU. After meeting his partner, they moved in together in her flat. They are still there, now with their child.
"Luleå is a safe place to live for a family. It tries to be a small big city and I think it is quite good at just that," he says.
Dennis and his family want to move to a bigger place but are waiting until Dennis has finished his bachelor's degree before deciding whether to rent or buy.
Space for new residents
In Luleå, Boden's neighbouring municipality, the Municipal Chief Executive Anna Lindh Wikblad feels well prepared to welcome new residents. Luleå's housing plans work, she says. This is because the municipality discovered obstacles around the construction of new housing during the refugee crisis of 2015 when it was forced to take drastic action. 
"We are reaping the benefits from this now. We are in a good place when it comes to housing plans and our potential is large. We can move three times faster to become three times bigger," she tells the Nordic Labour Journal.
New housing projects in Luleå should be sustainable, using circular systems and high energy efficiency levels. They also focus on safety issues in order to create social sustainability too, explains Wikblad. 
"We will show that we are trailblazers when it comes to building sustainable societies up here in this Arctic environment, and we will share our values and do our job." 
Rising house prices
The Nordic Labour Journal joins a flat viewing and meets Daniel Larsson, franchise owner and estate agent with Svensk fastighetsförmedling in Luleå and Gällivare. He has been an estate agent since 2007 and is born and bred in Norrbotten.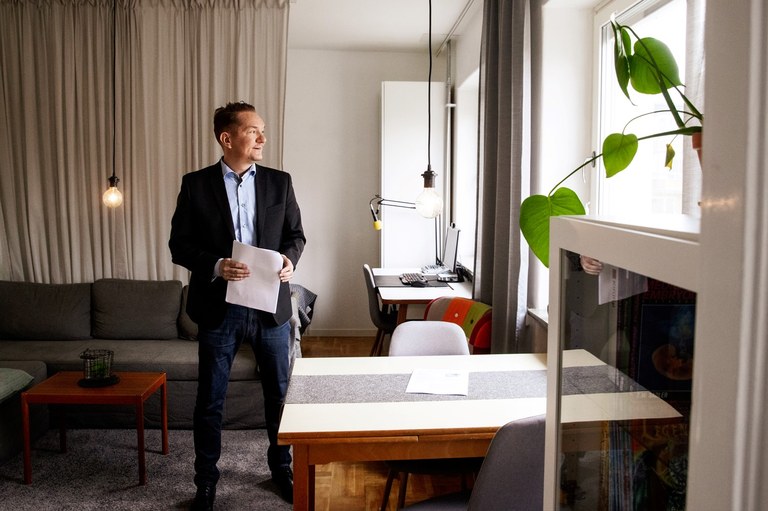 Estate agent Daniel Larsson.
The flat is in the Varvet neighbourhood, an area of central Luleå with many three-storey houses from the 1950s. The first question is about the price level. 
"The price of housing in Luleå started rising in the mid-1990s after having been relatively low for a while. After a few dips, for instance during the 2008 financial crisis, we now see a steady price increase," says Daniel Larsson.
He used to show mainly people from Norrbotten around, but now more and more of his potential customers are from elsewhere in Sweden and from abroad – mostly from Norway, Finland and Denmark.
"Some have come to work at Facebook's server farm which is located here, in the construction industry or in the health service. Others are starting university and need a place to stay," says Daniel Larsson. 
He tells us about the Kronandalen neighbourhood, known as Kronan. This is where the Luleå air defence barracks used to lie. Now new housing is being built, mainly leased properties and detached houses. As a result, the number of people living in the area is set to climb from around 2,000 to between 6,000 and 7,000.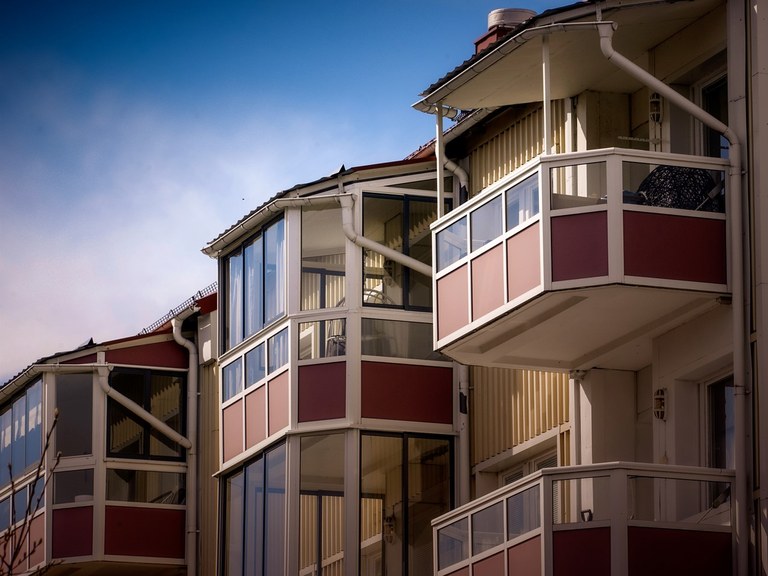 New housing is being developed in several places in Luleå.
"The municipality has a good plan for its housing programme, at least when it comes to apartments. There is a lack of space to build more detached houses, and the price of houses has risen more than the price of leased properties," says Daniel Larsson.
He is optimistic about the future. If the demand for leased accommodation and houses continues to rise, he believes it can be dealt with. The Luleå University of Technology offers a two-year estate agent course, so increasing the number of staff should not be difficult, he says.