The number of petrol stations has slowly fallen for many years. Soon there will be more EV chargers than petrol stations in Norway.
Electric cars have been jokingly called "chargeable torches" or "tablets". Norway is top in Europe when it comes to the number of EVs compared to petrol and diesel cars. The number of petrol stations has fallen for many years. New cars are also more fuel-efficient and people do not need to stop as often as they used to. 
Circle K operates the largest number of petrol stations in Norway. Dag Erik Juvstad is the manger at the Circle K Nidarvoll in Trondheim. He tells us that the number of EVs stopping there to charge has been increasing for a long time.
"Petrol stations must adapt because that is the only thing we can do. It will be a change, but income from fuel is not the most important for our station. Getting more customers who spend more time with us while charging their vehicle is not a bad thing. On the contrary. That allows us to sell more food and kiosk items," he says and shows us the station's rich selection.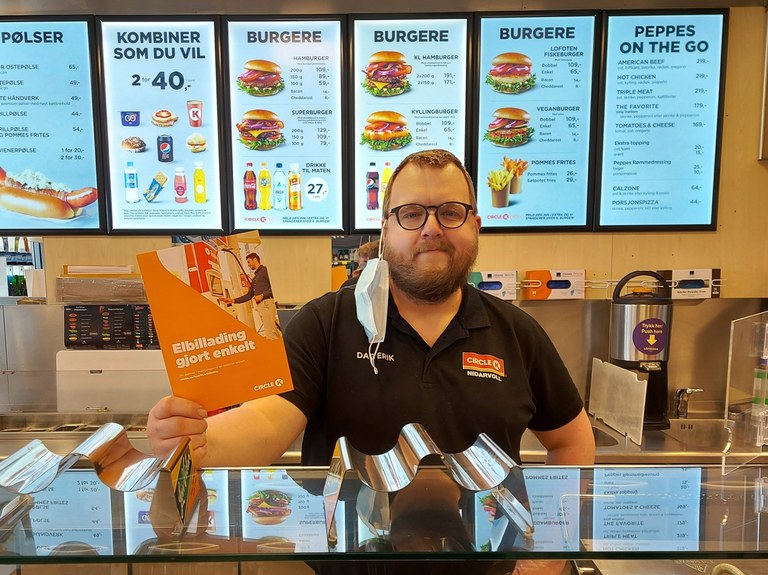 Dag Erik Juvstad
"I don't think we will have to cut jobs. Our focus is retail and food sales, and if in future we will have more customers for longer periods of time we might have to hire more people. But we do not know this for sure, it remains to be seen," says the experienced manager.
"Taking action now"
Lars K Bjørnå is a senior manager with Circle K Norway. He says they have around 90 EV rapid chargers across their 350 manned stations. New chargers are being installed at Circle K stations all the time, also in Sweden and Denmark.
"We believe a fall in fuel sales will have an impact on us as a company. Charging will become a more important part of our business. Financially, rapid charging cannot replace fuelling. We are dependent on selling the products and services we have today. This is what we believe in and are planning for, leaving room for hiring many people also in the future. 
"We will have to wait and see how the industry will be affected by electrification. We try to take action now in order to be ahead of the curve. Time will tell whether we succeed," says Bjørnå.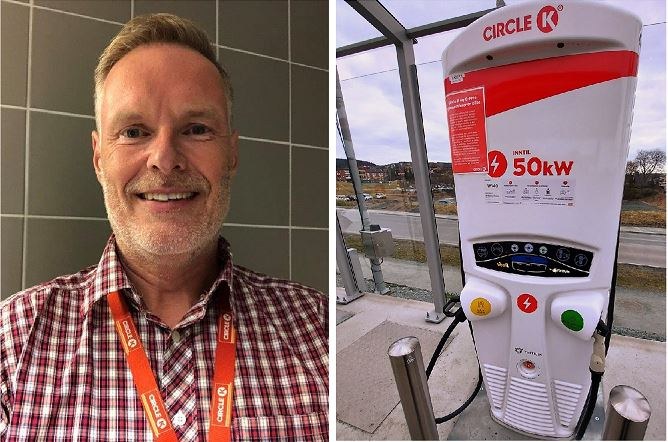 Lars K. Bjørnå is a senior manager with Circle K Norway, the country's largest petrol station chain. It is actively pursuing rapid charging for EVs. 1,200 new charging stations are needed to reach political climate goals. Photo: private
"So far, we have not seen a clear trend of fewer petrol stations as a direct result of an increase in EVs in Norway. We also do not think that more petrol stations will have to close in the coming years because of the increase in EVs," he says. 
In May, Circle K will open their first petrol station with solar panels. Together with the energy producer Glitre, they will charge a gigantic battery pack. This will be used to supplement the grid while EVs are being charged at the station. 
"This pilot station will look at the effect of electricity from the solar panels, and the possibility of regulating the charging effect based on the load on the grid," he says. Using solar power could bring EV charging prices down.  
In 1969, there were 4,215 petrol stations in Norway. By 2019, 1,709 remained, according to Drivkraft Norge, the trade association representing fuel and energy companies in Norway.
New words and goals
The move from fossil fuel to electric cars is part of the green shift. The new word of the year in 2015 in Norway was "grønt skifte" or "grønn omstilling" – meaning green shift or green change. The words mean a general shift towards a more environmentally friendly future in accordance with the UN sustainability goals.  
So far the term has no clear definition, but has gained traction in the Norwegian language and is often used in political rhetoric and in the media, according to the Great Norwegian Encyclopaedia.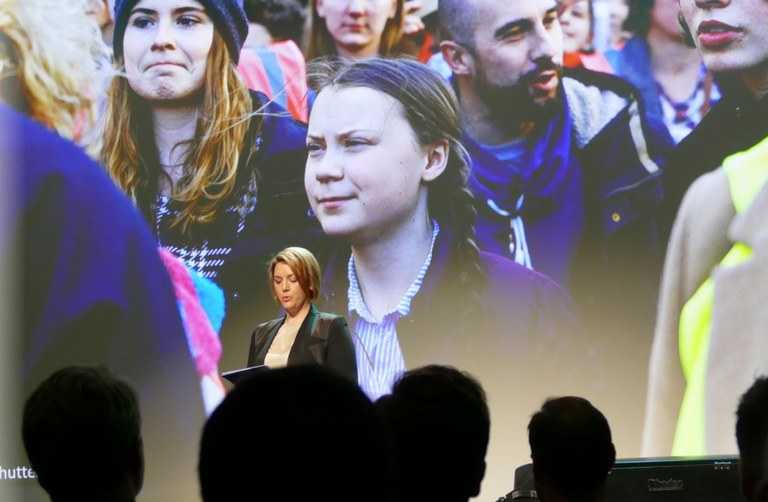 Christina Bu speaking at an EV conference in Oslo. Greta Thunberg (on the picture behind) has criticised Norway for its oil exploration activities. Yet no other country sells so many EVs compared to fossil fuel vehicles. Photo: Björn Lindahl
Christina Bu is the Secretary-General of the Norwegian EV Association. She explains that the Norwegian parliament has decided all cars sold after 2025 must be emission-free. Which means electric cars. Today, 3,460 cars can be charged at rapid chargers simultaneously. There are three types of chargers available in public spaces – superchargers, rapid chargers and normal chargers. The time it takes to charge an EV vary from 30 minutes to a few hours. The total number of public chargers is now 15,361. 
The association is lobbying for the installation of as many chargers as possible in other service areas – like petrol stations and shopping centres. That allows EV owners to do something other than just waiting for the charge to finish.  
"We need to build at least 1,250 new rapid chargers a year in order to reach the goal which parliament has set for 2025. The trade responsible for installing charging stations has sped up, but things are not moving fast enough.  
"The number of cars per rapid charger has fallen somewhat, but more is needed. The government must make it easier to build new charging stations. One goal is for all municipalities to have at least two rapid chargers so that EVs can be run just as easily as ordinary cars," says Bu. 
She says more charging stations were built in 2020 compared to 2019.
"Still there are long charging queues on busy days like the beginning of public holidays, Fridays and Sundays."