What do I wear? That could be this autumn's great question for many who will be returning to work after the holidays. Many Finnish employees have been working from home since March 2020.
Corona restrictions have led to furloughs or shorter working hours for many people. What to wear might not be the biggest problem, but it still matters. And there are people who are ready to help. One of them is Else Lindroos, fashion advisor at Stockmann department store in Helsinki.
She has given much thought to this autumn's fashion. She knows what to recommend and what Finns want. Right now, people are buying loose-fitting colourful clothes in Stockmann's summer sales. This autumn things will turn a bit conservative and colours will change. Chocolate brown looks set to become the post-Corona comeback fashion colour in offices.
The trend for soft fabrics is visible elsewhere in Finland too. Underwear that has traditionally been an intimate piece of clothing has broken out and become fashion. Do not be surprised if you spot a pyjama or nightdress on a Nordic street corner or at a workplace this autumn!
Scandinavian design post-Corona
Finnish fashion sense has traditionally been fairly strict and conservative. But this was changing already before the pandemic hit. Helsinki is about to see a looser kind of fashion.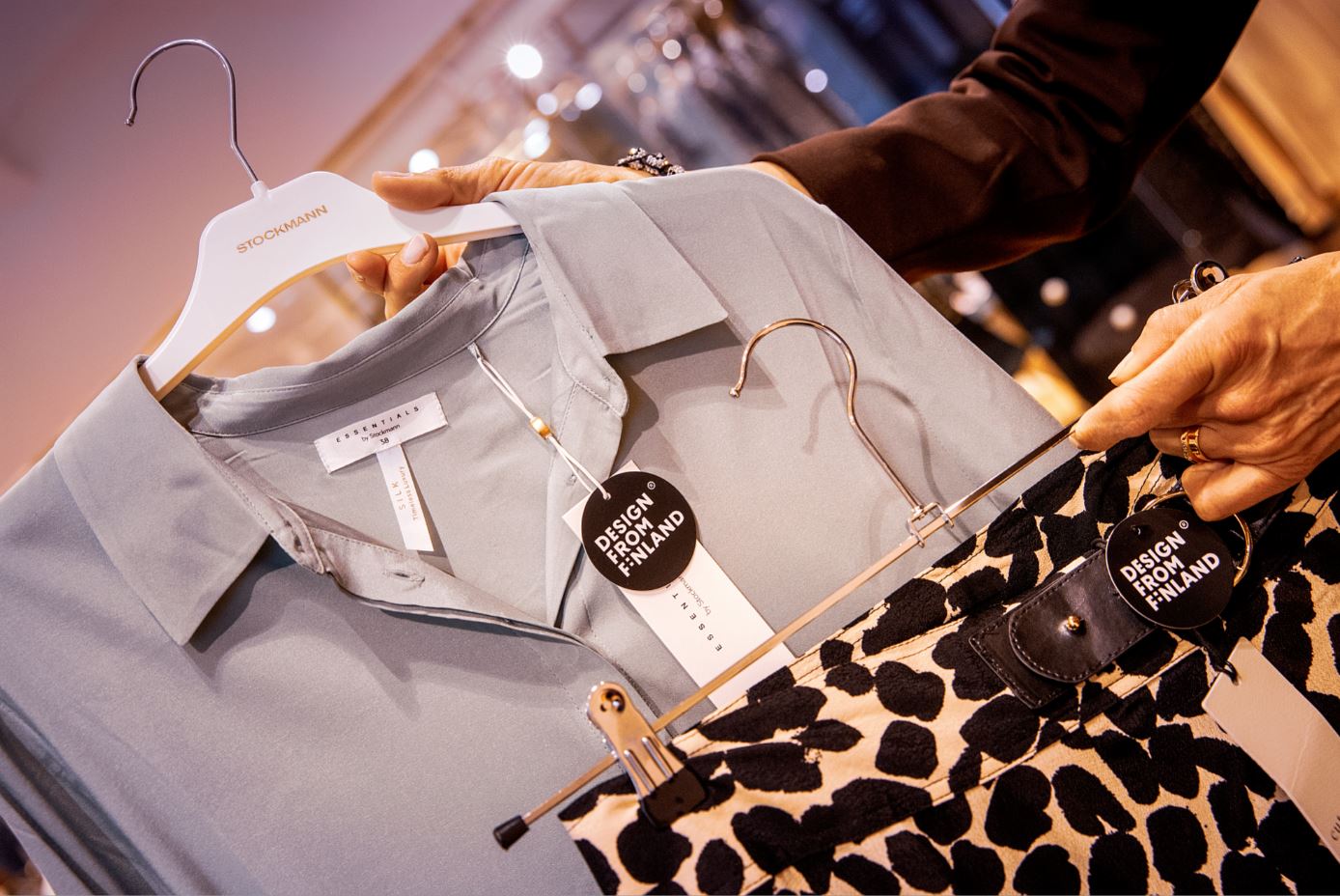 Inspiration is being sought from the many clothes designers in Denmark and also from some in Sweden. Popular sports garments come from Norway. At Stockmann, they are talking about "self-confident and inclusive Scandinavian design."  
"They are always a little ahead on fashion and they seem to be happy in their clothes," says Else-Maj who often used to go to trendy Copenhagen to check out clothes – back when this was possible. 
Many of her customers want something stylish yet relaxed, "a bit like they dress in Denmark." The term "hygge" covers interiors and lifestyle, but you can see it in the way they dress too. 
"The Danes look like they have just thrown on what they happen to have lying around. There is something unplanned about it and it looks good," she says when describing the individual style found in that country. In Sweden, almost everyone has the same style when something is in fashion, but in Denmark, colours define a more personal style. 
We want clothes for the whole body
When remote working began to dominate, the fashion industry discovered something. Many started focusing on tops only – the bits that were visible during online meetings. People have been mostly buying shirts and blouses, perhaps some jewellery and scarves. But below that, not so much – because it has not been visible.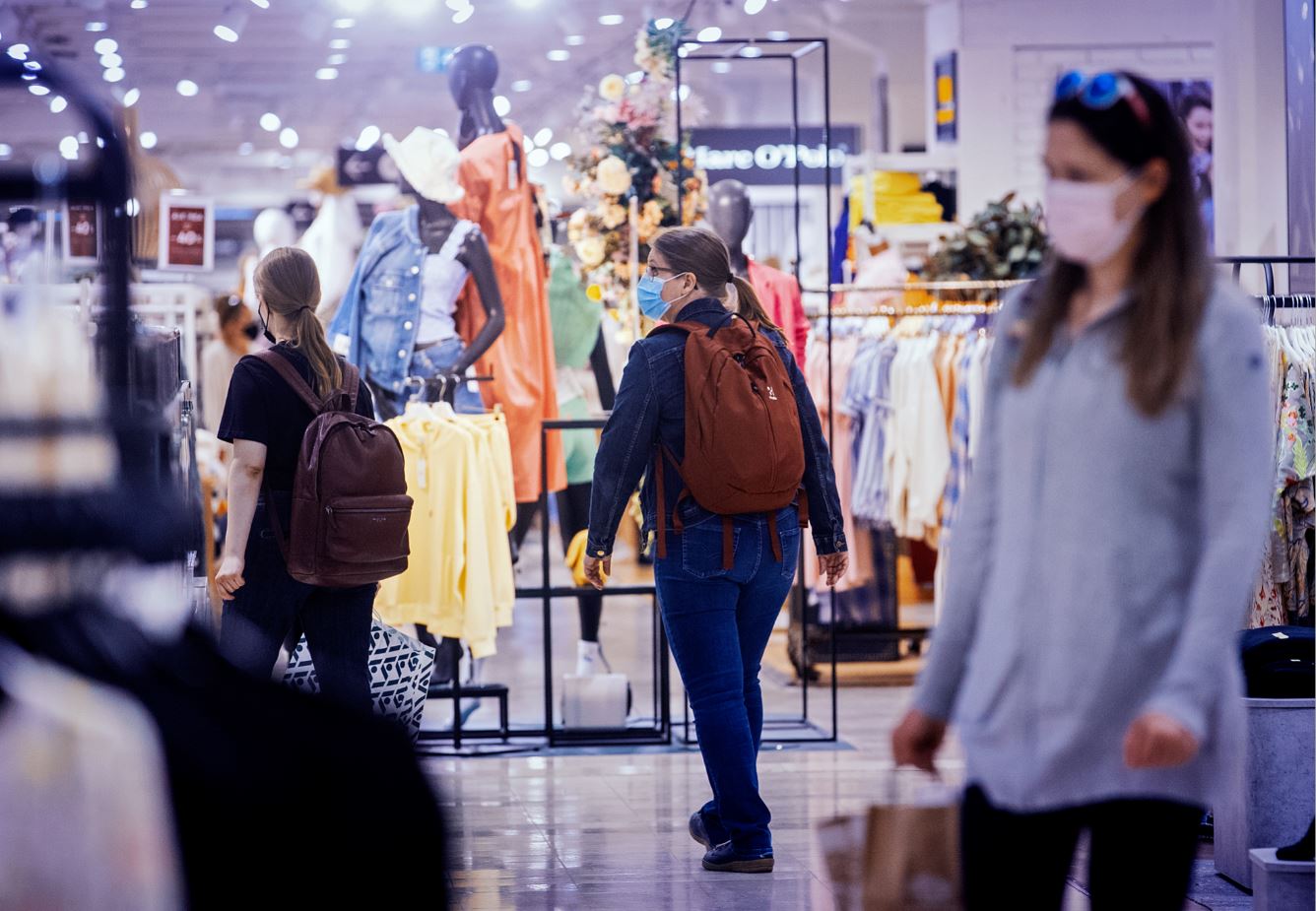 When Finns finally can go shopping again, they look for different clothes compared to before the pandemic.
Finns are tired of sitting at home. Else Lindroos saw this among her customers in Stockmann's fashion department. They might not have bought any new clothes for a year. When they enter out into the sunshine they want something other than their grey and boring joggers.
Finns will most probably not move straight into suits this autumn, but just be comfortable and stylish. There are many suits with elastic waists, promises Else Lindroos. She encourages customers not to simply chose black but to choose colours.
Stockmann's annual report talks about adapting to changing customer needs during this extraordinary year. Customers behave differently, with fewer parties and meetings and more online shopping and working from home. 
Selections and deliveries have been adapted to softer and more comfortable styles. Clothes that have been ordered already have been redesigned. Undergarments, pyjamas and joggers have replaced last year's planned outdoor wear.  
Spicy, happy colours after the Corona tristesse
Else Lindroos explains some of what she looks for when she is seeking out something new and fitting together with her customers.
Silk shirts can be combined with trousers and dresses. Leather is always good and works both in hot and cold weather. Polo shirts are making a comeback this autumn. 
Many have sat at home in warm and cosy woollen socks in front of their computer. They might want to carry on wearing something soft, woollen and warm in combination with other items.  
Lace is also returning in the autumn for party occasions. And the trend colour is dark brown, for instance for the blazer. Under it, you could wear a T-shirt combined with shiny trousers.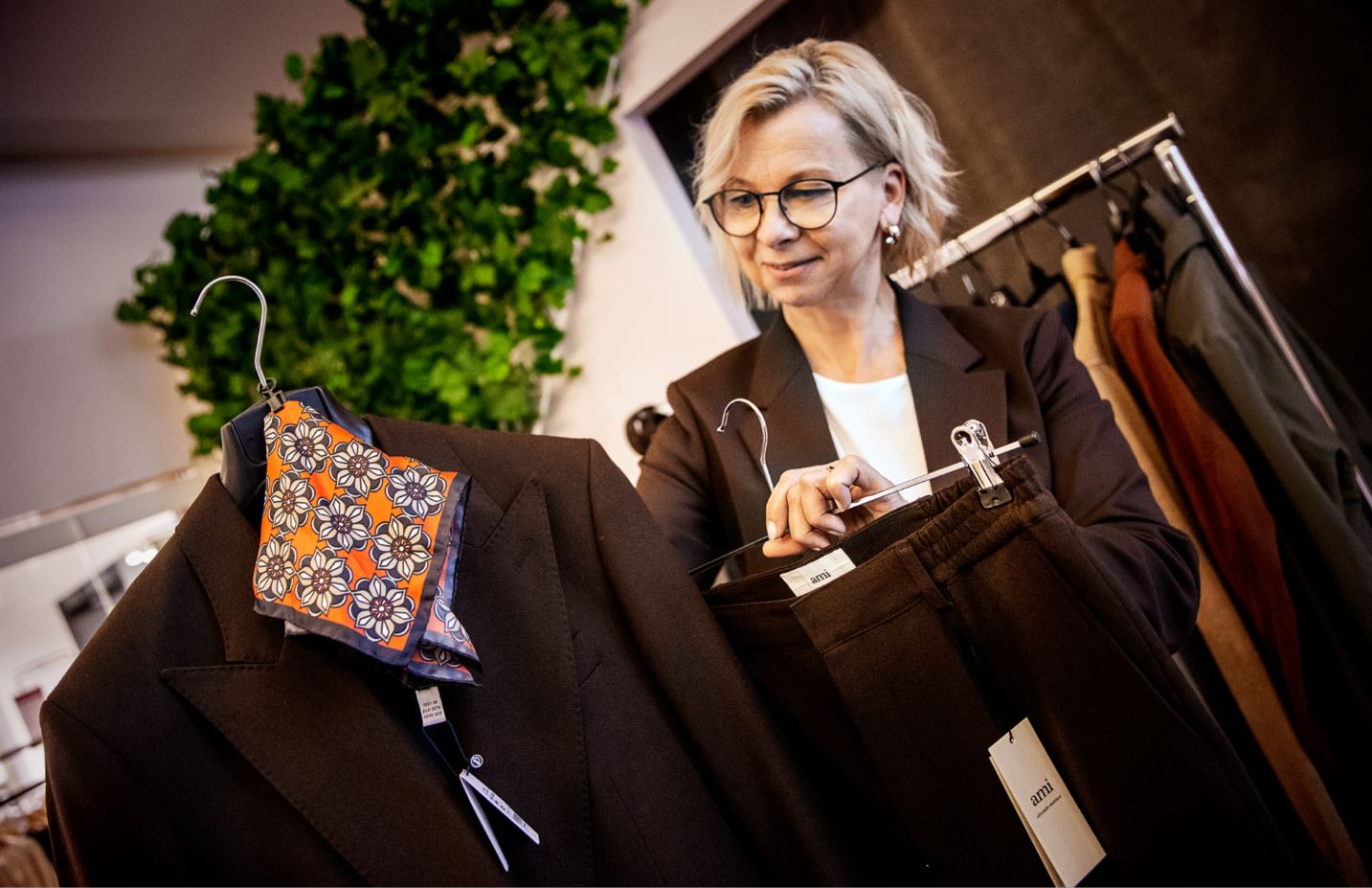 Else Lindroos choosing clothes at Stockmann.
"Some items will last you a week if you chop and change a bit. You don't need loads of clothes in your wardrobe, just mix it up a little. You should have comfortable outfits, a long woollen jumper goes with nearly anything and also works well as an overcoat." 
Else Lindroos talks about tights in different colours. These should be in spicy, warm colours that you find in nature. She thinks there will be a veritable explosion of colour. People want to demonstrate that you can once again dress up when it is possible to get out among people. 
Will the Corona kilos go?
This autumn, some employees will discover that their old clothes no longer fit them. Increased obesity has been a trend for a while in Finland. A fresh report from the Finnish Institute for Health and Welfare found that more and more people are overweight, and it calls the development worrying. 
Many have gained a few extra kilos from sitting still at home in front of the computer during the pandemic.
In 2020, 65% of Finnish men and 49% of women between 20 to 54 were overweight or obese, according to the Institute. Else Lindroos has solutions to this problem. But you should not count on the kilos disappearing along with the infection. 
"A vest or a tunic can cover up and hide some extra Corona kilos. That is why many prefer loose-fitting clothes, with or without a belt. Then you don't have to worry about your extra kilos showing." 
Else Lindroos also believes many want comfortable dresses in soft cotton. Shoes matter too. She predicts sneakers for everyday life and celebrations. In these, you can also take exercise and walk a bit further. Sneakers are also good for summer events, which are often held outside because of Corona restrictions. 
Many would perhaps like to go to a party in high heels, but when no parties have been held these shoes have been left alone, many customers complain. 
Dresses become comfort clothes
Both lady's and men's fashion have been inspired by our comfort clothes from the Corona period. Soft materials with elasticated waists, soft cotton and kashmir hoodies, also from luxury brands. The inspiration from home wear is also visible in men's suits.
Else Lindroos is showing us several different ones. They need not be very strict and uncomfortable she says, and demonstrates soft materials and elasticated waists. There is no stiff lining in the suit jacket anymore. Clothes are stretchy, easy to pack and they do not need ironing when you are allowed to travel once more. 
T-shirts are also used a lot in offices. They are comfortable and stretchy, have different structures and no buttons. Linen and woollen jumpers also work well this autumn. 
The most popular blazers are in fact a shirt in a soft material but with pockets. Ties seem to be completely out, but can be replaced by a scarf or the material in the blazer breast pocket. It sounds as if Else Lindroos would want ties relegated to appear only in funerals and in workplaces with a very conservative dress code.
Colourful clothes could mean success
Many people are regular customers. Others come less often. Else Lindroos mentions another group of people who need help this autumn. Those who have been on parental leave at home with children for a few years. They get help upgrading their style before their return to the labour market.
"After spending some years isolated with the children at home and in the park, you have been doing anything but checking out the latest fashion. This also makes it difficult to order clothes online, because the style and sizes have changed after three years."
Clothes and food in the same trolley
Clothes manufacturers have been facing hard times, and so have those who sell clothes and fashion. Finland's textile and fashion industries are hopeful that they can become an important sector once more, creating jobs and wellbeing. 
The Corona pandemic has damaged Finland's fashion industry, but this spring Finnish people rekindled their interest in clothes and new records were broken. At the start of the pandemic, many cut down on their visits to shops and tried to do all their errands in one go – including clothes shopping.
So now shopping for clothes is often combined with food shopping at shopping centres as families come out of isolation to make major purchases.
This way of shopping is most common among families with young children. Single people under 35 are also among those who have clothes and food in the same shopping trolley.
The pandemic led to a radical change in consumer habits. The demand for fashion dropped, as those working at the Stockmann department store experienced. But demand for domestic goods and cosmetics rose. The Lindex fashion house was the only one to maintain its strong position in the Stockmann group. 
Stockmann was already facing problems, but the pandemic meant extra challenges. The company has launched a root and branch review which has shaken the very foundations of the historic department store. Its Russia operations have closed down. Many departments have been reduced, closed or sold to be run by other companies.
The department store in the centre of Helsinki is being sold to pay off debts. The fashion deportments are currently responsible for 54% of turnover. The rest is divided between beauty products, furnishings and foodstuffs. But this year, fashion customers seem to be back, Stockmann points out.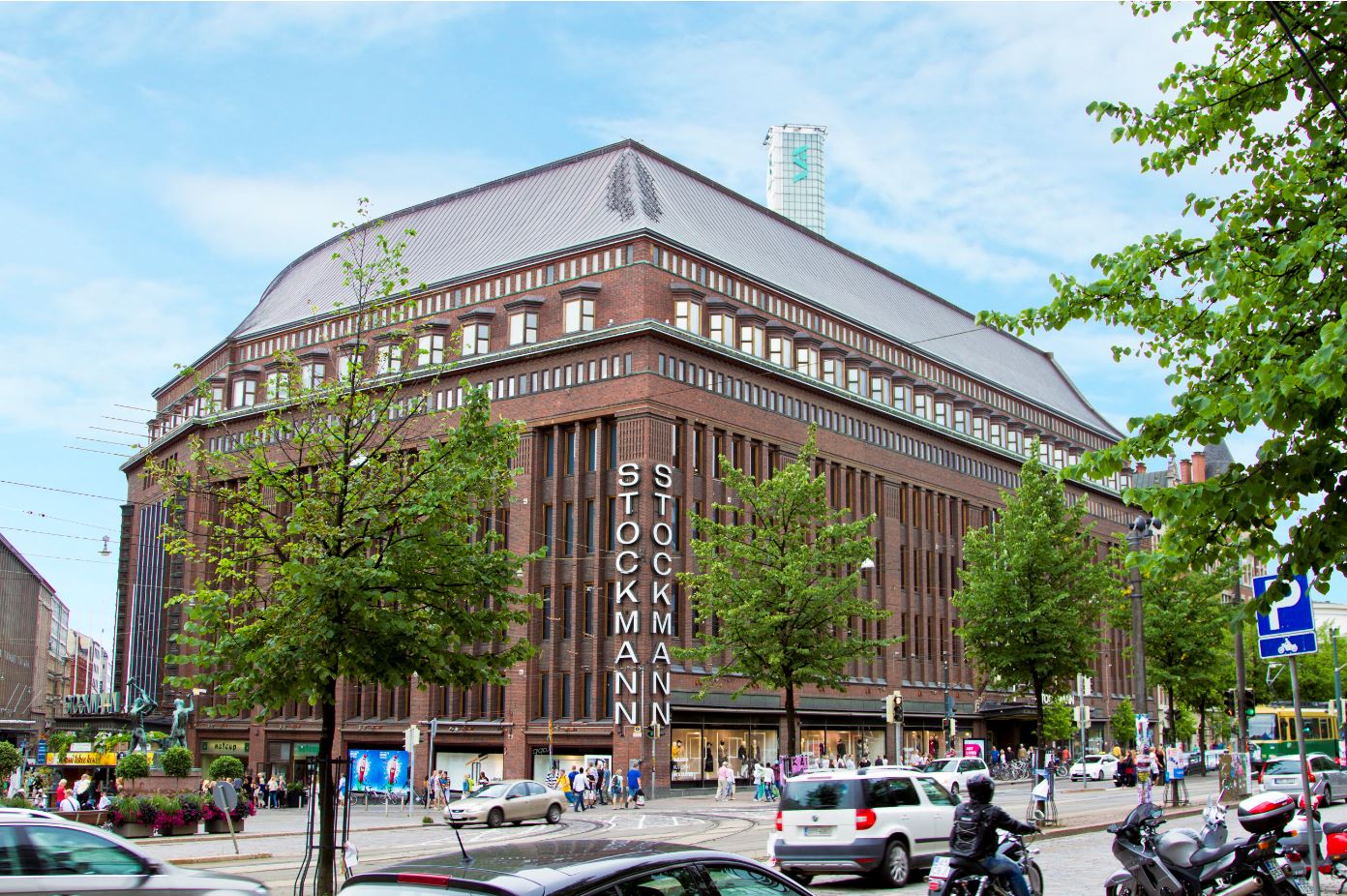 The Stockmann department store faced problems even before the Corona pandemic hit. Photo: Sektori, Wikipedia.
During the most severe lockdown when customers disappeared, new fashion services were developed. Else-Maj Lindros and her colleagues rang their regular customers to set up what Stockmann calls the "Remote Fashion" service. The fashion advisors presented suitable clothes online after a conversation with the customers and later delivered the chosen products to them. 
It became a way of surviving the Corona crisis. 
How do you find a standard that fits all?
"It should be easy and not difficult to buy clothes. You should not have to worry about having made the wrong decision afterwards," says Else Lindroos.
The department store's window display is again relevant as many people have hesitated to enter because they have been afraid of contamination. Buying from fast-fashion chains that offer cheaper clothes online which are not meant to last, means there is a higher risk of choosing the wrong thing.
Else Lindroos can see the downside of online shopping. In the worst case, you have to return all the clothes that you ordered and tried at home, only to see nothing fits. 
Despite the existence of many international standard measurements for clothes, you need to know different producers' way of measuring. Many women have three different sizes depending on which fashion house they buy from. Many different body shapes and national traditions make a common measurement solution difficult.  
Politicians – the missing customer group
Marimekko is one of Finland's best-known brands. Five ministers in the current government have been wearing colourful Marimekko items in press conferences. Prime Minister Sanna Marin has been presented as a fashion icon in foreign media.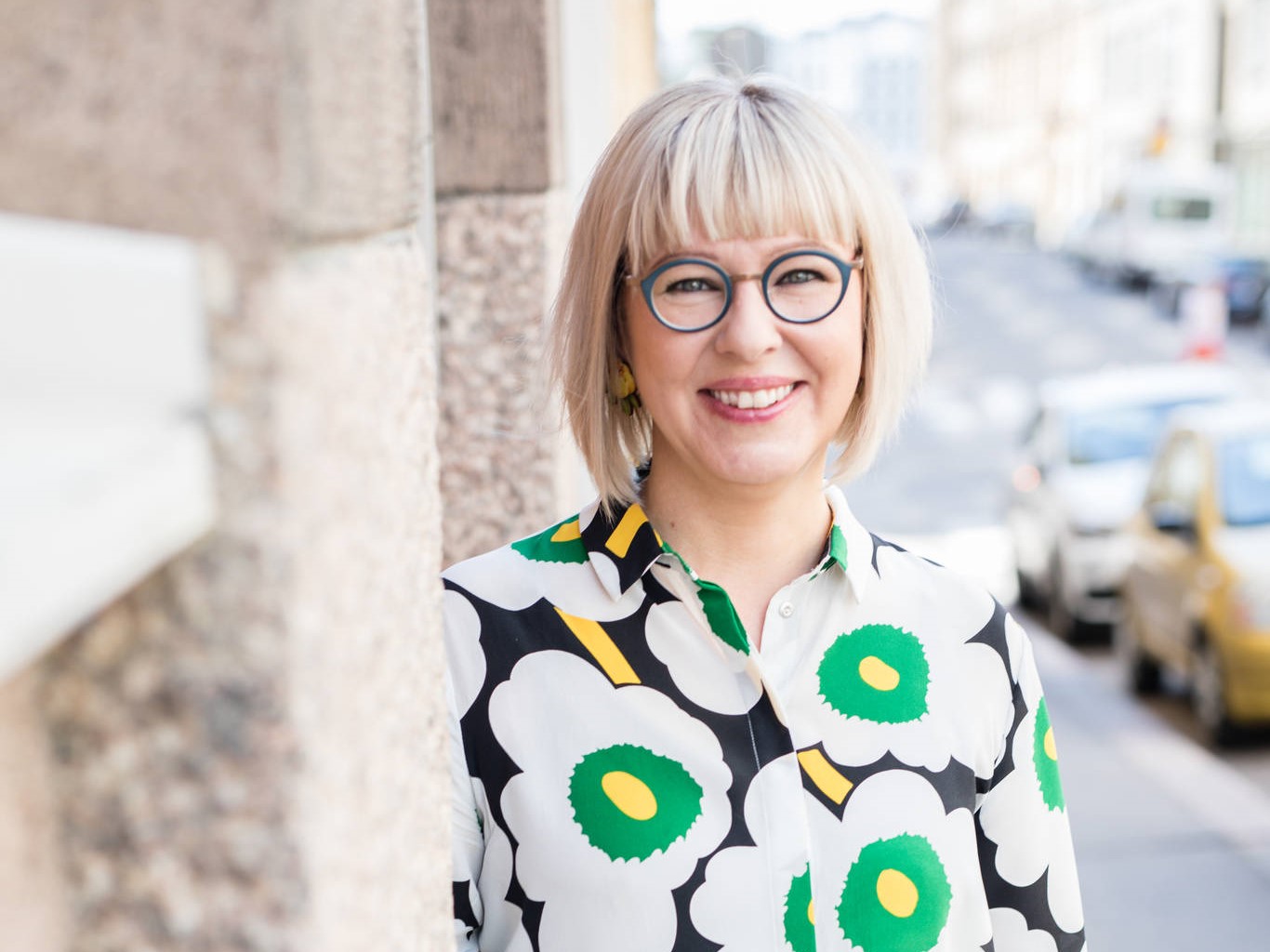 Minister of Social Affairs and Health Aino-Kaisa Pekonen is one of the Finnish government ministers who have been wearing Marimekko fashion. Photo: Laura Kotila, Ministry of Social Affairs. 
It is important that government ministers wear colours and patterns, especially when these are made in Finland. This also has an effect on customers. Marimekko's clothes were the first to sell in Stockmann's summer sales, says Else Lindroos. Many customers want to buy domestic brands in order to support the Finnish fashion industry.  
Else Lindroos would have liked to see more politicians visiting. During the municipal elections in late June, she felt candidates did not pay attention to their clothes, and hence not their voters. This is particularly important in Finland where you vote for individual candidates and not party lists. They could do worse than getting some fashion advice before going to the photographer.
"These are the only pictures you have of a person who is running for office. What has the candidate put into the photo session which would make me want to vote for them? Do they look efficient, approachable and open?"
Else Lindroos is convinced you can do better in an election if you dress right. She underlines that most politicians do dress stylishly, and they have to go for style as they are representing Finland after all. She also does not want to criticise any particular style, but is happy to help customers find their own.
"I support personal styles, but you have to respect the dress codes."
The same limitations apply to politicians as for Finns in general: they are a bit boring and shy. We are a little conservative and not very adventurous in Finland. We do not want to stick out and disclose too much about our personality. Which means you do not dare to change styles even if it is tempting. Else Lindroos' advice is to pay good attention now, as so many things have changed.