To be of service. A task with varying content depending on the business. A common thread these days: How to best get through the pandemic. In Höganäs it happened on a local as well as on an international level.
Flexibility became a keyword once the Corona pandemic hit. There were new demands for strategic change and digital communications. Some businesses succeeded, others did less well. 
The company, the destination and the human being
The Nordic Labour Journal went to north-western Skåne and Höganäs. The city is also the centre of the municipality of the same name. It lies on the Kulla Peninsula, overlooking the northern side of Danish Zealand. A growing municipality with just over 27,000 inhabitants, it is known in the Nordics for its ceramics and beautiful nature which draws many tourists. 
We met representatives for three different businesses to find out how they have handled the pandemic and moved on: 
The head of HR at the international company Höganäs, which has planned for the worst and hoped for the best in country after country.

 

The former owner of the Höganäs Saluhall (market hall) that had made the city a destination for many travellers before it had to file for bankruptcy.

The deacon from the Church of Sweden, who had to look for other ways of having one-on-one conversations when the room in the parish hall was closed to visitors. It is her job to be of service – which is what links these three, although they operate in slightly different ways. 

 
We got to witness the measures taken to keep the business running as the pandemic brought infection and disease, risks of furloughs and redundancies, losses and bankruptcies. And we learned how two of the businesses felt restrictions in Sweden were far too general and not tailored to their different needs and abilities.
We met people willing to fight, change and cooperate and we met patience. There is also a strong desire to carry on working – albeit in different ways than people had planned. 
THE INTERNATIONAL COMPANY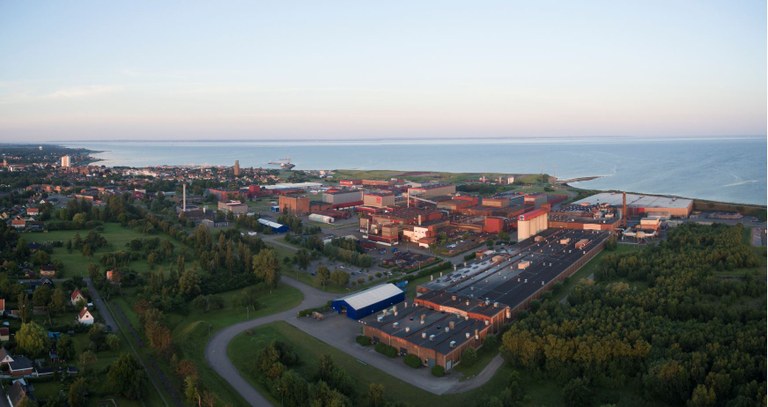 "Höganäs AB has managed to keep production going more or less continuously during the pandemic, but our sales have been severely hit by the closure of car and manufacturing businesses. There was a dramatic fall in orders particularly in the first quarter of 2020," says Lena Nordberg, the company's HR chief. 
This led to furloughs and the cancelling of summer jobs that year. Production also closed for one month.
This year none of this has been necessary. All furloughed staff are back in full employment and summer jobs are being filled.
From coal to powder
Höganäs AB is a company with a long history. It originates in the mining industry that sprang up in what was a fishing village in 1797. As the market for coal shrank, clay went from being a byproduct to becoming the main product.
A brickyard was created in the 1820s and soon after production of lead-glazed pottery began. Then came the brown salt-glazed jars, like the one Karlsson in Strindberg's novel The People of Hemsö carried around his neck as he steps ashore on the island and starts a string of events with dire consequences.
A billion kronor industry
Today, Höganäs AB manufactures iron and other metal powders. Its head offices are in Höganäs where more than half of production also takes place. The company employs some 2,400 people and its website can be read in six different languages. Last year's turnover was 8.6 billion Swedish kronor (€855m).
"From the very beginning of the Coronavirus outbreak we had two parallel aims," says Lena Nordberg. 
"To safeguard our employees' health and to safeguard operations. This has been and continues to be our main priorities."
When the Coronavirus outbreak in China became public, the company started planning for a possible spread in Europe and elsewhere in the world. All parts of the company were provided with a global checklist detailing routines for how to trace people with symptoms, the procurement of hand sanitiser and face masks, hygiene and more. Local Corona teams were also set up at all of the company's sites in 15 countries across four continents, explains Lena Nordberg.
"We even defined four phases in order to be able to assess which phase the respective countries were in so that we could get an overview of global measures when infection rates were different in different parts of the world. Europe went in when China got out."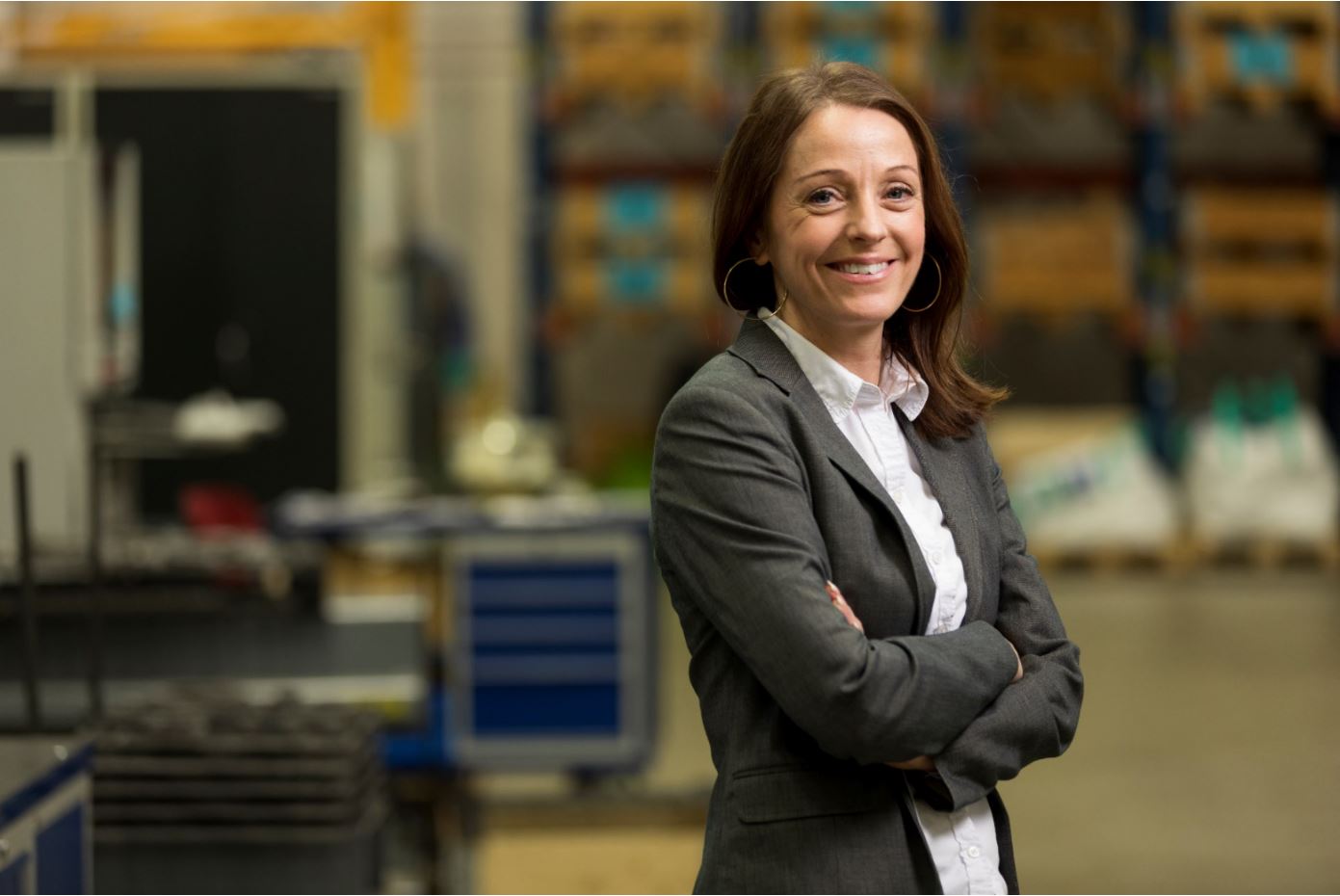 Lena Nordberg, HR chief at Höganäs. Photo: Höganäs.
The checklist has been expanded in step with new knowledge about the pandemic. Meanwhile, a  global Corona team has made sure safety routines have been in place in all the countries where the company operates. 
"This work is carried out within a global framework where safety routines are adapted to local variations. Beyond this, we have followed the rule in all countries that anyone who can work from home should do so. We remove as many people as possible from the plants and keep only those who are really needed there. 
"We also cut all travel at an early stage. This has worked well not only internally but also with our clients. We have taken a big step forward here and gained experiences which will be useful going forward."
To be on the safe side, a range of measures were also planned should the virus hit. The company simply chose to be proactive, which turned out to be a good strategy.
"In the beginning, we could of course have been thinking that all this is unnecessary, but we realised that if infection hit our plants we would not have time to write any strategies for safety routines and learn them. So we prepared for the worst and hoped for the best," says the HR chief.
Endurance put to the test
Although many countries are now vaccinating, the pandemic is not over. Patience is needed and people must continue to take precautions and follow routines. Reminders are therefore necessary, says Lena Nordberg.
Another challenge is the forced isolation that can result from working from home, impacting on employees' engagement and mental health.
"We have tried to coach our managers to have a presence and for instance check in digitally with employees. Like taking a few minutes to have a cup of coffee together and check what is on the agenda for that day or that week. Mangers have also been given guidelines for how to keep cooperation within the team going and my impression is that they have become good at this," says Lena Nordberg. 
Two surveys among employees in Sweden last year and this year show measures that the company leadership has put in place have to a great extent worked. Employees also feel the physical work environment and technology works even better now than last year, which indicates that they have got used to working from home and have learned how to use the new technology.
"A pandemic teaches us many things and it is hard, but it has also given us positive lessons. Like other crises, this has brought us closer together and strengthened our cooperation. Solidarity between the different countries has also been strengthened."
Solidarity
A friend in need is a friend indeed. During the pandemic, there has been an exchange of goods and services both internally and externally. At the Höganäs plant, old plastic foils were found and given to the Helsingborg hospital where they were turned into face shields.
Höganäs AB in Shanghai donated face masks to the Örebro hospital during a time when these were hard to come by in Europe. This happened with the help of the Swedish Chamber of Commerce in Shanghai.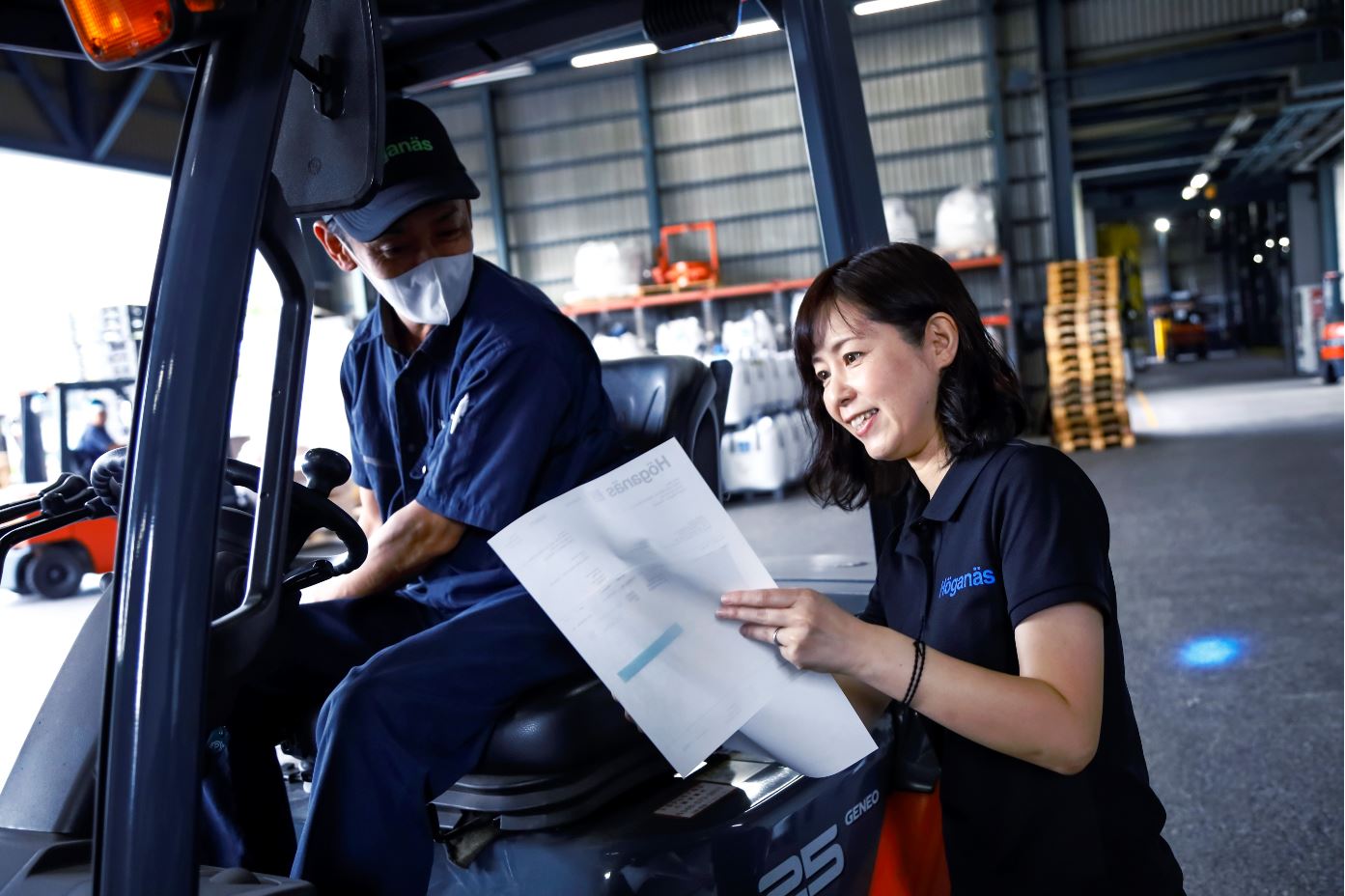 Höganäs  has activities in 15 countries on four contintents. Here is a picture from Höganäs Japan.  Photo: Höganäs AB. 
Yet another example is from this year, when a hospital in Indian Ahmednagar received 60 beds, hand sanitiser and face masks.
And before the infection spread to Brazil, the plant there donated face masks both to Germany and Belgium.
Global plan
The HR chief is now going through safety procedures for the different countries. Her task is to find out how the company can return to a close to normal situation around the world, where employees can work in offices and meet each other.  
"We have followed social developments in each individual country and have seen that infections within our company primarily happened outside of the workplace, so we can confidently say we have been good at protecting our staff and our plants. When things are now improving, there is time for reflection," says Lena Nordberg.
THE DESTINATION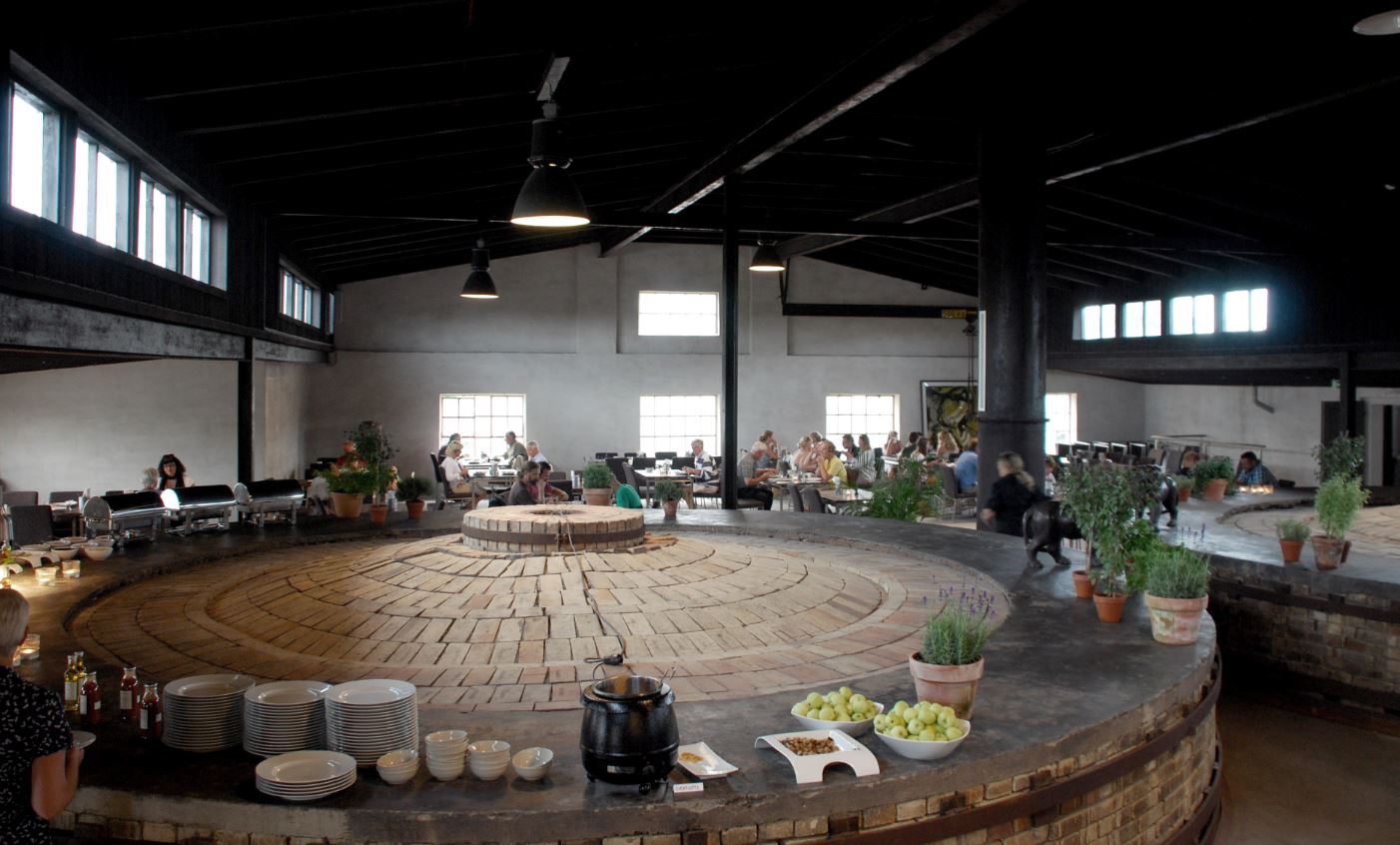 "A man rang from Umeå to book a table for 12 people. When I said that Saluhallen was closed he nearly started crying." 
It was Eva Dahlberg who took the call from southern Norrland. It was also she, together with her husband David Mill, who realised their idea in August of 2012 when they opened the doors to the new Höganäs Saluhallen. Here, visitors could have a snack and shop locally sourced food and goods. The place even got its own restaurant after a while.
The telephone conversation and the many long-term customers showed that the Saluhallen owners had succeeded in creating what most cities desire – a destination for visitors from near and far. 
"One merry-go-round does not make a fairground, but when Saluhallen had 300 paying lunch guests, others set up shop in its vicinity. There were potters, artist, a photographer and different shops," says Eva Dahlberg. 
So when the place had to file for bankruptcy in January this year, it was a great disappointment for many people. 
Direct from the hub
The idea to serve and sell food was not new for the couple. Eva Dahlberg had been the head of Grand Hôtel in Mölle since 1998, the fishing village just north from Höganäs which used to be known as a puddle of sin around the turn of the 20th century, where women and men went to swim in the sea – although they were wearing stripy swimsuits. 
"We could serve locally produced food straight from the food hub that the Kulla Peninsula is. But we couldn't sell it, and this triggered my husband and two of our staff. In 2004 we began travelling around in the area, knocking on farmers' doors asking them what they grew and whether they were interested in having their goods sold in a shop in Mölle," says Eva Dahlberg.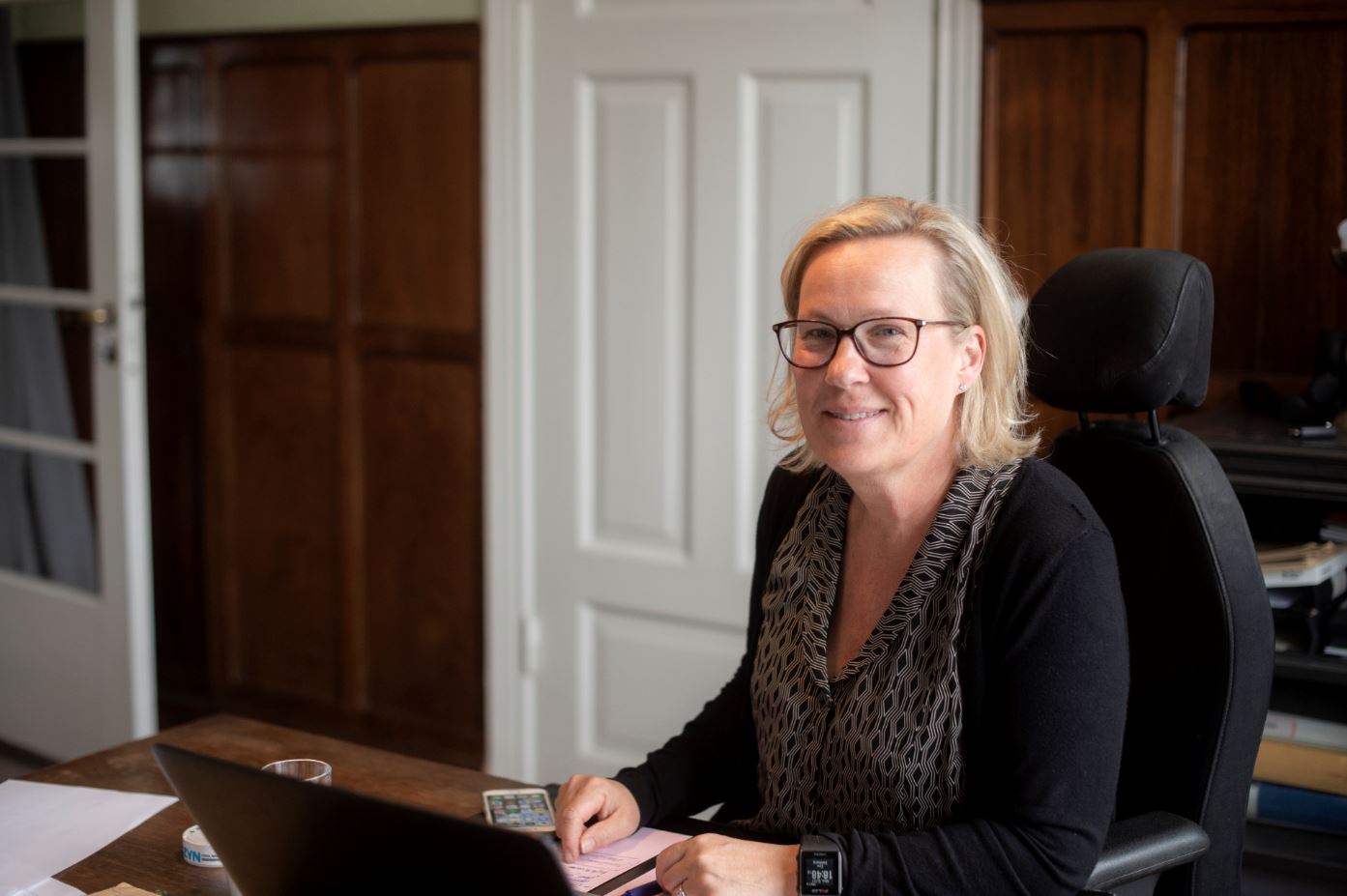 Eva Dahlberg, who ran the restaurant in Saluhallen in Höganäs with her husband.
Several of them answered yes, and the rumour spread. After a few years, the four partners could sell local produce from farms no further than 10 kilometres away.
"We had many lovely customers who shopped here, but the business did not turn any profit. At the end of 2006 we closed the shop," says Eva Dahlberg. 
Saluhallen – a symbiosis of food and drink
While the shop shut, it would turn out that the idea lived on. On a rainy November day in 2011, Eva and her husband agreed they should open a new food hub where customers could both eat and shop. They looked around for opportunities on the Kulla Peninsula and elsewhere, but soon realised they needed a location with soul, explains Eva Dahlberg.
"You can create history, but creating history with a soul takes many years. You need some sort of storytelling in order to really succeed." 
When the opportunity arose to hire space in the building where salt-glazed pottery used to be fired, they had found their space with both soul and history.
"We started building, fixing and pottering about without any architectural plans nor a business model. Food and drink would be in symbiosis with the old walls. We thought the idea was genius, but we did not have proper start-up funding. We had to create our dream and work with our own hands," says Eva Dahlberg. 
Instant success but falling revenue
It did not take long before the business needed more space. Within a week they had outgrown their lodgings. 
"We planned to start small, but the good news tempted visitors and it just carried on." 
Despite many visitors and customers, it became more and more difficult for the business to increase turnover. Instead, it fell. One of the reasons, according to Eva Dahlberg, was that the level of service was too high and the skills were not quite right.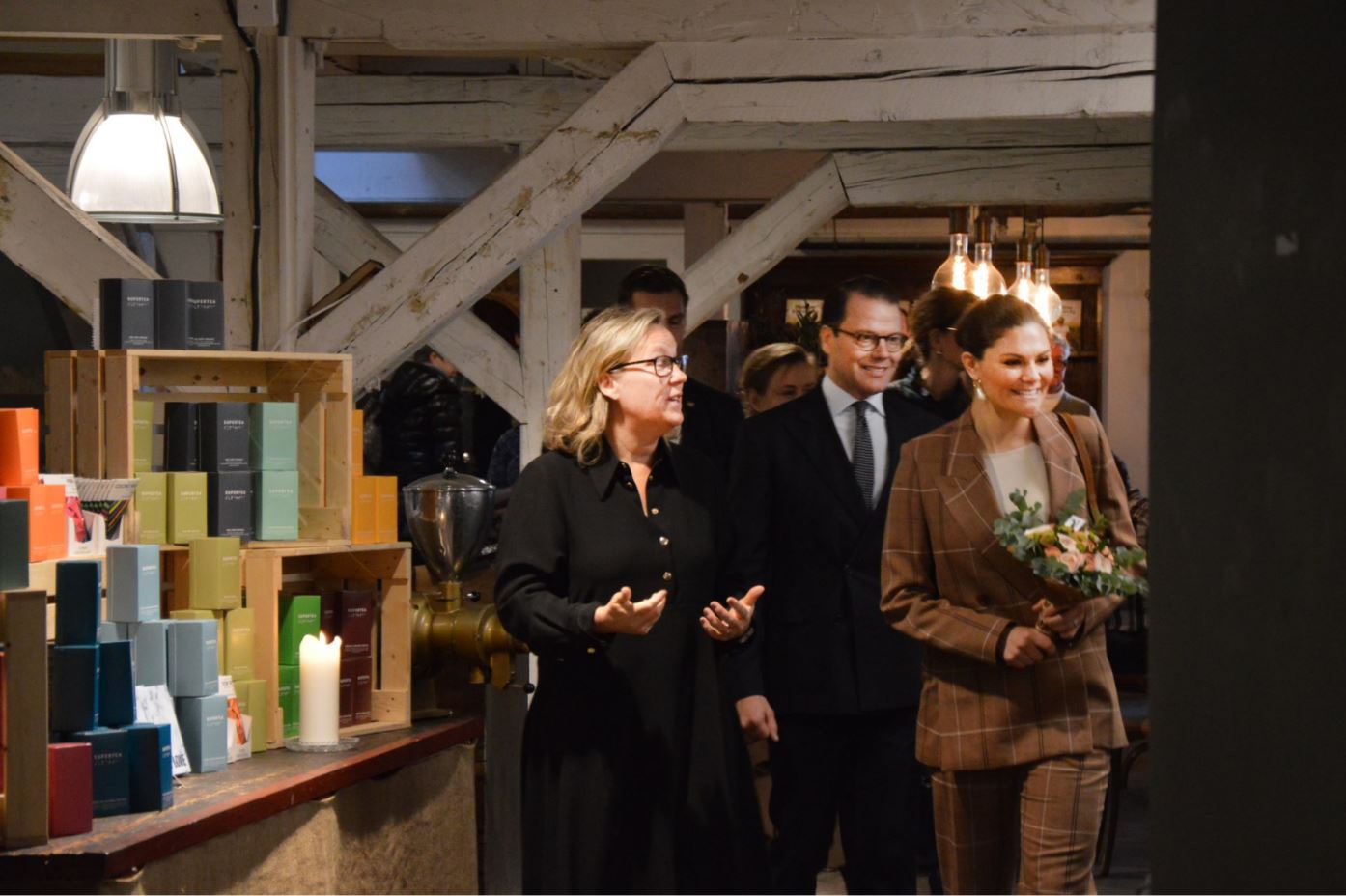 Eva Dahlgren shows the Swedish Crown Princess Victoria and Prince Daniel around Saluhallen when the Royal couple visited Höganäs. Photo: Höganäs kommun.
"We hired only trained chefs who could answer all questions and our labour force was too big. They were good at the hotel and restaurant trade, but less trained in how the retail side of things works," says Eva Dahlberg.
The worst possible timing
When the Corona pandemic hit in 2020, it was in the middle of the low season. There was no more money to put into the business. As a result, they had to file for bankruptcy in January this year and 15 staff lost their jobs.
"It takes several years to build a business but just a few minutes to go bankrupt," says Eva Dahlberg.
She is not a woman who is beat back by one failure, however. Last year she built a pastel-coloured ice cream kiosk named after her neighbour Carl Herman, who regularly looks after her dog.
The harbour also houses the old fire station where Eva Dahlberg and her husband used to run their bistro. Because of limited seating numbers combined with current restrictions, they put a container on the ground nearby to offer shawarma and they also bought the neighbouring boathouse to turn it into a rotisserie.
Far too general restrictions
At the hotel, many conferences, weddings and big dinners have been cancelled since the pandemic hit. Although the old building has two very large dining halls, restrictions are the same as for smaller dining rooms.
"It has been devastating for a business like ours that our trade has been portrayed as a contamination source where everyone is treated the same. At some stage, the restrictions should have been reviewed so that bars, nightclubs and restaurants with fewer than 25 seats should be able to close and claim compensation.  
"While we, who have the possibility to keep running the business with widely spaced tables should have been able to manage far better than what is currently the case," says Eva Dahlberg. She makes no secret of the fact that she is disappointed. 
At Grand Hôtel in Mölle, staff have had to go and others have been furloughed. Meanwhile, the challenge of inspiring the remaining staff remains. 
"It should be fun to arrive at work and to have something to do while you are there. So it is important to be creative," says Eva Dahlberg.
THE ONE-ON-ONE CONVERSATION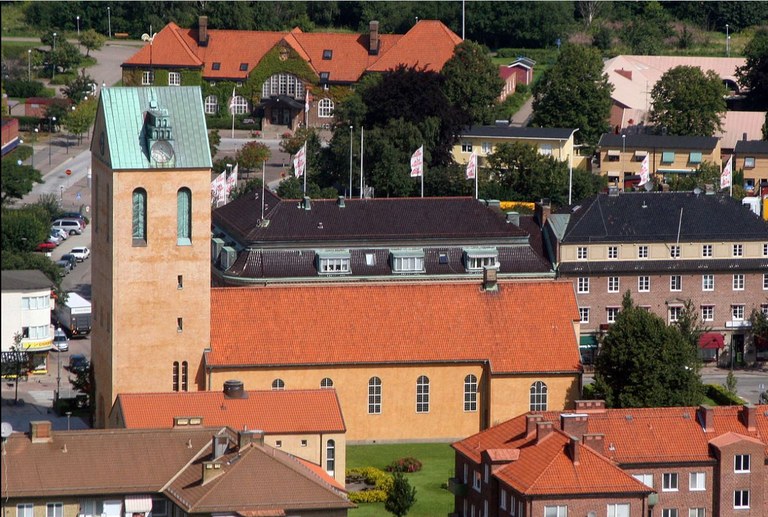 "Misery is great when people have been put face to face with their own situation. The pandemic has left many to ponder life and whether they can go on when they can no longer meet other people."
Ingela Rubin is a deacon with the Church of Sweden in Höganäs parish. She decided to train for this occupation after a personal crisis.
Anonymous and free
The word deacon comes from Greek and means to serve. Deacons therefore exist to help those who are in corporal or spiritual distress.  
"But I don't need to go looking for people," says Ingela Rubin.  
"People seek me. Perhaps because they know it won't cost them anything and because we do not keep written records."
The Church of Saint Clare in Stockholm is Ingela Rubin's inspiration. It is a compassionate church even for those who are hardest hit, as she puts it. The church is well-known for its soup lunches and its presence at Sergels square in the Swedish capital.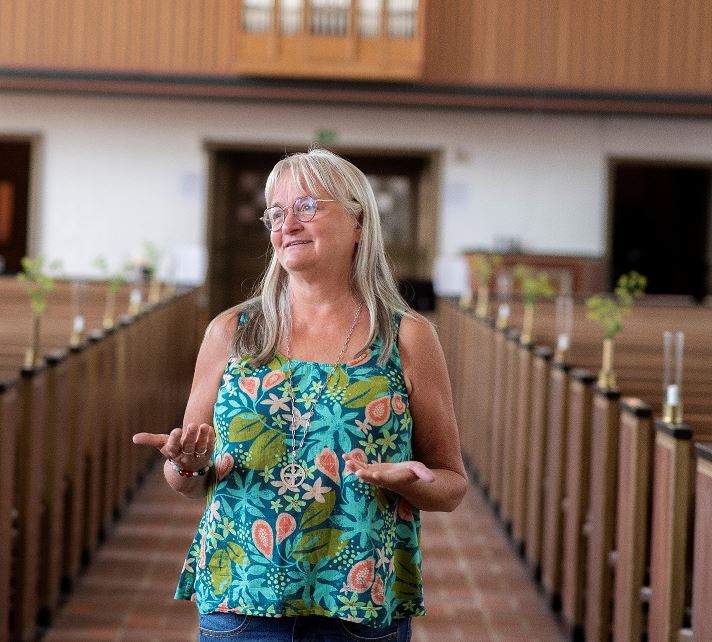 Ingela Rubin at Himmelfärdskyrkan in Höganäs.
"The pandemic put a stop to a range of face-to-face activities for our congregation, just like for so many others, says Ingela Rubin who despite it all has not been idle.
While she has not been able to welcome people indoors, she has met them in other ways. Sometimes she has put on her green deacon shirt and walked the streets to meet Höganäs citizens.
Another initiative has been to start a walkers' group for max eight people who meet every Wednesday at 10 am to walk along the seafront to Lerberget right south of Höganäs and then back through the forest.
"We brought coffee and sandwiches and walked no faster than our weakest link. One of the walkers said this is like my family, and it really is wonderful to take these walks together."
The one-on-one conversations Ingela Rubin normally has in her office at the parish house were replaced with walks when possible. Home visits were changed for telephone conversations.
"Conversations is what I have been missing the most during the pandemic. To be close to the parishioners and create meeting places for them when they perhaps needed it the most." 
She says she has seen more pain among people but also more honesty.
"They want to talk and are more open than before. Many people find release when they are really able to tell their story."
Ingela Rubin is the parish's only deacon until the autumn when she gets a colleague. Until then, she and the priests share the one-to-one conversations.
"All the work we do in the church is social work, so it is completely natural that we receive our visitors together," she says.  
A protest to the government
Restrictions in Sweden were eased somewhat on 1 June this year, which made it easier for religious bodies and others to welcome more visitors.
The Höganäs congregation is now planning for a normal autumn, like it would have been without the pandemic, but will still follow the public health advice like the rest of the Church of Sweden.
This has not happened without protest, however. On 8 February this year, during the stricter lockdown period, the Christian Council of Sweden wrote an open letter to the Swedish Minister for Culture and Democracy signed by the Church of Sweden and other Christian bodies. The letter questions the restrictions' inconsistencies using the Uppsala Cathedral as an example:
"Many of our church houses are large and should be able to house considerably more than eight people if we apply the square metre rule. The Uppsala Cathedral, for instance, should be able to offer space for 273 people for church services if the square metre rule is applied."
The letter got a lot of media attention and the Christian Council of Sweden together with other bodies were invited to one of the Ministry of Culture and Democracy's meetings with relevant parties to discuss pandemic issues on 17 February. An easing of the rules came June 1.