A stop to public performances gave choreographer Yaniv Cohen (42) the idea for Flekk. A faceless creature giving work to furloughed dancers and birthday fun to children.
A bright green monster sneaks into a garden at Tåsen, Oslo. Soon it will start wiggling and spinning to "Bad Guy" by Billie Eilish, while birthday girl Kaja Isachsen (10) and her family joyfully watch from a safe distance on their balcony. After ten minutes of dancing, the performance for Kaja is over. But for dance artist and choreographer Yaniv Cohen (42) the day has only just begun.
We meet him for an interview a few weeks later at a cafe behind The Royal Palace. The Oslo based Israeli has been dancing alone at 80 birthdays since he began doing this in April. The Flekk concept – where you get a free visit from a dancer to entertain children aged four to ten on their birthday – has spread to ten Norwegian cities since the start in Oslo. 
"I got the idea when my daughter was asked to draw a card for a friend in class, as part of her homeschooling. That made me realise that this is a special time for children. They don't get to celebrate their birthday," says Yaniv Cohen.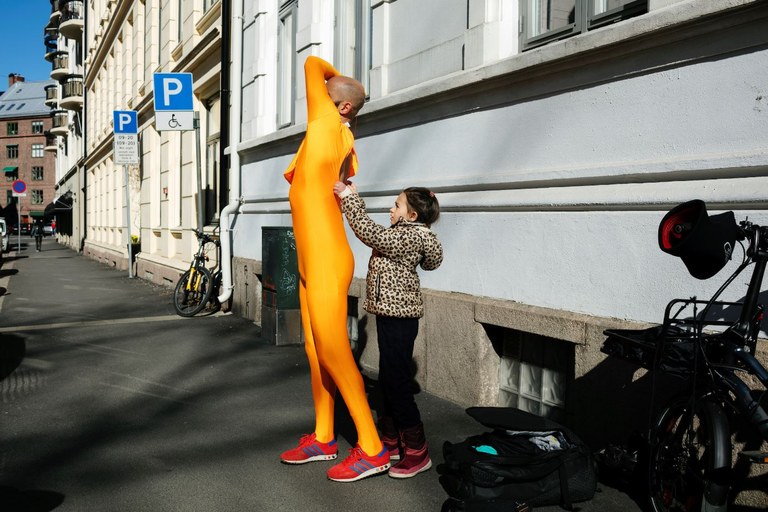 Yaniv Cohen gets help with a tricky zip from his daughter Lovi Cohen who was still seven when this photo was taken, just before a Flekk birthday in Frogner, Oslo.
"The dance performance I was due to premiere with this spring was postponed. At the same time, I had already finished my period of teaching at KHiO Oslo National Academy of the Arts. I suddenly had some time on my hands. It made me want to contribute with something that could make people happy."
Free at a price
With input from his eight-year-old daughter Lovi Cohen, who is a pupil at The Ballet School at The Royal Ballet, the Flekk character was born. One week later, Yaniv ordered costumes and a loudspeaker and got Lovi to film from a window while he danced in his own backyard in Old Oslo. 
"From the moment I put the video on Facebook, bookings started flooding in. The first week alone I danced at 29 birthdays," the choreographer says.
The big demand made him seek the cooperation of Dansens Hus in Oslo, Carte Blanche in Bergen – where Yaniv himself was a crew member and danced for eight years – and DansiT in Trondheim. The project now employs furloughed dancers who got in touch. After 15 years in Norway, Yaniv Cohen has learned to combine his passion and willingness to take risks which he says he has inherited from his native Israel, "where many artists work for free and live like dogs", and Norwegian red tape. 
Cohen funds his own work through a state artist grant and his KHiO teaching salary, and offers his Flekk services for free. 
"But the other dances are paid," he underlines.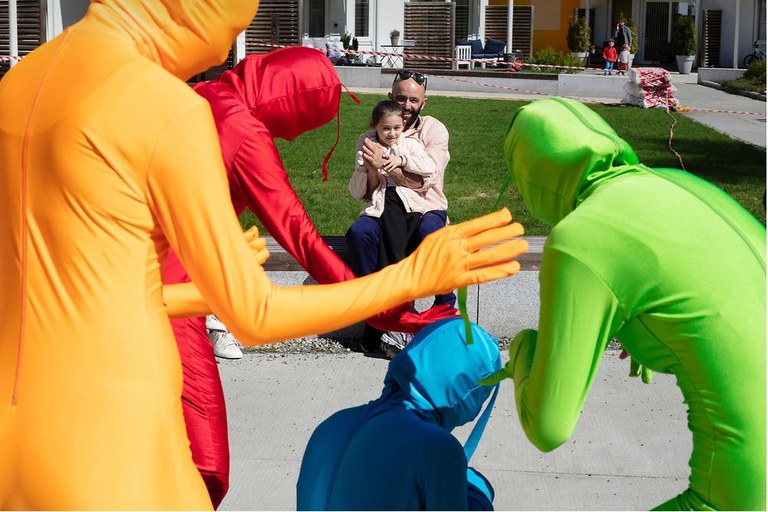 Lovi gave her father Yaniv Cohen the idea for Flekk. As a thank you, four Flekk dancers surprised her on her eighth birthday. Flekk dancers have been the surprise at more than 100 birthdays when this story was published, and Yaniv has danced in more than 80 of them.
It is free to book Flekk, yet most people want to pay, Cohen says. The voluntary payment goes to the dancers, and a fund covers the rest which means each dancer will always get 500 kroner (€46) per performance.
"I have applied for support from the Arts Council Norway and hope to be able to increase the pay to 700 kroner."
That's not much?
"No, but this is voluntary work in a very special time. I have put 12,000 kroner (€1,090) into the project from my own pocket. Dansens Hus has covered the cost of car hire, but I am still running at a loss," Cohen answers and adds: 
"I am able to do this because I have a steady income in a time where the culture sector is paralysed. Dancers without a state arts grant who don't know whether they'll be able to pay next month's rent cannot do the same, of course. I know I am privileged. That's why I want to give something back to the Norwegian society."
Garden dance with risks
The project lasts until 30 June. After that, Cohen believes demand will naturally fall as lockdown measures in Norway are eased. In the longer term, Cohen wants to make a Flekk show, but before that, he has applied for support to set up an offer for kindergartens. 
For freelance dancer Maja Naomi Furnes (28) Flekk is a very welcome source of income in a time of crisis.
"I immediately signed up!", says Furnes, whose background is modern and contemporary dance.
"Flekk has definitely been important to me. It helps in everyday life when everything has been cancelled. I am in a transition period, as I had just managed to finish a stay in Brazil and was about to audition in Switzerland when the Coronavirus hit. I was also supposed to travel to London for a work-related matter, but everything got cancelled."
The 28-year-old says it is pure luck that she can stay at home with her parents right now.
"I am lucky not to have to pay rent, that is the greatest worry for other dancers I talk to. I don't think we will get back to normal performances until September or October at the earliest. Perhaps it will take even longer."
What is it like to dance as Flekk?
"To begin with it is nerve-racking because it is difficult to see through the costume. Today I hit my head on a drainpipe, another time I nearly ended up in the wrong garden. Watching the children's reactions is incredibly rewarding. Some are shy, some get scared, while others are in from the start. It is fun to be allowed to be comical as a dancer," says Maja Naomi Furnes.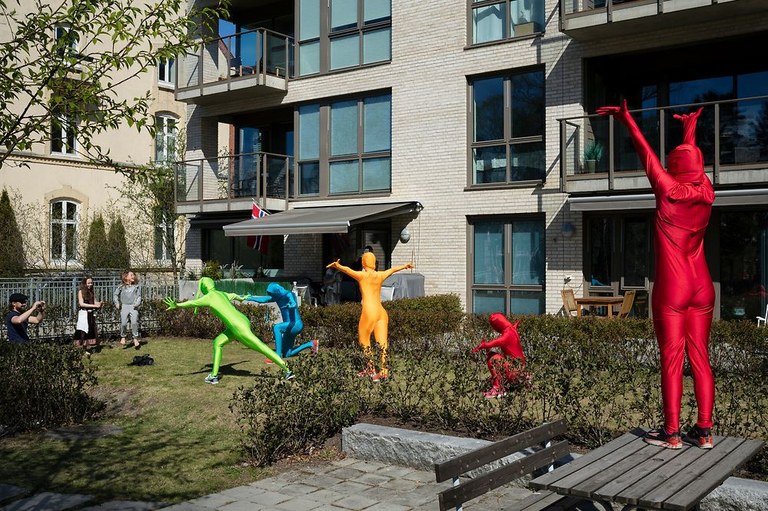 Yaniv Cohen (in blue), Maja Naomi Furnes (in orange) and three fellow Flekk dancers during a birthday in Oslo's St. Hanshaugen.
An ambivalent trade union
Trade union leader Kristine Karåla Øren at Norske Dansekunstnere – the trade union for dancers, choreographers and pedagogues – describes a trade in deep crisis when we call her to talk Flekk.
"An entire food chain has collapsed. The Corona epidemic has hit the dance sector hard. In Norway alone some 60 dance and ballet schools are impacted. On top of that, you have 160 culture schools which offer dance, now all closed. Both performers and teachers have lost their work with the stroke of a pen," says Kristine Karåla Øren.
What do you think about the Flekk project?
"Flekk is a fantastic example of what dance and creativity can do – creating good experiences for the audience and for the performer. Yaniv Cohen manages to generate work for himself and for others, he creates new ways of expressing the art and shows us new ways of doing things. This is at the core of all art. In that way, Flekk has much value."
The trade union leader hesitates a bit.
But...?
"The level of compensation is nowhere near standard daily fees. That is not okay. This is not to criticise Yaniv Cohen as a person, what he has managed to do is great. I also want to applaud the institutions who contribute to the organisation and exposure of the Flekk project. But the low compensation shows the desperate need for organisations that can both make projects available and release funds directly, like wages. Dance needs more distribution tools with predictable and secure financing, so that it becomes possible to produce and showcase current dance productions to more people."
Best in a crisis
Yaniv Cohen himself feels he thrives in a crisis, perhaps because he is so used to them. He grew up in the desert city of Kiryat Gat, in South-East Israel, as the youngest of four siblings. His father owned a furniture factory, his mother was a social worker. Art was not part of everyday life before he was encouraged to start dancing during his three years-long compulsory military service.
Despite being in top shape, he did not have to serve on the frontline because his parents had already lost one son. His youngest brother was killed in the army at 19, when Yaniv was 11, while his oldest brother – a pilot – died in a helicopter accident at 37, just before Yaniv turned 24.
"My life has been coloured by loss. Being an Israeli dancer and choreographer in Norway is a negotiation between the past, present and future. It is constant. As a Jew, I am part of a people used to persecution. It gives you a feeling of always having to deal with something. It doesn't matter how integrated I am in Norway, a part of me will always be an outsider. As an outsider you have to negotiate with your surroundings who you are."
Why do you think it was you who created Flekk?
"I think it has something to do with my past. I enjoy challenging situations. In Norway, you have all kinds of opportunities, but the system here is very slow. I have projects which I have been working on for four years and for which I have applied for support, which still have not made it on to the stage.
Suddenly we got the Corona situation, which limited what I can do. This brings some clarity. As a dancer, it is easier to work when you have a clearly defined task. If you have too many opportunities and the task is too open, you start doubting yourself."
Yaniv Cohen cracks a smile and remembers his time as a freelance dancer in the Nordics.  
"The Danes were open and inclusive, well organised and free with their bodies. Iceland was chaos! Just like Israel mentally, the attitude being one of 'everything will work out'. Which it does. In the end."
He is laughing wholeheartedly now.
"And then you have Norway, the most well-organised place I have been. But Norwegians are far more reserved, both in body and the way they express themselves. Norway and Israel are two extremes. By living in Norway I can balance in the middle." 
What can we all learn from the life of dancers as people are furloughed and losing their jobs?
"Invest in something you enjoy. It can be tough, and I can't guarantee it will make your life easier. But by insisting to do something you enjoy, you make life richer."