An economic crisis from 1992, a salmon test from 2000 and an idea for a restaurant from 2013. These are some of the ingredients in the Faroese recipe for how the island society in the North Atlantic and its 52,000 inhabitants would come out out of the Corona crisis better than anyone. So far it has been a rather good recipe.
In a 200-year-old farmhouse lies the Michelin-starred restaurant KOKS, completely isolated among mountains, sheep and birds some 30 minutes' drive from Tórshavn. If you opened the doors into the historic building a few months ago, you would first have heard the bustle of guests. Then you would be welcomed by head waiter Karin Visth, who won the 2019 White Guide's award for service experience of the year. She would be dressed in a black shirt and designer trousers from Guðrun & Guðrun.
Visth is also a sommelier and makes sure you get wines that should not exist in the Faroes. Sake Biden 1999 from Inoue Gōmei in Japan? She's got it. Essencia 2008 from Royal Tokaji? Even that she has managed to get from Hungary to the Faroes.
While you are sat at the table, you will notice that the other guests speak English, Danish, German, French and Chinese. 90% of them are foreign, and there is an international atmosphere in the most Faroese of restaurants you could ever imagine.
And then there is the food. Head chef  Poul Andrias Ziska creates 20 dishes with everything from lobster to puffin and wind-dried mutton.
In 2017, Ziska and KOKS were awarded the first Michelin star in Faroes' history. In 2018 came star number two and the Michelin Guide made Poul Andrias Young Chef of the Year in the Nordics. In 2019, KOKS got the Michelin Guide's Sustainability Gastronomy mark for their sustainable business.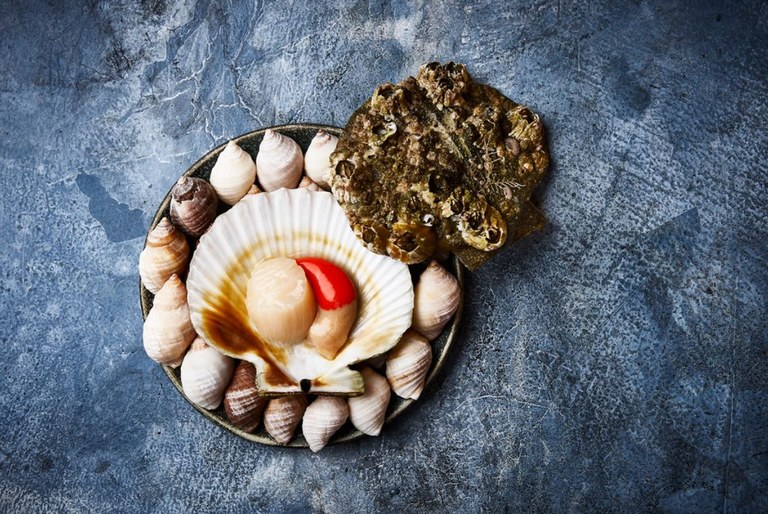 In 2020, Visth and Ziska were going to expand their string of awards and acknowledgements which they have gathered in recent years, but – well, you know the story.
A seven-year-old idea
Restaurant KOKS had been empty for a month. 24 hours later and all the tables were booked. The idea was old, the situation new and the problem large. How do you fill a restaurant where nearly all guests fly in to the Faroes only to eat there, when nearly all international air travel has been suspended? The only solution was to get the Faroese themselves to book. But how?
We will come back to the answer to that question, but the story about Koks is one of several examples of how a small society like that in the Faore Island find local solutions to big crises.
The 1992 finance crisis
In 1992 the Faroes were hit by a deep economic crisis. Unemployment reached 25%, 15% of the population moved away. A large chapter in Faroese history. 28 years later a new crisis hits. Not only in the Faroes this time, but globally. 
The Faroese feared the consequences of Corona. For a while, the situation for the labour market looked even grimmer than in 1992, when 5,000 Faroese moved away and found work elsewhere. This is not possible in 2020, as the whole world is hit by the same crisis. 
But even if things looked grim, it never got really bad in the Faroes. The North Atlantic islands quickly found their footing again. An aid package was agreed on relatively quickly which made sure those who could not work because of Corona got most of their wages paid.
The money came from the Faroese Employment Service, ALS, which all employers and wage earners have paid into since it was established in 1992 to secure that unemployed people got support.
"ALS is an example of how crises can lead to innovation of the kind that politicians during good times are unable to implement," concludes Hans Andrias Sølvará, who teaches history at Fróðskaparsetur Føroya, the University of the Faroe Islands, a few days after the aid package was passed.
Since then there has been a debate about whether it was correct to dip into the big bag of money which ALS had built up. Should the money not be used for something else? Would it not be better if the Faroese provincial treasury covered those costs for instance? This is a political debate which started a long time before the Corona pandemic took off. Back in January, the ALS leadership said they were so well positioned economically that they could handle 12 years of 8% unemployment.
"That is why we have decided to lower deposits from 1.25% to 1% and to increase payments with 1,000 kroner a month, with the caveat that if times suddenly get worse, we adjust this again," said Eyðfinnur Jacobsen, chairman of the board at ALS, on Faroese public service radio on 8 January.
It turned out to be a good thing for ALS that their chairman proposed that caveat. The January proposal is now duly parked. The same board is now calculating what the pandemic is going to cost them. 
Regardless of the result they reach, it is an undeniable fact that the unemployment insurance provided the Faroese with a bulwark worth nearly one billion Danish kroner (€134m). Money that Faroese employers and wage earners had saved up. This turned an otherwise fragile economy into a robust one.
The old salmon test
While the board at ALS wondered what they should do with the bulging money bag, a man by the name of Debes Hammershaimb Christiansen was also wondering – but he was wondering about something completely different.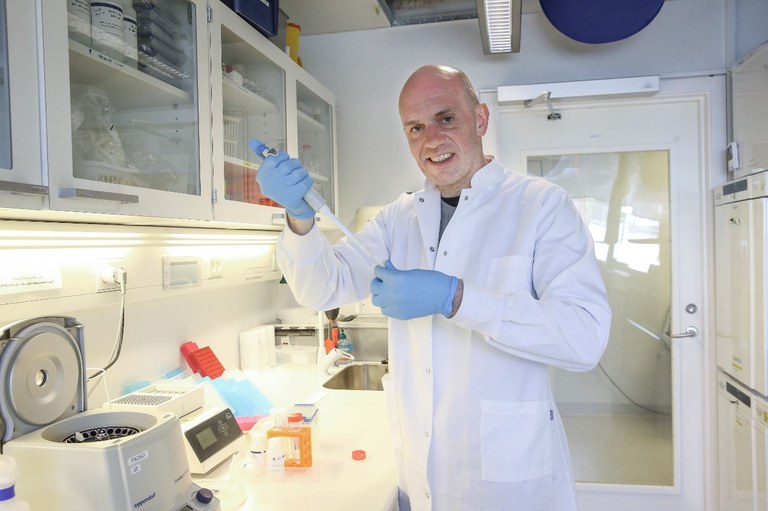 Debes Hammershaimb Christiansen figured out how Faroese authorities could apply an offensive strategy. Photo: Jens Kristian Vang, EPA
Christiansen is a geneticist working for the Faroese Food and Veterinary Authority, and he was thinking about a catastrophe that struck Faroese salmon farms 20 years ago. At the time, the entire industry collapsed. 
The authorities decided that all fish farms should be screened monthly in the years to come. Equipment was bought, the Food and Veterinary Authority's laboratorium was changed and people were hired to do nothing but screening salmon.
What Christiansen was wondering about at the beginning of January was whether the decades-old testing tool from the old catastrophe could be of use in the fight of a new one. It turned out it could.
"Whether it is a test from a salmon or a human, in terms of methodology it doesn't matter," he concluded.
This meant that Faroese authorities could plan an offensive strategy right away. People with mild symptoms were efficiently tested, the virus was isolated and the authorities got control with its spread early on. 
This solution has now proven to be far cheaper than the alternative. A test made by the Danish Statens Serum Institut costs 1,545 kroner (€207), Faroese public radio reported on 11 June. A test made by the Food and Veterinary Authority's costs 240 kroner (€32). The 20 years old salmon test has saved the Faroese taxpayers 12 million kroner. 
An old recipe in a new restaurant
Which brings us back to the restaurant. On 21 May 2020, Karin Visth is once more on the door. KOKS has opened the sister restaurant Roks, a pop-up restaurant in downtown Tórshavn.
Visth is wearing a short-sleeved white T-shirt, Sunday trousers and casual shoes.
"It is fantastic to be able to open the doors again and to welcome guests," she says. Inside is the same bustling gathering of people as at KOKS, but they now all speak Faroese. The borders are still closed, no tourists are coming to the Faroes, but Poul Andrias Ziska's pots and pans are bubbling away.
"We were tired of doing nothing," says Ziska, who therefore brushed the dust off a seven-year-old idea.
"In 2013 we began talking about a restaurant that would supplement KOKS. It would be a more casual restaurant which would help make KOKS more sustainable. We wanted to use some of the same raw materials, treat them differently and present them in a more relaxed way. We have just not had the chance to make this happen until now," Ziska says. 
Ziska, Visth and the rest of the team have now seized this opportunity.  And the Faroese have also seized the opportunity to visit them. One day after the opening of Roks, all tables were booked. All of the 900 spaces went at lighting speed. 
Roks did not remain just an idea. It became a success which means that KOKS can reopen on 8 July.