Some 15,000 people commute to jobs across the border between Denmark and Germany, which is 100 years old this year. That makes the border region one joint labour market, yet one with widely differing legislation and workplace cultures on either side.
The Danish-German border has been where it is since a referendum in 1920. Border disputes of old have made way for cooperation, not least on how to create a joint Danish-German labour market with easy cross-border commuting. The cooperation has been fruitful – the number of cross-border commuters has increased manyfold in the past 20 years.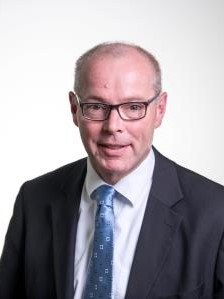 So says Peter Hansen, the head of a regional office and information centre in Region Sønderjylland-Schleswig. The centre works to remove obstacles to the free movement of labour both ways across the Danish-German border.
"There has always been some border commuting between Denmark and Germany, but the EU common market made things much easier. Today we can really talk about a joint labour market with some 15,000 border commuters in the region."
Around 12,000 out of the 15,000 commuters are Germans working in Denmark. Around 600 live on the Danish side and work in Germany. The third type of border commuters are Danish citizens living on the south side of the border – often called the Danish minority – and an estimated 1,000 of them work for Danish companies on the north side of the border. 
Commuting across the Danish-German border has risen and fallen in step with the economy, but the general tendency is that is has increased considerably since 2000 when there were between 2,000 and 4,000 border commuters.
The commuting follows a pattern similar to that of the Øresund region, explains Peter Hansen.
"There are far more Germans working in Denmark than the other way around. Similarly, in the Øresund region, there are far more Swedes working in the Copenhagen area than Danes working in Sweden."
Border commuters who live in Denmark and work in Schleswig are generally highly educated people in leadership positions, while the Germans commuting to Southern Jutland count both skilled and unskilled workers representing all trades.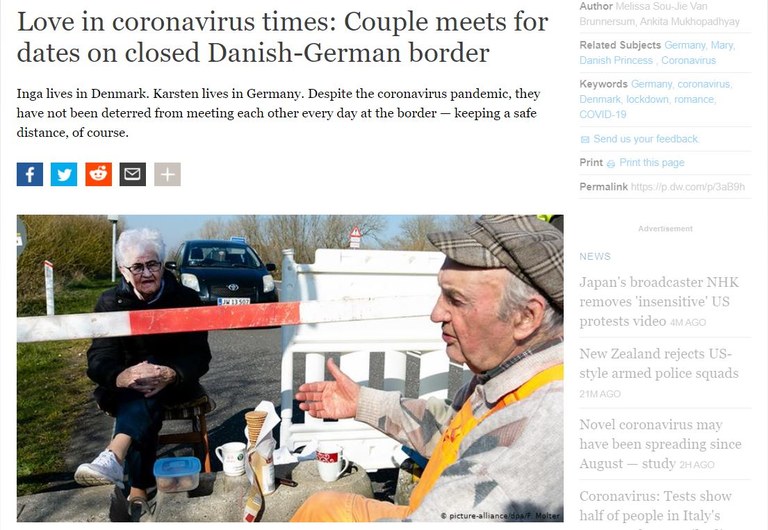 The border between Germany and Denmark has been closed during the Corona pandemic for everything but commuting and freight, and therefore also for Inga, who lives in Denmark, and her boyfriend Karsten, who lives in Germany. This has not lessened the couple's love for each other, however. Every day, 85-year-old Inga Rasmussen and 89-year-old Karsten Tüchsen Hansen have met on the actual border to talk over breakfast, a coffee or a small glass off Geele Köm — a popular regional schnaps. The border has now reopened for lovers, and the couple has been reunited.
Source: Deutsche Welle
Border commuters have to be patient 
Border commuting jobs are far more common between Southern Jutland and Schleswig than in the Øresund region. 
"This might come as a surprise to some people, but we are a remote area with far fewer inhabitants than the Øresund region, so our 15,000 border commuters make up a relatively large part of the region's total workforce. Around 1% of the workforce are cross-border commuters."
EU membership means that Danish and German social insurance systems are pretty much in line with each other, so it is for instant not too difficult to file a tax return. Nevertheless, being a cross-border commuter does throw up some problems, points out Peter Hansen.
"You have to be patient as a cross-border commuter, and always get your head around the two countries' systems which do differ a lot on many points. Sadly, cross-border commuters might still experience a slow-moving bureaucracy when they need to settle issues related to living in one country and working in another."
Denmark and Germany have for instance completely different rules when it comes to how child and youth support is calculated. In Germany, it is means tested, and also higher. Moreover, it can be difficult for cross-border commuters to get compensation for work injuries. 
A common cross-border region – Region Sønderjylland-Schleswig – was created back in 1997, and counts politicians from both sides of the border. In 2004 they established a joint region office and information centre to look after a range of issues – most importantly how to remove obstacles for a smooth, joint labour market, which is a reality in the region, says Peter Hansen. 
"We provide advice to cross-border commuters and businesses in the border area on how to deal with the different labour market policies, workplace cultures and public management structures of the labour market areas in Denmark and Germany."
Big cultural differences
Peter Hansen and his colleagues also cooperate with both Danish and German institutions and authorities to reduce national differences that make it difficult for workers to live in one country and work in the other, or for businesses to hire workers who live in the neighbouring country.  
The hardest thing to align is workplace culture, as this differs a lot between the north and the south of the border, says Peter Hansen.
"There are big differences when it comes to what is expected from employees in companies in Sønderjylland and in Schleswig. Even if a Danish and a German business perhaps are just a few kilometres apart, they have a completely different tone, dress code, traditions for documentation and autonomy."
According to Peter Hansen, the dress code is more formal in office settings south of the border. On the German side, there are also often higher expectations for decisions to be documented compared to what is the case in Danish businesses. On the Danish side workers generally given more autonomy.