The Stockholm-based company Bioservo marries medical research with new technology with their robot glove. It gives extra muscle power to people with reduced hand function and for those whose jobs put a strain on their hands. This summer they won NASA's invention award.
"We won because this is an invention which has been commercialised and it has become important to industry," says Mikael Wester, who has been Bioservo's Head of Marketing since January this year. 
After many years in development, the robot glove has been getting increasing attention, not least after the company also launched Ironhand, a glove that has been developed to prevent work-related industrial injuries. Bioservo is now pursuing two tracks – the glove Carbonhand, which targets people with hand injuries that stops them from performing everyday tasks, and the stronger Ironhand which can help alleviate strain on muscles in the hand during heavy lifting and monotonous industrial working tasks.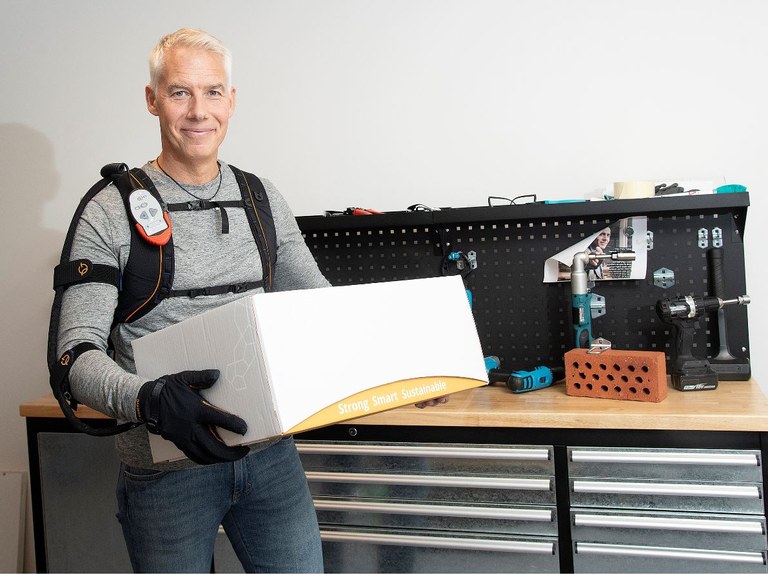 The robot glove gives a stronger grip but does not make you lift heavier items than normally.
"The fact that our glove contributes to a sustainable workplace has helped speed up the development. The glove can help older employees work longer. Our product is also up to date because it is online and can easily be adjusted to deal with different production tasks," says Mikael Wester.
Medical knowledge meets new technology
The robot glove story starts back in 2006 at Karolinska Institute in Stockholm. Neurosurgeon Hans von Holst meets many stroke patients whose illness damages their hands and musculature. This makes everyday life very difficult. It can be hard to get rest, eat or move around without a cane or walking frame.   
Hans von Holst's idea is to help patients as early as possible to rebuild their strength by giving the muscles extra power through an exoskeleton. He gets in touch with researchers at the KTH Royal Institute of Technology. It is the start of a long-term cooperation between medical and technical expertise. In 2013 the first glove is presented. It is called "soft extra muscle glove", shorten to SEM-glove. Today it is called Carbonhand. It is now being used as an aid and can be funded through the Swedish Social Insurance Agency, the Swedish Public Employment Service or through the national healthcare system.
"Interest in Sweden has been less than we hoped for. However, we see that Norway is more generous with physical aids and quicker to prescribe these. It also helps that the Norwegian Labour and Welfare Administration NAV manages requests for physical aids centrally," says Mikael Wester.
Little by little, the idea to develop a stronger robot glove grew, one that also could be used in industry. They started cooperating with General Motors and NASA, and in 2017 their first Ironhand prototype was ready. Beyond acting as a relief for the muscles in the hand, it can also store information and the entire cycle of a working task. What does the grip look like? Is it correct? At what point is the strain the greatest? How is power distributed to the fingers?
A serious work environment issue 
The company is now working with even more global companies, including aircraft manufacturer Airbus, the French civil engineering construction company Eiffage and other companies in the car and construction industries. The need is great. Only in the EU, some 40 million workers suffer from work-related muscular damage, and 48% of workers at the car companies that cooperate with Bioservo have work-related hand problems. 
"A woman at the [Volvo] Torslanda factory tried our glove and did not want to let it go. She told us her hands ached every day when she left work. Another car worker at GM who used Ironhand summed up his experience by saying 'Finally I don't have to take painkillers at lunch'," says Mikael Wester.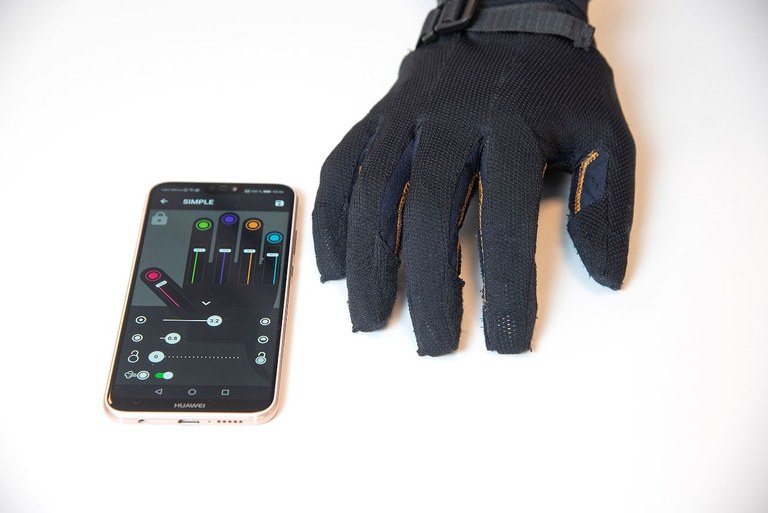 On the table in the small conference room in the company's Kista office lies a pair of Ironhand. There is also a small backpack which houses the power unit that reads the glove's sensors and gathers data. I put on the glove. It is not difficult and it feels good on the hand. I pick up an electric drill. The glove's sensors immediately register my grip. They send signals to the power unit which starts whirring away, and I feel how the fingers that grip the drill are given extra power. 
The muscles are strengthened and as soon as I adjust my grip the glove adjusts the added power. Wearing the glove with the system running makes it easier to understand how it works. The sensors register my movements and adapt accordingly. The glove can also be calibrated to be more static, which could help someone who must hold a sanding machine for hours. There is also an app which allows the user to control which fingers get extra muscle power, and how much.
A large screen on the wall shows a powerful woman with movie-star looks wearing a robot glove and backpack. Mikael Wester laughs and says that Ironhand sometimes gets mixed up with the film Ironman.
"But our robot glove does not mean the user can lift heavier burdens. It is the hand itself that gets stronger."
Continuous development
The robot gloves are still not being mass-produced. The power units are made by subcontractors, but the gloves themselves are made at the Kista headquarters where there are sewing machines, rolls of thread, cables and much besides – all needed to make complete gloves. This is also where the gloves are continuously being developed to make them more intuitive and adaptable. There is cooperation between different experts in industrial design and technology.  
Some of the cooperation with industry is kept secret.
"My idea is that we could use data from Ironhand to identify production issues which a company might want to cover up if they decide not to do anything about them. This is also a question of integrity. An employer can analyse data and conclude that an employee ought to work faster. But there is no gathering of personal data, everything is anonymised," says Mikael Wester.
Long-term sick leave costs more than rehab
Each glove costs around 65,000 Swedish kronor (€6,170), including all systems. In comparison, sick-leave and rehabilitation from hand damage cost ten times more, according to Mikael Wester, who refers to American research.  
The company has been listed on Nasdaq since 2017, and income comes from a mix of private investments, research grants – including from the EU – and sales. There is soon enough evidence to say the gloves are both rehabilitating and preventative, says Mikael Wester. A range of marketing channels were ready to go just as the Corona pandemic paralysed the world.
"Everything stopped and several projects could not be finalised or were postponed, not least in the US car industry. But now things are starting to move again," says Mikael Wester.