Denmark moves into pole position as the Nordic Labour Journal publishes the 2020 gender equality barometer. But Finland enjoys the biggest increase of women in positions of power. The result is another shared bottom place with Sweden in the comparison between the five Nordic countries.
The barometer looks at whether 24 different positions of power in each country is being held by a woman or man on 8 March. 100 female points for the whole of the Nordic region would represent full gender equality. In 2020, women gained 83 points, up from 66 the previous year – the barometer's greatest increase ever. Each country gets 40 points each to give out depending on whether the positions of power are held by a woman or a man. Some positions, like Prime Minister, get more points.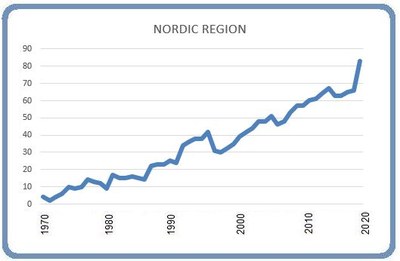 Sometimes big changes happen nearly without anyone noticing, because it seems normal. The gender equality barometer covers a period of 50 years – from 1979 to 2020. This year's 8 March is unique. Never before four out of the five countries been run by a female Prime Minister. 
Finland's Sanna Marin is that country's third female Prime Minister, while Mette Frederiksen, Katrín Jakobsdóttir and Erna Solberg are all the second female Prime Minister in their respective countries. Only Sweden has still not had a female Prime Minister.
Measuring power is a complicated thing, and our gender equality barometer should not be considered evidence that women in the Nordics are now 83% gender-equal. But it does matter if a man or a woman is at the top. We look at the positions with the largest symbolic heft – all of them democratically appointed. The only position no woman in a Nordic country has held so far, is commander-in-chief.
This is what has happened in the different countries:



Denmark
On 27 June 2019, Mette Frederiksen became Denmark's Prime Minister, as head of a coalition government made up of her own party, the Social Democrats; the Social Liberal Party, the Socialist People's Party and the Red-Green Alliance. The heavy-weight position as Minister of Finance went to party colleague Nicolai Wammen, who had served as Minister of Defence and Europe Minister in previous governments. The only female Minister of Finance Denmark has ever had was Pia Gjellerup, who held the position for less than a year between 2000 and 2001.
The appointment of a female Minister for Social Affairs in Astrid Krag was not a surprise however. Women have had a near monopoly on that post. Since 1970, the Minister for Social Affairs has been headed by a woman for 41 years. 
Trine Bramsen became the second female Minister of Defence, perhaps not a post where feminism has made its greatest mark, but she started off straight away by launching a new veterans policy; not only soldiers get hurt. Their children can also suffer and families are broken up. That is why she now wants to improve measures for soldiers returning from serving abroad, so that veterans' families can be better looked after.
Mette Frederiksen's government has 20 ministers in total, including herself. Seven are women, all bar one in positions which are included in the barometer. There have been no changes to positions of power in trade unions and among employers, or in other important positions.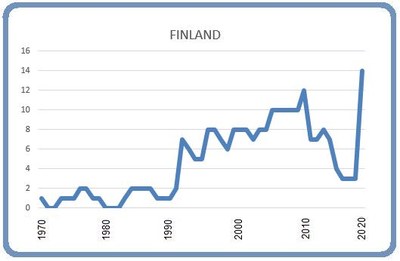 Finland
Finland takes the greatest leap on the gender equality barometer – from 3 to 14 points. But all the changes are political positions. Trade unions and employers still have only men in the most important positions of power.
There are no women to be found in the five positions we choose to follow: central bank governor, supreme court president, police commissioner, archbishop and commander-in-chief. There have been women in some of these posts only twice in the past 50 years: Sirkka Hämäläinen was Governor of the Bank of Finland between 1992 and 1998, and Pauliine Koskelo was President of the Supreme Court of Finland between 2006 and 2015.
Click here to read our article to find out about the recent year's changes to the Finnish political landscape.

Iceland
There has been major political change in Iceland since the 2008 economic crisis. Prime Minister Katrín Jakobsdóttir has been leading a broad coalition since 2017 comprising her own Left-Green Movement, the Progressive Party and the Independence Party. The government encompasses the entire political spectre from left to right.
Katrín Jakobsdóttir is also Minster for Gender Equality. She has held a high profile and has built new coalitions on the international stage – like the Wellbeing Economy Governments Group – WEgo – together with Scotland and New Zealand. 
All of the three largest trade unions in Iceland are run by women. The island's only bishop is also a woman, Agnes M. Sigurdardóttir. She took up her post in 2012, as the Icelandic state church was facing its greatest crisis after her predecessor had been found to try to cover up sexual assaults within the church. Agnes M. Sigurdardóttir was appointed to clean fix the church's reputation, but seems to have failed in gaining the trust of her fellow Icelanders. Only 19% say they trust her, according to a survey from October 2019.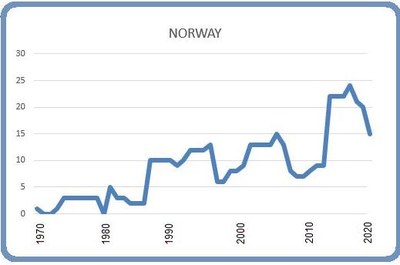 Norway
On 24 January, the Norwegian Progress Party left the centre-right coalition government. The fact that the least feminist party left power had the paradoxical effect of robbing Norway of 5 points, taking it down to 15 from 20. In the following reshuffle, Anniken Haugland from the Conservative party also stepped down as Minister for Labour and was replaced by Torbjørn Røe Isaksen. 
Iselin Nybø is a new name in the government, from the same party. She became Minister for Education. Abid Q. Raja became Minister of Culture and Equality and is so far the second government minister with an immigrant background.
Tina Bru is the new Minister of Petroleum and Energy, a post which is included in the gender equality barometer. There were no changes to the gender balance among the social partners, but Arch Bishop Helga Haugland Byfuglien retired on 20 January this year. Olav Fykse Tveit took over. In April last year, Norway got its second female National Police Commissioner, Marie Benedicte Bjørnland. She was previously head of the Norwegian Police Security Service.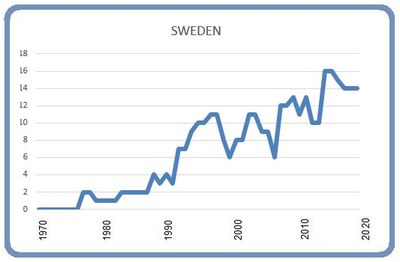 Sweden
Sweden has seen some government reshuffles, but none had much impact on gender balance. On 10 September 2019, Ylva Johansson stepped down as Minister for Employment to take up her new post as EU Commissioner. She was replaced by Eva Nordmark. 
Minister of Foreign Affairs Margot Wallström also stepped down around the same time and was replaced by Ann Linde, who had been an EU Commissioner. The Minister for Social Security also left the government and Lena Hallengren took her post. 
The government has 23 ministers, 12 are women and eight of them are in posts that result in points in the barometer. The government is made up of the Social Democrats and the Greens, but lacks a parliamentary majority. It has, amongst other things, been forced by the opposition to carry out labour market policies that LO – the trade union federation – is unhappy with. 
In February, a debate emerged about whether Prime Minister Stefan Löfven will retire as party leader in the spring, which he says he will not. LO's President Karl-Petter Thorwaldsson has already announced his retirement. These two positions of power are seen in context. Both Löfven and Thorwaldsson have been Presidents for what used to be LO's most powerful trade union, Metall. But now Kommunal, the Swedish Municipal Workers' Union, wants to take over that role, party because there is unease about the fact that more than 40% of Metall's 300 000 members – mainly men – vote for the Sweden Democrats.
People are already calling for a woman to take over both as LO President and as party leader for the Social Democrats.
"Sweden is the only Nordic country that has not had a female Prime Minister, and that is just not good enough. The Social Democrats carry a big responsibility for promoting more women and to prepare them for the hardest task," writes Jonna Sima in an editorial for  Aftonbladet newspaper.