We are edging ever so slowly towards equal pay, according to the annual demonstration #lönheladagen (#payallday) which was held in Stockholm's Sergels Torg. This year the participants made the shape of the time 16:09.
The number symbolises the wage gap between men and women. There has been a small reduction in the amount of unpaid work carried out by women, but the demonstrators warned that gender equality is facing dark forces and that progress made must be protected. 
"There are those who see no problem with an increasing gap between men and women. That is why we must defend the progress that has already been made to make sure we move forwards, not backwards," said Swedish Minister for Gender Equality Åsa Lindhagen as she addressed the demonstration.
This was the eighth year the #lönheladagen demonstration gathered in Sergels Torg in Stockholm. The aim is equal pay for equal work and that women should be paid for the whole of the working day. The Swedish Women's Lobby, an umbrella organisation for the country's women's organisations, coordinated the demonstration. Until now it has been known as the "16:06 movement", and has also gathered political women's organisations and trade unions.
"It is incredibly important to highlight the issue of gender wage gaps and to do something about them. It is not right that men get higher pay just because they are men. For us, it is also important to address this through the wage formation, and through demonstrations like this," says Peter Lennartsson, deputy leader at the Union of Civil Servants ST.
51 minutes of free work every day
16:09 is the time of day when the wage gap between men and women starts – women work for free for 51 minutes until five o'clock, while the men are paid until the end of the working day. As part of the demonstration, the participants slowly took position to spell out the time so that onlookers could see whether things had improved since last year. 
And things have improved in the eight years since the first demonstration. In 2013, women worked for free 69 minutes of the working day. Today their unpaid work has shrunk to 51 minutes. As a result, the movement has now changed its name to the 16:09 movement.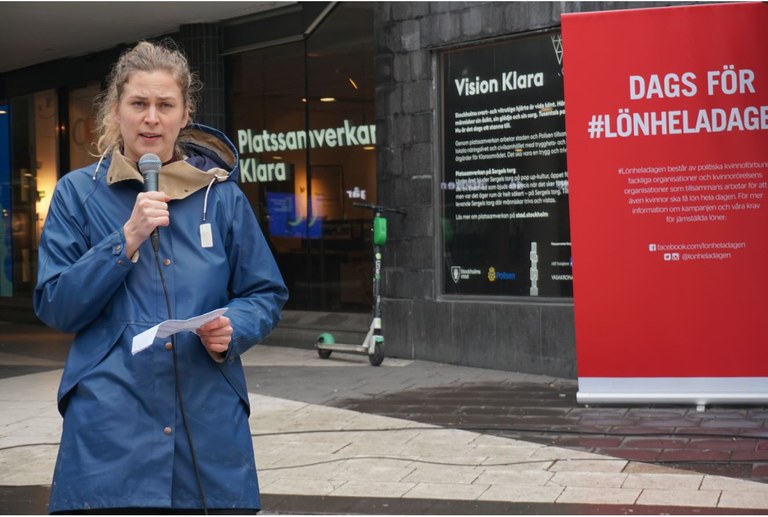 Clara Berglund is the Secretary General for the Swedish Women's Lobby and has mixed feelings about the result. If things keep moving at this pace, it will be 23 years before we reach equal pay.
"It is nice to see that so many people show up and that so many different trade unions and other organisations are represented. This gives us more energy, but I am also frustrated that things are moving so slowly," she says. 
Inspired by Iceland
The Swedish Women's Lobby is a politically independent organisation with 47 member organisations. They work to strengthen women's position in society, and for a gender-equal society based on the UN's women's convention CEDAW. Some of their priorities include women's power and influence in society, feminist economy and women's paid and unpaid work. 
The #lön gathering is one of several measures they are taking in the fight for equal pay. The idea comes from Iceland, where a similar campaign has been held – women there simply left work as they reached the time of day when unfair conditions meant they started working for free. 
Today the wage gap between men and women stands at 10.7% when everything is calculated as full-time work, according to the Swedish National Mediation Office, the authority responsible for public wage statistics. This means women earn on average 3,900 Swedish kronor (€368,-) a month less than men, or 46,800 kronor (€4,418,-) a year. 
Over a lifetime, the wage gap grows to several million. The gap also has a serious impact on pensions, and men's average pensions are 32% higher than women's. On top of that, women take more parental leave, do more housework and work more part-time than men.
There are several explanations for the differences in wages. Female-dominated occupations are less valued, but regardless of the sector women earn less than men. This is not unique to Sweden, says Clara Berglund.
"The other Nordic countries have approximately the same wage gaps and the same gender-segregated labour markets. Women enjoy high employment levels in the Nordic region, but women are most often found in the female-dominated welfare sector," she says.
The Swedish Women's Lobby analyses the budget in order to help improve gender equality.
"This is the most important tool we have, were all political promises are translated into kronor and ören. The two latest national budgets have seen economic inequality rise. Partly because of another tax rebate, partly because of the abolished värnskatt ["austerity tax", a tax on high earners] – both measures that benefit highly paid men," says Clara Berglund.
Gender equality work, an uphill struggle 
"In later years we have experienced both passive and active opposition to gender equality work, and we have also seen people question it. There has been more focus on identity politics and the debate has also turned more individualistic. But if we focus on the individual and identity we risk losing the structural perspective and the collective power," says Clara Berglund. On this issue, she underlines, she speaks as a representative for the Swedish Women's Lobby, not as the coordinator for the 16:09 movement.
And although the work for equal pay and conditions moves slowly, she remains hopeful.
"The #metoo movement created hope, but I also see strong engagement for gender equality issues among young women and also young men. Joining forces, involving trade unions and women's organisations, will give us the power needed to move these issues forward. This is what has created progress so far," says Clara Berglund.