There were doubts at first at the Nordic House in Copenhagen as the corona epidemic became a reality. Should staff be sent home or not? On the Danish Prime Minister's orders, all 130 staff have been working from home since 11 March. One of them is Anna Rosenberg, who lives in Malmö.
"I work as a communications advisor at the Nordic Council of Ministers, and I'm responsible for policy areas including labour markets, gender equality and agriculture. I try to highlight Nordic cooperation in these areas. I tell Nordic stories by writing texts, making videos and running social media campaigns," says Anna Rosenberg.
When the Nordic Labour Journal talks to her on the telephone, she has spent just under three weeks working from home. She says things have gone pretty well, much thanks to the fact that she can still send her children to school – unlike her Danish colleagues.
"This means I can maintain my usual rhythm of dropping off and collecting the children. It helps with structure and working from home. At the same time there are some things I don't have to do, although I do have many digital meetings of course," says Anna Rosenberg.Her Öresund commuter life began in 2015, the same year Sweden introduced passport controls for travellers coming from Denmark. Since November last year, Denmark has carried out occasional passport controls for travellers coming into the country.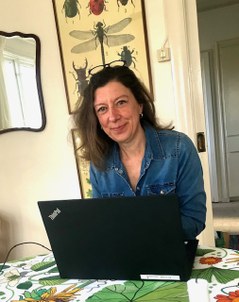 "The passport controls fly in the face of the free movement we have enjoyed for so many years in the Nordic region, and they slow down travel across the Sound. When the countries close their borders, the challenges relating to international cooperation are thrown into stark relief. Will cooperation carry on in good times and in bad? We seem to cooperate less during a serious crisis like a pandemic. It should be the other way around," says Anna Rosenberg.