Unemployment has risen dramatically across the Nordics since the emergence of the coronavirus. The countries have chosen different ways of handling the situation, however, based on different labour market models, measures imposed and the shape of the labour market.
For anyone who wants to see how the Nordic labour markets are doing, the Nordic Council of Ministers has gathered links to all the figures here: The Nordic labour markets and COVID-19
It is, however, tricky to compare unemployment statistics between the countries right now, because the COVID-19 measures they are taking differ a lot. New forms of support, like what Denmark has introduced, means the state covers much of the cost if the employer does not lay off employees.
The graph below shows the annual average unemployment figures according to labour market surveys (AKU) across the Nordics between 2015 and 2019. AKUs describe labour market developments for the respective countries' citizens aged 15 to 74. 
Unemployment figures are harder to pinpoint right now, as the different countries have chosen different strategies. If we look at registered unemployment figures according to what is traditionally reported, these have increased like this:
Denmark: 31,763 more unemployed people between 8 and 26 March, compared to the same period last year.

Finland: 17,600 more unemployed and out of work, up to 29 March.

Iceland: Unemployment has risen from 7,400

to 10,200.

Norway: 270,000 more unemployed people over the past few weeks

.

Sweden: The number of unemployed people

rose by 57,000 in February

.
This is what these numbers look like as graphs: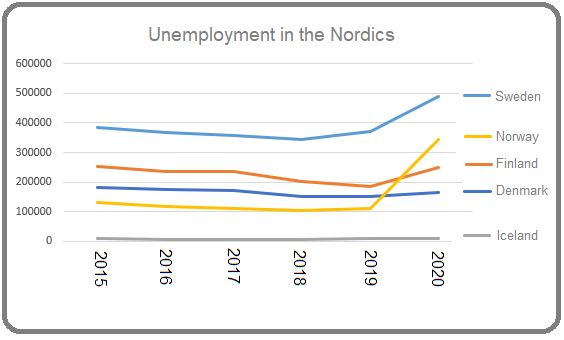 The graphs show official figures related to unemployment so far in 2020. The figures for 2020 are not comparable with earlier years, they are based on other sources but  gives an indication of how severe the cirisis might become.
Norway has seen the most dramatic rise in unemployment. A large number of the country's businesses have been forced to close – services that depend on close social contact which are not crucial society to work, like hairdressers and beauticians. In some places, like Oslo, the serving of alcohol has also been suspended.
The Frisch Centre and researchers from Norway's employment agency NAV and Statistics Norway have in record time put together a survey of what has happened. In 72 hours they linked information from population databases and information from NAV.
The development accelerated when the government changed the rules for applying for unemployment benefits, so-called day money.
The government's changes mean 100% of wages will be paid from day three to day 20. Employers have to foot the bill for only two days, down from 15.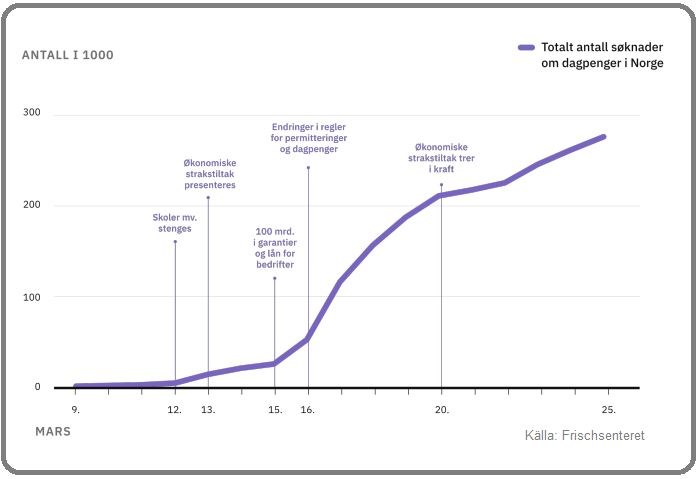 The graph shows the number of Norwegians applying for "day money" from when lockdown measures were introduced on 12 March through different economic measures being presented and finally implemented on 20 March.  
In two weeks, unemployment rose from 2.3% to 10.4%, as 260,000 people signed up for benefits. Shopworkers made up the largest group of newly unemployed people, with some 18,000 women and 7,500 men. Waiters, hairdressers, chefs, cleaners, receptionists and drivers made up the other large group. 60% of hairdressers and beauticians are now unemployed, and top of the list.
Tripartite agreement in Denmark
The Danish government has put nearly as strict restrictions on business as Norway. But unemployment has only risen by less than 32,000 people. This is due to a rapidly negotiated tripartite agreement which saw the state commit to paying 75% of wages for those whose jobs are threatened. Employers pay 25% of wages while the employee pays by losing five days of holiday this year.
In Denmark this is known as a temporary wage compensation agreement for employees under threat of losing their jobs.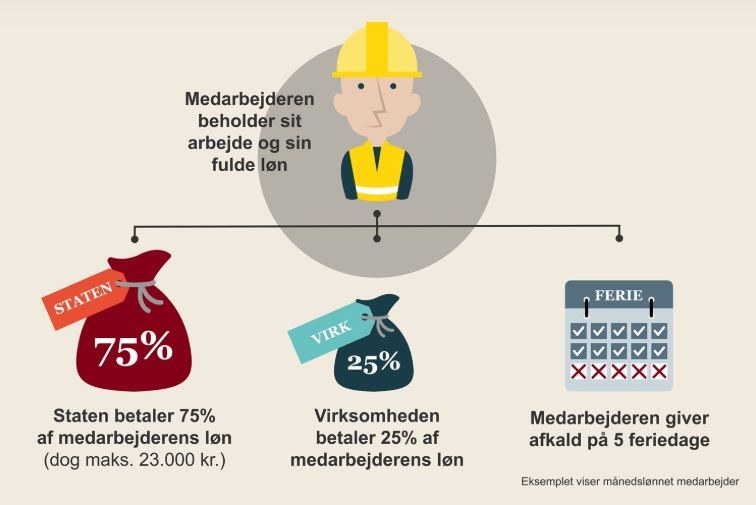 Illustration from the Danish Ministry of Finance's information about the tripartite agreement. 
The agreement lasts from 9 March to 9 June this year. It covers all companies and businesses at risk of having to let 30% of their staff go, or if 50% of employees are at risk of losing their jobs. The compensation is capped at 30,000 Danish kroner (€4,020) per employee in private businesses. Companies that receive the compensation cannot lay off their employees. 
It is still too early to say just how many Danes are "three quarters" unemployed. But in the first week alone, 10,000 companies applied for support. The agreement keeps the official unemployment figures on a lower level than Norway.
All the Nordic countries' governments have passed legislation to support vulnerable sectors. In Sweden, consequences for businesses have been smaller due to the less restrictive measures in place there. But the number of people put on notice has risen by 36,800 up until 29 March.
Negotiations before layoffs
In Finland, employers who plan layoffs must first enter into negotiations with trade unions. According to the Ministry of Economic Affairs and Employment, more than 300,000 people are subject to such negotiations right now. Unemployment is therefore expected to rise considerably. On 4 April, all restaurants will also close in Finland. 
Globally, tourism is the hardest hit sector. Borders have been shut to all types of travel that are not strictly necessary. This has had immediate consequences for Nordic airlines – SAS, Norwegian and Finnair. Airports are hit too. The countries' main airports are all among their biggest employers. 22,100 people usually work at Copenhagen Airport Kastrup, across a thousand different businesses. 
Tourism most important in Iceland
For Iceland, tourism has been the most important sector. In 2018, the OECD reported that it had overtaken fisheries. At one point tourism represented 8% of GDP and 14% of the entire labour force worked in the sector. The decline began before the corona epidemic, however, as the low-cost airline Wow went bust in early 2019. It had been carrying a large proportion of the tourists visiting Iceland.
Tourism makes up less than 2% to 3% of GDP in the other Nordic countries. Since the coronavirus hit, Iceland's tourism has all but disappeared.
The Icelandic government's support package includes a promise that the state will cover the costs of securing those who are forced to work part-time 75% of their original salary.