One ended up in prison for refusing to do his military service. Another did his military service and ended up working for the armed forces. Today both are on the board of the new feminist association for men, saying they have a lot to learn from the Finnish women's movement.
"I refused to do military service as a protest against war and what the army stood for. Friends had told me that the talk in the army was to turn boys into men, just like you would hear in other places too. A one-track masculinity mixed with sexism and problematic attitudes to minorities, which in the worst-case scenario could turn violent."
Tom Kettunen went to prison in 1999. He spent six and a half months inside. When he came out, it was a new millennium. 18 years later, in November 2018, Miehet (Men in English), a feminist association for men, held its founding meeting. Tom Kettunen provided the necessary preparatory work to get the association up and running, and today he is on the board.
Strong and norm-breaking
"The association is needed because patriarchal structures present disadvantages to men as well as to women. These structures cause bad behaviour which might be about power, but also other things. Men take less parental leave than they are entitled to, for instance, because of the norms in some workplaces. It is a small structural issue that has major consequences. In order to develop a proper relationship, it is crucial for fathers to get to know their children. In today's Finland, a man must be strong and a norm-breaker in order to be a good father," says Tom Kettunen.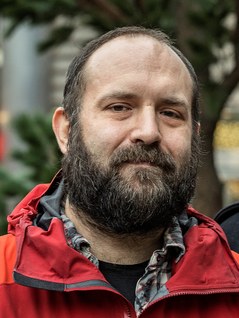 He is responsible for international relations at Miehet, and also for creating discussion groups of various sizes where Finnish men get the chance to talk to each other.
"People do not show all that much openness in Finland, so many men keep what they feel and think to themselves. Perhaps they don't quite understand what they feel and think, because they do not talk about it. This can have disastrous consequences. We have for instance a lot of violence within relationships, this is a big problem," says Tom Kettunen.
Juho Pylvänäinen is also on the Miehet board, as deputy chairman. Unlike Tom Kettunen, he did do his military service. Afterwards, he chose to stay on in the armed forces, and today he is a boatswain at the navy's Pansio base.
The same basic values
"I had been thinking about social justice for a long time, that all people should be treated equally. It was only after I got to know some Finnish feminists that I understood how we shared the same basic values. It is all about how you want people to be met and treated."
The association held its founding meeting at the Kvinnosaksförbundet Unionen (League of Finnish Feminists) Helsinki offices. The board members are both happy and thankful for that.
"We feel more than welcome in the field of feminism. When many work with gender equality issues, you get more power, and when several associations cooperate, it becomes easier to coordinate measures. We also have so much to learn from Unionen, which was formed as early as in 1892," says Juho Pylvänäinen.
"Since our organisation is organised on a voluntary basis, it is important to work on projects in cooperation with other organisations that work with gender equality and human rights," adds Tom Kettunen.
Two army professionals
Juho Pylvänäinen has had nothing but positive reactions at work when Miehet has come up for discussion.
"We are two army professionals in the association, and I know there are others in the armed forces who share our views and support our work," he says.
In the past year, Juho Pylvänäinen has taken a break from his navy job in order to study social sciences at the Åbo Akademi University and at the University of Turku.
"I study social sciences and gender studies among other things, to learn more about society and its structures," he says. He is aiming for a Bachelor's degree.
Miehet has got a lot of attention during its first year, and the association has also been invited to participate in different campaigns about discrimination, climate change, compulsory military service and rape-related legislation.
The members like the attention which the association has created, but they sometimes need to remind journalists and others that there are other people who know far more about gender equality than they do – including the Finnish women's movement with its long history.
Male privileges
"It's yet another privilege we have as men, how easy it is to get credibility when we set up an association working for gender equality that wants to break down problematic male norms. So we make sure to inform everyone about all the clever things that have already been done. By women," says Tom Kettunen.
Although there is more space today for men to be men in more areas than before, there is still much left to do before reaching full gender equality, believes Tom Kettunen. One example is the Finnish conscription system:
"Finland's constitution says that everyone is equal before the law. Despite this, only Finnish men face compulsory military service. You could see this as a form of legalised discrimination."
New commission
He is not alone in his thinking. The Finnish defence minister has asked for the creation of a commission to look at the possibility of introducing conscription for women.
Swedish Yle is shining a critical light on Finnish conscription in relation to the Training 2020 reforms carried out by the defence forces.
Yle's investigation explores different perspectives with the help of the public, to gather stories about "bullying, discriminatory or abusive behaviour which you were exposed to during your military service" writes Swedish Yle on its webpages. 
1,000 women
Some 20,000 people do their military service each year in Finland, including 1,000 women who are volunteering to do it. In the units where women have served, they have experienced more sexual harassment and bullying than men, says Esa Janatuinen, a civilian sociologist at Defence Command Finland, who works with gender equality and gender discrimination. 
"When leaders for each unit are ordered to focus on gender equality, we see fewer problems. When it comes to sexual harassment, it is most often the spoken kind we see," he says.
"We work hard to stop bullying and we are gradually getting better. Our annual surveys show that more staff and conscripts are happy at work and with their military service."
Esa Janatuinen believes there is a need for a changed male role, and welcomes the fact that Finland now has its own feminist association for men. 
"A good initiative. We are promoting gender equality in the armed forces, so it is good to find support for that work," says Esa Janatuinen.
The Finnish Defence Forces website states: "Equality and gender equality have been top priorities in the Finnish Defence Forces since 2006." They also have a national equality and gender equality plan.