"When you come home with a black eye after being hit, you are a human being first," says Malmö's police chief with ten years frontline experience into the city. Thinking police are trained to deal with the worst possible situations, or even prepared to die, is to put too much belief in a human being's capability, he says.
Sweden's third largest city has created headlines around the world and perpetuated the old rumour of Malmö being Sweden's Chicago. Efforts to reduce crime further have been made and are being made, both by police and other actors and often in cooperation. The efforts have been successful – the number of shootings has been cut in half and the risk of becoming the victim of a crime in Malmö is the lowest in 20 years.
More challenges for police
Yet the gains have not eliminated the police's challenges. Police chief Mattias Sigfridsson says policing is not only about carrying on fighting crime.
It is also about setting an example and to be approachable despite threats, harassment and subtle pressures, to break out of self-censorship and to dare speak up internally about what makes the job hard, to be patient when legislation changes far too slowly and to handle the expectations from society and the judiciary that you are trained to deal with anything.
Preventative measures
Controls carried out by the border police play an important role in reducing crime. 
"We carry out thousands of controls every week," says Thommy Brännström, head of the border police in the South Region. 
"We find people linked to international networks, drink-drivers and other traffic offences, attempted illegal imports of dogs and meat not fit for consumption and more. In terms of criminals or individuals without the right papers to enter the country, we stop around 75 to 100 people a week."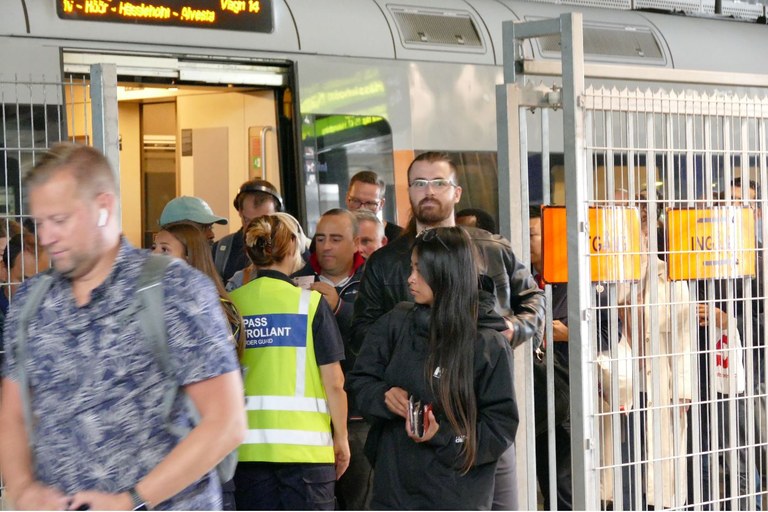 Passport control at Hyllie, the train station closest to the Öresud Bridge. Photo: Björn Lindahl.
The controls take place where the Öresund Bridge starts in Lernacken. Every vehicle travelling to or from Denmark must pass through here. Other control spots are Hyllie, the first train station on Swedish soil as trains arrive from the Bridge, and the harbours of Helsingborg, Trelleborg, Ystad, Karlshamn and Karlskrona.
"The border police often operate in situations where we face the risk of not only violence, but also heavy weather, darkness and cold. We try to make the work situation tolerable by having good control facilities, nice resting rooms and nice places to eat, well-tailored rotas, good working groups and capable bosses," says Thommy Brännström.
An expansive region where borders are crossed
Malmö is situated in a rapidly growing region with a high birth rate and high immigration rates. This also has an impact on crime. In the Öresund region, the number of citizens has rapidly risen to more than four million. The Skåne region is growing too, and Malmö alone is now home to 340,000 people. Half of them are under 35.  
"The geographical location, the large expansion and the special demographics is the context in which criminals now operate, with no regard of national borders," says Mattias Sigfridsson.
That is why the border police and the Malmö police cooperate with police on the other side of Öresund.
"We have regular meetings with Danish border police in order to identify and improve our cooperation. Danish and Swedish police have the same approach to how we operate, so the cooperation works well," says Thommy Brännström. He adds there are ongoing discussions with Denmark and also Germany about how to develop the cooperation further. 
Mattias Sigfridsson also points to the importance of Malmö police's "extremely close" cooperation with Danish police.
"Criminals work together regardless of where they might be, so we must also move around. We meet with Danish police and maintain direct contact both on a strategic level and in order to exchange status reports and see how we can help each other. This goes for operative activities as well as for investigations and reconnaissance.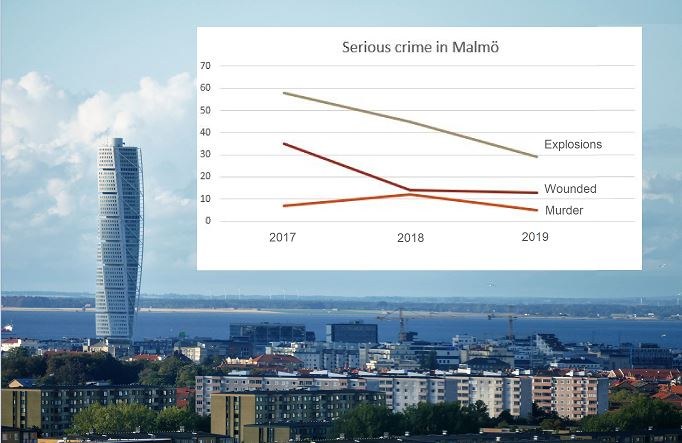 "Today's serious organised crime in Malmö also means there is a need for international cooperation, whether we are dealing with economic crime, money laundering, drugs or weapon smuggling," says Mattias Sigfridsson. 
The media image and gender issues 
Apart from the national and international fight against crime, the police must also handle the image created in editorial and social media of their profession. It is an image which does not always correlate with reality, but which nevertheless has an impact on all police and policing staff, thinks Mattias Sigfridsson.
One example is the story that has circulated in certain media that the Malmö police has so-called "No go zones". Mattias Sigfridsson can debunk that right away.
"No, we never did have that. We have always been able to move freely everywhere in the city. There have, however, been area where there has been more than one single patrol deployed, because of damage being done to our vehicles."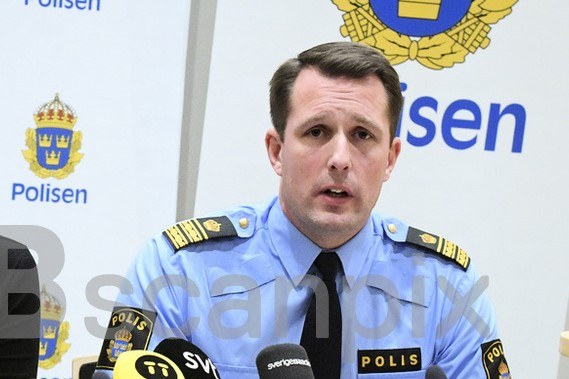 Another issue has been how female police are treated by criminals. Within the force, the police have made it clear they are people with authority, and do not differentiate based on gender, according to Mattias Sigfridsson.
"There have been isolated instances where a man has not wanted to be interrogated by a female officer, and we see that women are not always getting the same respect as men. But these instances are so rare that we cannot form a general picture based on them."
Met with respect, but also threats
Malmö's police chief thinks his officers on the beat are good at creating a dialogue with those they meet. Language can be a challenge – there were people from 186 different countries living in Malmö in 2018. The Malmö police therefore try to recruit people with broad language skills. Criminals do show respect, but there are also attempts to influence the police, explains Mattias Sigfridsson:
"Although it is not a criminal act, there is a risk that this will impact on the people of authority and lead to self-censorship."
Introducing more coaching
As part in the attempts to reduce such censorship, and to improve staff protection, the police occupational health service has introduced coaching using a method where staff is regularly gathered to get external help to reflect over how to handle threats and other issues. Previously, this has only been used by police working with child pornography and crime in close relationships.
"We are also introducing leadership training in the region to encourage our bosses to dare to be leaders, to dare to be both brave and vulnerable, to dare to talk about what might feel difficult. If I as a top police chief can talk about the difficult things in my profession, it becomes an example to follow for our colleagues. I see this as an important part of modern leadership," says Mattias Sigfridsson.
For the past ten years or so, the police have routinely not only started the shift with a conversation. They have also ended the day with a chat, to give everyone in the group a chance to talk about what they have experienced that day.
"We need to hear everyone before people go home, so this is standard for everyone who works on the frontline. It is very important for the squadron leader to be able to see what colleagues are going through, says Mattias Sigfridsson.
National efforts after murder of 15-year-old
The police do face many challenges, but Malmö has been receiving extra resources after police authorities on 11 November declared "a national major incident against serious violence in the country', also known as Operation Rimfrost. 
This happened a few days after two young people were shot in Malmö. One of them, a 15-year-old boy, died from his injuries. This was yet another tragic and far too early end to a life, and it happened only two and a half months after a mother of a baby was shot and killed on the street in the same place.
For Malmö, Operation Rimfrost means help from more investigators with more comprehensive skill, plus help from civilian specialists and more frontline police. The main aim is to reduce shooting and bombing incidents in criminal environments.  
The operation has already led to results, says Mattias Sigfridsson.
"Our arresting cells are always full. Right now we have 40 people held for serious crimes, and in total we are holding about twice as many people as that. In 2019 we have jailed many of the people in the three different networks that have been behind the violence in Malmö."
Criminal recruitment a major problem
There is still much to do, however. Like many, Mattias Sigfridsson can see problems with Malmö's main risk area, and with the three particularly challenging areas. Even if Malmö's authorities and civil society have managed to turn things in a positive direction, the city still faces some major challenges.    
"We also have a problem with the parallel societies of youths who want to enter the criminal world. The recruitment base should not be as big as it is today," says Mattias Sigfridsson. 
As National Police Commissioner, Anders Thornberg heads Sweden's largest authority with some 28,000 staff. He has told media that the whole of society has a responsibility when it comes to crime. He told Swedish Radio on 14 December that "the increasing crime levels are not being handled correctly" and said schools, social services and parents all had a role to play in reducing the number of young people who chose a criminal pathway.
More interest in Malmö and criminal gangs
This autumn the Swedish government presented its 34-point plan to fight criminal gangs and the Minister for Home Affairs is one of many politicians from different parties who often visit the Malmö police.
"They listen to us because we have had success in fighting criminal groups, and we have managed to break the trend of shootings and explosions. Some types of crime arrive first in Malmö before spreading to Stockholm and Gothenburg," says Mattias Sigfridsson.
Wants a change in the law
There are still people who regularly commit violence who walk free in Malmö, however. This is something a change in the law could have prevented. Despite calls from the police to classify explosives as weapons, this has not happened.
"We would have liked to see people being automatically committed for the possession of explosives and for carrying out destruction that threatens the public. All use of explosives in residential areas should be classified as a serious crime," says Mattias Sigfridsson. He believes that would make a difference.
Trained to handle threats and violence, but not to die
Mattias Sigfridsson has spent 20 years in the police, first on the frontline and then mainly as an investigator. During that time he has seen how Malmö's criminal networks have changed. 
"In the 90s, the warring parties in motorbike gangs committed serious crime when facing each other. In the early 2000s, you got the gang wars which led to several murders. Today we see loosely linked networks with fluid loyalties that change rapidly.
"This creates uncertainty within the networks. Who can you trust? The criminals do not sleep well, use drugs, become more violent and do not care if bystanders are hurt in their shootings and explosions. This also represents an increase in the risks our colleagues face when they are close to the action," says Mattias Sigfridsson.
The police face yet another challenge: the preconception of what they, as defenders of democracy, must be prepared to do. These preconceptions are found both in society as a whole and in the courts.
"We are expected to manage all kinds of violence, harassment and threats because we are trained to do so, the courts argue. Yes, we are trained, but not trained to die. There is a lack of understanding of what a human can take. When you come home with a black eye after being hit, you are a human being first. The experience does not fade when you take off your uniform," says Mattias Sigfridsson.