Åland was first to implement the Green Key certification scheme for restaurants in Finland. Among the pioneers was Pub Stallhagen, where chef Johanna Dahlgren has done a huge job both as an inspirator and educator.
"Every day I explain why we, for instance, do not serve ice cubes, Coca-Cola, Norwegian farmed salmon or lemons," she says. 
Pub Stallhagen lies nearly in the middle of Åland's main island, and guests are met by a map over Åland hanging on the wall in the dining hall. It details where the pub's local providers are – including the farmer who grows potatoes and vegetables, the apple grower who brings apples and freshly pressed juice and the sheep farmer who delivers fresh meat.
Johanna Dahlgren is a trained chef, waiter and economist, and is the managing director of the company that runs the pub restaurant. She chose which path to take from the start, although there really was no choice.
"It felt so obvious. I am born into a food family in the countryside. You harvested, hunted and fished, and made good food out of what you could get hold of. I held on to this way of thinking when I started on my own," she says.
Once a month at the most
She has grown ever more conscious over time, and applying for the Green Key certification felt like the obvious thing to do when the restaurant was presented with the opportunity. To be accepted, you first have to meet a number of basic requirements. Then you apply to renew the certificate on an annual basis, which means you have to improve all the time. One of the requirements for a restaurant is to make sure as many of the raw ingredients as possible are sourced locally.    
"One of our new goals is to serve chicken only once a month, and it has to come from an identified, domestic producer. Last year one of our new goals was to compost all of our food waste, which we now do, and we take the composted soil to one of our vegetable providers. We also try to minimise our energy use," says Johanna Dahlgren. 
Menu according to availability 
Stallhagen has one meat, one fish and one vegetarian dish on offer every day, but the menu depends on what has been caught or harvested. This upsets some guests.
"Some groups want to know which fish dish we will be serving when they are planning their visit six months ahead. I cannot answer that. It could be pike fishcakes if our fishermen have caught pike, but it could also be wild whitefish or something else altogether." 
She will never serve Norwegian farmed salmon, however. That would be as out of place as battery chicken in Stallhagen's food philosophy. 
"No lemon with the fish, either – that 'obligatory slice' which so often is left untouched on the plate. No lemons grow in Åland. If someone wants soda, we serve Åland varieties like apple juice, but without ice, because making ice uses both water and energy."
Explaining the choices
All this is not always pain-free. 
"I 'educate' our guests every day, and explain why we make the choices we make. I have always believed in what I am doing, and over the years my self-confidence has grown to allow me to stick to our chosen path. Some customers might choose not to come, but more and more are becoming aware and appreciate what we are doing. My staff share my values – those who don't choose to work elsewhere – and we encourage each other."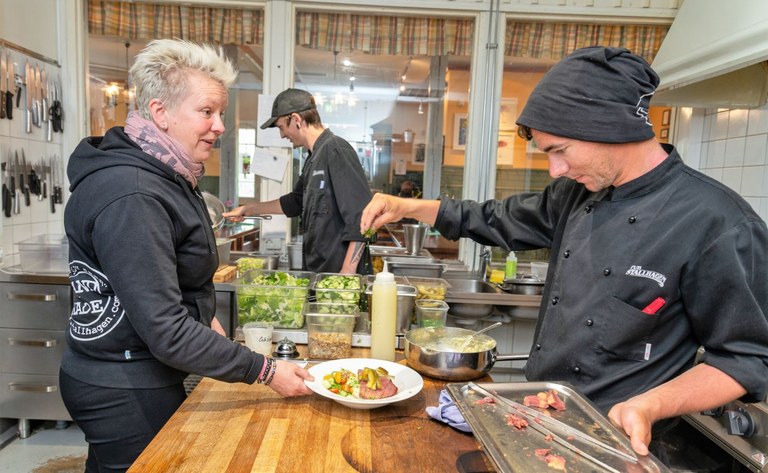 Part of the sustainability idea is to use all the parts of an animal, and not only the choice cuts which normally dominate menus. This means that Stallhagen's cooks are good at both slow-cooking and a huge variety of mince-based dishes.
There is no children's menu either, which Johanna says nearly always means sausages and fries, lasagne or hamburger.
"Part of our philosophy is to serve healthy food to all, including children – who just get a smaller portion of our daily dishes."
Adapted criteria 
Emma Lundberg is head of programme for the Green Key certification in Åland. It comprises 12 criteria which companies must fulfil. It was launched in 2014, and 17 companies have been certified so far. Internationally, mainly accommodation businesses are Green Key certified. Åland was the first place in Finland to also certify restaurants.  
"All tourism activity in Åland is very small-scale compared to the rest of the world. We have been able to adapt the Green Key criteria to our local conditions – in practical terms, they have become more strict – and are more focused on consumption and resource management," says Emma Lundberg.
She says consumers can trust that the approved businesses are fulfilling the criteria.
"Businesses are being inspected closely and regularly by an independent inspector. We have seen a sharp increase in the number of businesses that want to join in Åland. We have many who want to start their certification process, but we cannot bring everyone onboard right now. They are still not ready for the changes that are expected," says Emma Lundberg.
Read more about Åland and tourism here!