The Faroe Islands are closing down. Damaged nature will be fixed. The Prime Minister for the 18 green islands in the North Atlantic is being very clear: No tourists for an entire weekend. But the Faroes were not closed down. It was all a well-prepared PR stunt to attract more tourists to the country.
It attracted attention and created headlines. In late February this year, media from around the world told the same story. CNN, Washington Post, New York Times, Forbes, The Guardian and a range of other major international media.
"The Faroe Islands – closed for maintenance", read the Visit Faroe Islands website on 20 February. The message was backed up with a video in which the Faroese Prime Minister, Aksel V. Johannesen, made it clear that the Faroes would be closed for maintenance during the last weekend in April. It would, however, be open for volunteers who wanted to come and lend a helping hand.
Danish newspaper Jyllands-Posten was one of many media carrying the story. It referred to the website and the forewarned closure. "And this is a real warning. Because during the last weekend of April, the Faroe Islands plan to close off access to normal tourists". Other media wrote: "A so far unique way of doing things", "Controversial" and "Innovative". The story was everywhere.
The problem as part of the solution
The day after the "controversial" statement from Visit Faroe Islands, Denmark's largest union for marketing professionals – Dansk Markedsføring – said more than 300 news outlets had mentioned the country that would close for an entire weekend. The story was a stunt – a campaign commissioned by Visit Faroe Islands and created by two advertising agencies, Faroese Sansir and Danish Mensch.  
"Tourism is increasingly seen as a problem around the world. So we wanted to show that tourists can actually be part of the solution to the challenges that come in the wake of increased tourism," Rune Hørslev, head of department and partner at Mensch, told Dansk Markedsføring's website on 21 February.
A meaningful experience
We now fast-forward to the much talked about weekend. We are in the Faroes, it is 8am on Friday 26 April, and the rain is pouring down. Seven tourists are out in the downpour receiving instructions.
"It is a very meaningful experience when you travel somewhere, to be allowed to spend time with the local population and really try to understand their culture," Dorota Glab tells Kringvarp Føroya, the national public broadcasting company.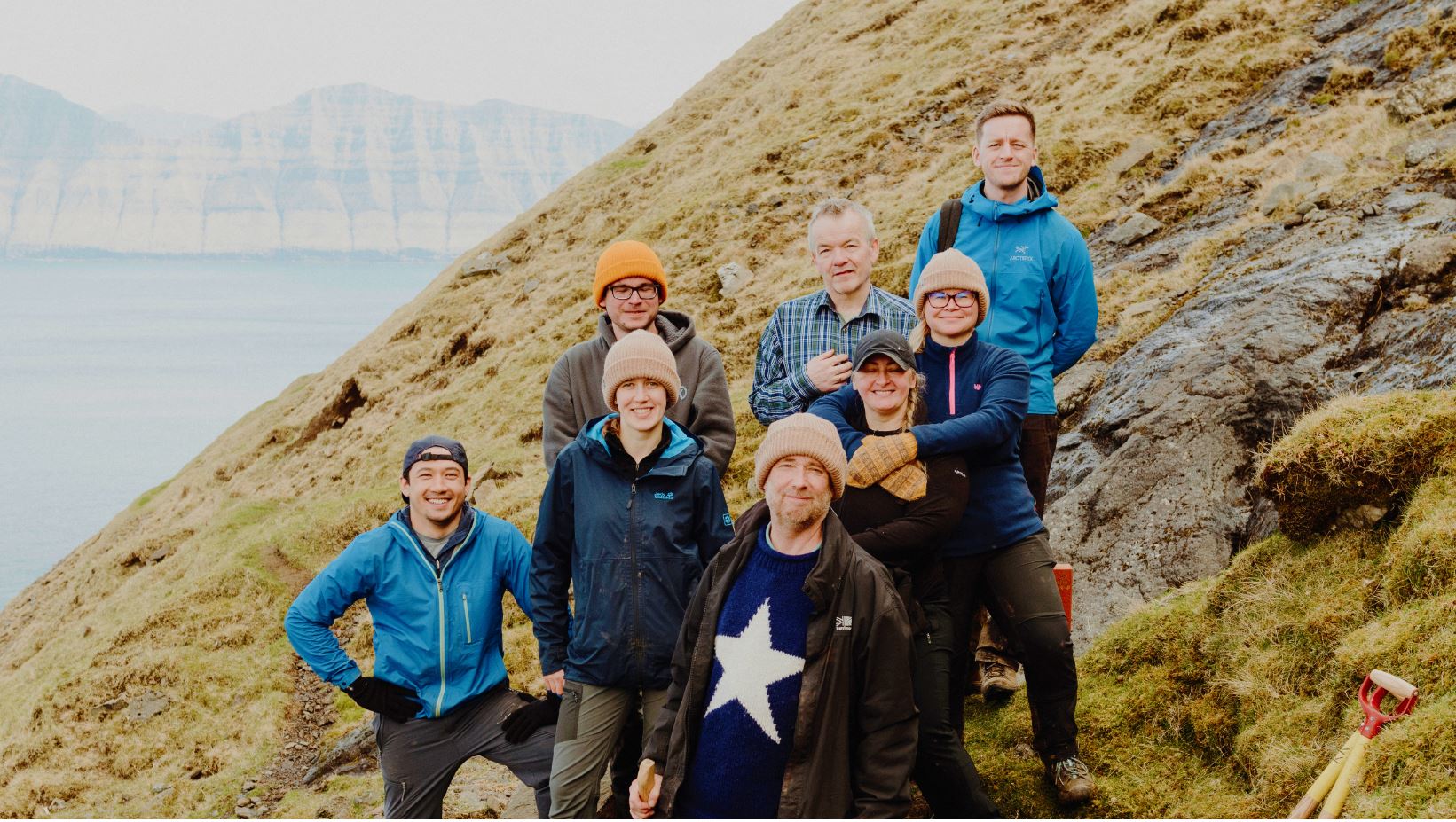 One of hte groups working with a path. Dorota Glab is number two, from the left.
She is being interviewed while standing on a narrow, worn-down path linking the towns of Elduvík and Oyndarfjørður on the second largest island, Oyndarfjørður.
Dorota Glab has travelled from Poland to the Faroe Islands. Six other people standing around her have done a similar thing. They have travelled from Finland, the Czech Republic, England and the USA. But now they are here, on the path called Líðin, which they will be mending under the leadership of Justinus Eidesgaard, who was born and raised in Oyndarfjørður, one of the two towns which the path links together. He has spent two days preparing the work that the foreign guests will undertake.  
"It is important to do something about this path, because it can be dangerous to people who are out walking but perhaps not accustomed to it. People could easily fall over," says Dorota Glab, and is proven right. Some time later one tourist has fallen twice, although suffering no injury.
"There is a strategy here, because we have not yet reached the steep parts – so now they can get used to working in this kind of environment," says Justinus Eidesgaard just before they calmly move further out. He is convinced they will get a lot done over these few days.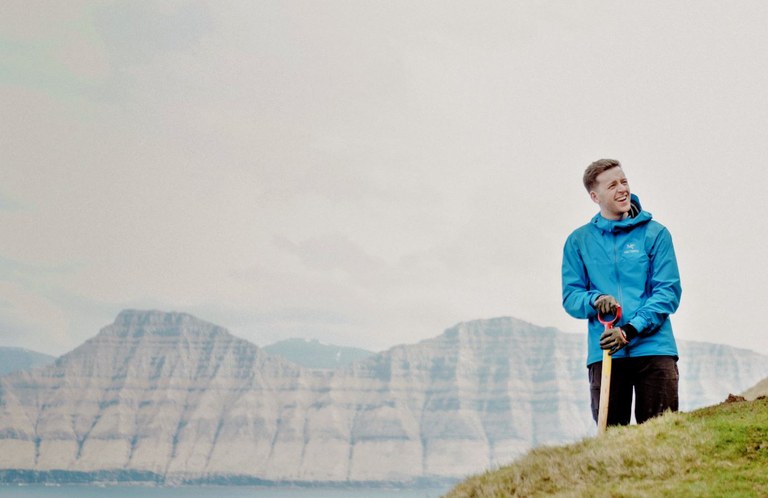 "My experience from stonework is that a whole lot can happen in a short space of time," he says optimistically to Faroese TV news on Friday night. 
Three days later, Justinus Eidesgaard is proven right. It is Monday 29 April, and the work to secure the old path is finished. Dorota Glab and the six others have left again.
"I am just so proud of the foreign guests who came to the Faroe Islands to do something good. Today I have received many pictures taken by the team while we were working. These are good memories," he says, and posts 12 of the pictures on Facebook.
Tourism is more than numbers
51 000 people live on the Faroe Islands. In 2018, more than 110 000 tourists visited the islands. This leaves clear marks on a country which has been marketing itself as being unspoilt and untouched. 
The first clear example of this came on 10 August last year, when the person responsible for the path leading to the bird colonies on the island of Mykines decided the path must close. It was too worn, and people's safety could no longer be guaranteed.
Visit Faroe Islands' volunteer projects aim to make sure such things do not happen again. 
"For us, tourism is more than numbers. Each year we welcome visitors with open arms. But we also have a responsibility for our local population and our beautiful nature which we must protect so that we can secure sustainable and responsible growth in the number of tourists also in future," said Guðrið Højgaard, Director for Visit Faroe Islands when the "Closed for Maintenance" campaign was launched. 
This time, closing the Faroe Islands meant closing ten tourist destinations and performing maintenance on them. The whole thing has been about trying to kill three birds with one stone: maintaining the illusion of the unspoilt green islands, protecting and maintaining fragile areas and attracting more tourists.   
The Prime Minister pays
Visit Faroe Islands received 3 500 applications from people all over the world who wanted to volunteer. After two days they had to close the application site. 100 volunteers aged 18 to 75 from 25 different countries were selected. They paid for their own travel to the Faroe Islands, while Faroese authorities paid for food and lodging. Or as Danish Berlingske wrote:
"The Faroese Prime Minister will pay for your stay on the Faroe Islands, if you will help keep the islands clean". He will do the same next year, because Visit Faroe Islands is planning to repeat the success.