Kristine Ronæss Årdal has cerebral palsy, and certain environments make integration difficult. In her experience, positive attitudes combined with physical facilitation is often easier to achieve than many think.
There is really not much that can stop the young woman. She just has trouble with her legs and uses a wheelchair. All her life she has been told that there is no rehabilitation for cerebral palsy (CP). She disagrees. 
"OK, but a job had to come along at some point, after 80 job applications. But I only got one interview, and the result was rather unexpected. 'Oh, you're in a wheelchair' said the employer. The interview ended after five minutes," says Kristine, rolling her eyes. She then talked to her personal assistant. How could she get a job? Kristine wanted to contribute to society. 
"We wrote a Facebook post in the form of a job application. We used the words 'positive, extrovert and wheelchair user'. We encouraged people to like and share. This time too, the result was unexpected," says Kristine excitedly.  
Mega response
"We posted the ad in the afternoon. Then I took the dog out. By the end of the evening we noticed many friends had been sharing the post. A few days later my sister had an incredible message for me. The post had been shared more than 8,000 times. Soon I had many messages. People wanted to give me a job," she smiles.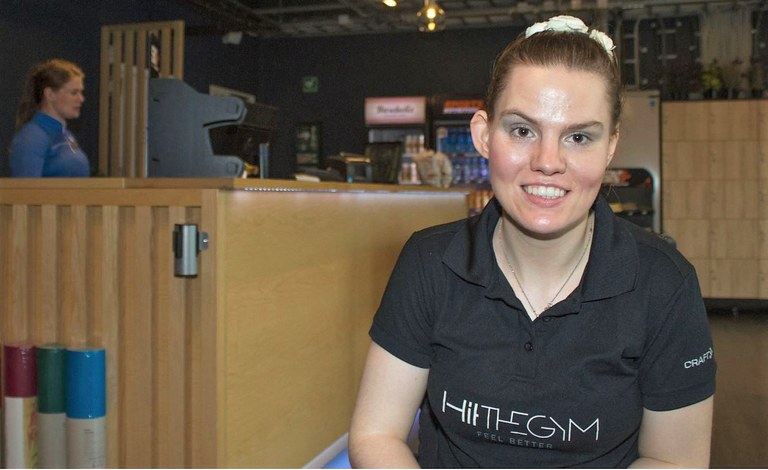 "I now felt welcome in many places, and especially with someone who was running a fitness centre. I dressed for the occasion, brought my CV and was super serious. Finally I was going to a normal job interview, I thought. But the managing director just wanted to say hello and talk a bit to get to know me better. I was hired on the spot and started there and then. At that stage I had been training a lot at home, but not in a gym." 
Approachable
Kristine was hired as a receptionist, to administer memberships, be a social motivator for customers and make sure they had access to everything they needed. 
"I carried out member surveys, and updated the fitness centre's social media. It was a good workplace because wheelchair access was good. A lift and big training rooms allowed me to move around freely."
Kristine was given proper working tasks. She felt valued during her two years at the fitness centre. Soon she was combining work and targeted training, which might turn into something more.
"I got feedback like 'it is motivating having you here. When you can exercise a bit more, so can we.' My bosses liked the fact that I was so visible. My colleagues were good at finding tasks which suited me. They saw me as extrovert, happy and positive."
Facilitation helps with inclusion
26 year-old Kristine is adamant that facilitation is the key to inclusion.  
"If the world had been made accessible, I would not have had a handicap. If there were ramps everywhere, if I could crawl in the streets. The attitude at the fitness centre was that 'we will make this work, this will be good'. They facilitated things for me with their positive attitude in addition to the lift and other physical advantages the building had to offer."
Then, the fitness centre was sold and got a new owner.  
"The new leader wanted to keep me on, but management higher up in the system did not," she says. She did not lose faith, however, because Kristine now has bigger things going on. 
Other countries
The training enthusiast compares accessibility in England, Scotland and Ireland. Sweden and Denmark are pretty similar to Norway, she says. 
"But perhaps a bit poorer than in Germany. There are no curbs there. There is smooth paving and asphalt everywhere. I like visiting old buildings. But the royal Stiftsgården residence in Trondheim has 10 steps before you reach the lift. In Scotland everything was better, with chair lifts everywhere. In Oslo you have small water drains running down every street. These can be tricky to get across. Trondheim is better than Oslo," says Kristine, and concludes that things can easily be improved.
Going for the "impossible"
"Right now I am training hard to try to learn how to walk, despite the fact I have yet to see any research that shows that [wheelchair-bound] people with CP can learn to walk. In that sense, I am a guinea pig." 
Kristine is very determined. She has met someone with CP at the fitness centre who apparently has learned how to walk. 
"The doctors don't quite believe him. But we train together, and I bring my doctor along to document my progress. I have become 14 centimetres taller, because my body has stretched as a result of the training. I am curious about how many years it takes before I too can walk. And how quickly I can get an ordinary job."
"Still a ray of sunshine"
Unni Carlsen Trøen was the managing director at the fitness club who offered Kristine a job on the same day she came in for her interview.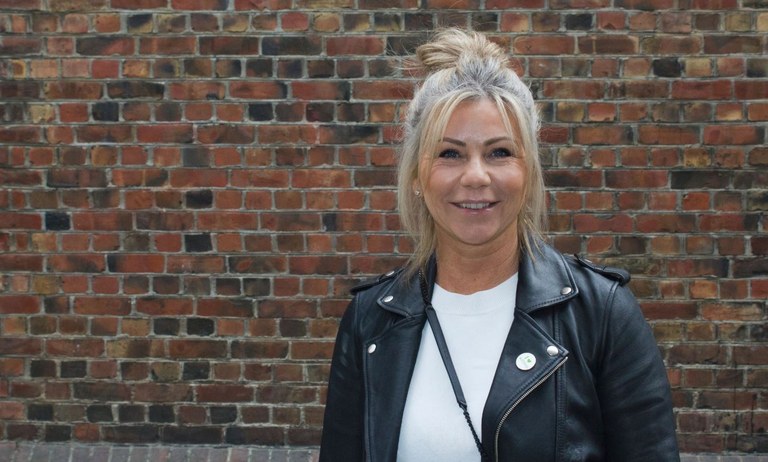 "You have to look beyond the handicap and see the person. We called Kristine our ray of sunshine. It still makes us happy to see her. Facilitation is everything of course, says Trøen, meaning both the physical and attitudinal kind.
"Kristine had an ordinary everyday job here. Facilitation was good, and staff had a normal attitude to people with handicaps. They are like me. There are lots of things I can't manage too. Everyone has their limitations, but integration is about looking for opportunities."
Kristine still has a part time job with Trøen. She is completely integrated there. It is a sales job, and she has good colleagues.
"We appreciate her input at work, during courses and during work trips. As part of our community."