In Sweden, February is often known as Vabruary, because that is the month most parents chose to vabba, a Swedish term for taking time off to look after sick children. Now it is becoming more common to stay at home with sick children while also working, This is known as vobba, and is proving somewhat controversial.
"In the evening on the first of February last year, Irma caught the norovirus, so there was no way I could got to work the next day. This year, that evening didn't come until the fourth of February," says Lovisa Henriksson, who is very well acquainted with the term Vabruary.
She is a single mother to four and a half year-old Irma, who spends her days with a nanny while Lovisa Henriksson works as a legal secretary in the centre of Stockholm. But when the norovirus arrives, there is no way around it – children must stay at home for at least 48 hours after the symptoms have stopped, to avoid spreading the virus. 
"The nanny doesn't care if she is a bit snotty and has a cough, but I fell it is better for Irma to be home when she is poorly so that she doesn't get worse later," says Lovisa Henriksson. 
Not always popular
She is one of the 865,761 parents who made use of their right to temporary parents' allowance in 2018, in order to look after sick children. This is colloquially known as vab, and has produced the verb vabba. Since 1978, parents of children up to 12 years of age have been able to take 120 so-called vabdays each year to look after sick children. Parents took a total of 6.9 million vab days in 2018. This was not equally divided between women and men. Women took 4,250,194 days while men spent 2,654,218 days at home with sick children.  
There was also a difference in the number of days taken off according to wage and education levels. The highest earners tended to take fewer vabdays. The same was the case for the lowest earners. The allowance represents 80 % of wages, with a cap of just over 28,000 kronor (€2,680) a month. In 2018 the cost of vab came to just over 6.5 billion kronor (€622m) according to the Swedish Social Insurance Agency, which administers the temporary parents' allowance.
A talking point during appraisals
Lovisa Henriksson is pleased that she can stay at home with her daughter when she is ill. To stay at home with sick children is a right, but not one that is appreciated by everyone in the lawyers' office where she works.   
"In 2017 I took 11 vabdays, and the year before that there were 20. I don't think that is a problem while my girl is so small. Still, my boss always mentions my vabdays during my appraisals, and might say things like 'when my children are ill we give them paracetamol and send them to school or nursery'. That's the kind of parents who are responsible for the fact that other children get ill," she says in a stern voice. 
She adds:
"So there is not much empathy from my boss when Irma is ill and I have to stay at home. I do get support from many of my co-workers, however, not least my secretary colleagues."
The boss' attitude makes her feel stressed when she stays at home with her little daughter. It is as if she was staying at home without reason.
"It's not as if I'm staying at home with Irma when she is sick because it is fun. It is also not good for my economy. But I feel stressed and judged when I have to stay at home, and this has also made me seek a lot of help from my father and aunt. That has saved me, but I do want to stay at home with my sick child."
Increasingly common to work from home
We meet on a Saturday morning at Lovisa Henriksson's brother Jon's. He is on his way to an indoor play area together with his niece Irma and his daughter Thea. Lovisa Henriksson is preparing to enjoy a day on the town with her eleven year-old niece Ella. None of the children suffer from colds, norovirus or other complaints this morning.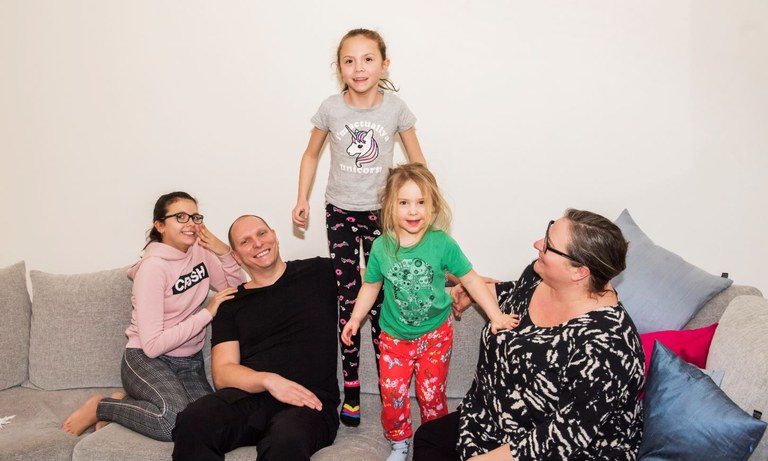 Lovisa Henrikson with her brother and the children Irma Henriksson (four and a half), Thea Henriksson Wong, (seven, soon eight) and Ella Henriksson Wong (eleven, soon twelve)
On the contrary. They are excited about today's adventures. Just before they go, Jon Henriksson mentions that he usually chose to vobba and not vabba – which means he works from home when one of his daughters is ill. To vobba is a relatively new idea and a new term, which was recognised as a new word in 2011.  
"I never vabba, but vobba when my daughters are ill," says Jon Henriksson. 
He sells data communication solutions, and when the children are ill he just calls the office to say he will be working from home. In his job, results count – not when he does the job. People who vobba gets paid as usual.
"It might be a bit extra stressful, but it makes economic sense," says Jon Henriksson.
Hard to leave work to look after a sick child
To vobba has become more common among professionals, according to a fresh survey from Novus on commission from the Unionen trade union. 1,560 members were interviewed, and one in four – most often women – chose tovobba instead of making use of the legally established opportunity to vabba. The respondents said the main reasons were to keep on top of their job, or that there was nobody who could take over their responsibilities while they stayed at home with a sick child. Unionen's General Secretary Martin Linder does not like this development. 
"To vabba is a legal right. It is the employer's duty to organise work in a way that allows people to do what they desire," he said in a press release.
Others choose to vobba out of consideration for their colleagues, but the reduced revenue is also a driver. One in four said their customers expected them to be available, and 12 % felt their employers expected them to vobba instead ofvabba. But many, four in ten, found it stressful to work from home while looking after sick children, and would have preferred to vabba.      
Lovisa Henriksson's job as a legal secretary means she needs to be present. She cannot chose to vobba. She can also not see how it would be possible to work from home with a small child. Her friends sometimes tell her that she should look for a job in a more child-friendly trade, but she does not want to.
"I am happy in my administrative job, and like providing a good service for people I work with. I have quit my previous job, and found one in a different legal office where the atmosphere is a bit more relaxed," she says.