Nordic people are keen to adopt new technology at work. The region is leading the way. The challenge is making sure workers get the chance to adapt to new skills, how to organise skills development and who should pay. We need better systems to handle the challenges, said Ylva Johansson at the recent conference on the Future of Work in Stockholm.
Optimism was the key word which coloured the discussions about "the Future of Work, the impact of technological development on work and skills" in Stockholm recently – to such an extent that it actually surprised the ILO representative Sangheon Lee and was highlighted by Sweden's Minister for Employment Ylva Johansson. The conference is one of the Nordic region's four contributions to the global debate on the Future of Work for the ILO's centenary celebrations in 2019.
"I believe change can pave the way for a better society, improved welfare and a better working life, as long as we use those changes as best we can, and protect ourselves against existing risks. I believe our positive attitude to new technology in the Nordic region stems from the fact that it has brought better jobs and better welfare. But if we are to maintain this positive attitude, we must secure a just distribution of the benefits that come from digitalisation and increased productivity," warned Ylva Johansson.
Sangheon Lee, Director of Employment Policy at the ILO, was among the many participants representing the labour market, business, authorities, research and international institutions. He readily admitted to the conference that he used to be one of those economists who was predicting the demise of the Nordic model around a decade ago. 'The bumble bee cannot fly' was the analogy used at that time. Today, the Nordic countries have proven that they not only have survived the changes, but that they are in the vanguard when it comes to shaping the future of work with more digitalisation, automation and artificial intelligence (AI).
"What we did not understand was how important the social dialogue between employee and employer was – on all levels – which creates flexibility and vagility within the system. At that time I was underestimating this potential, and I was not alone. But with time, people began realising that the social dialogue represented a good way in which to develop the labour market, and it also provided wage and price stability."   
Nordic region on solid ground
This was also an argument put forward by Ylva Johansson during her address to the conference. The Nordic labour market model is not the same across the Nordic countries, but there are some obvious similarities and it stands on solid ground: Strong, independent parties regulate big sections of the labour market themselves. Much of the labour market is covered by collective agreements, where the partners can regulate wages and working conditions. A system based on legislation is more rigid.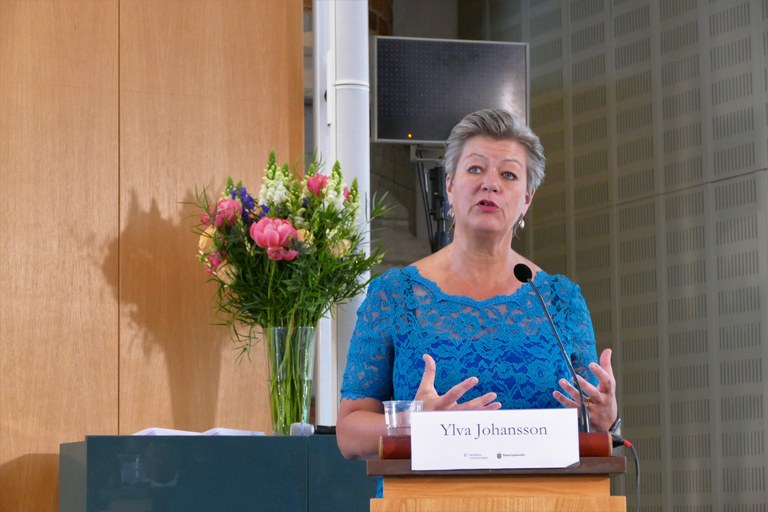 Nordic countries are also well protected during times of change. Unemployment benefits, active labour market policies and training opportunities help those who have lost their jobs find a new one. The Nordic countries provide good support during times of change, compared to other European countries.
Johansson believes this means people can retire later. Finally there is the strong welfare system with health services, free health care and parental pay available as an individual right and not linked to a job. In many countries, different parts of the welfare system are linked to your job. This could be an obstacle to mobility. All this strengthens the Nordic region in the face of change. It tallies well with studies from Eurofound which say Nordic countries tackle changes well.  
"We are not afraid of robots in the Nordic region. We are more scared of old technology than new technology," says Ylva Johansson. This is linked to how much people need to be worried about their own private situation during times of change, shows the Eurofound report. 
Who pays?
But there are still challenges to be solved. One major challenge is skills development. Who should be responsible, how should it be organised and who pays?
"Employers are responsible for the skills development which is necessary for employees to manage their jobs. But studies from Sweden show that Swedish employers are spending less money than before, despite a growing need," says Ylva Johansson.
"Then you have the individually driven skills development, for which you take the initiative yourself. But the biggest challenge is the skills development needed in your job which can also lead to a new job. Who pays for that?"
Ylva Johansson believes a tripartite cooperation can be a possibility also here, with contributions from the state but with a level of shared costs and responsibilities. 
There is also a need for new forms of adult and continuing education. Universities and university colleges must contribute more actively in the shaping of new offers that are adapted to the labour market and new technological challenges. 
"I think we need to find new kinds of skills development, future optimism and new ways of organising this," says Ylva Johansson.
"Meanwhile, we also see an increasing number of self-employed people and people combining work and education. This also means we need to change the systems for labour market security in line with new types of working and employment conditions."
On top of this there are demographic challenges. In Sweden, the age distribution looks very good, but the challenge is how to provide new citizens with a chance to join the labour market. We need a labour market policy which can exploit this opportunity.
A global debate
The debate on the Future of Work is a global one, initiated by the ILO. Sangheon Lee has taken part in discussions around the world, but has not experienced the kind of future optimism he has seen here. He believes this is due to the level of trust both employees and employers have in the economy and in the system, as well as the Nordics' experience of being able to successfully adapt in the wake of previous crisis.
"People trust that this system can be modulated and upgraded, and there is a recognition that the system has a great level of flexibility which means it can adapt to developments. All this creates a very positive atmosphere when we talk about the future of work," says the ILO's Sangheon Lee.
"I am also optimistic," he says with a smile on behalf of the Nordic region.
"Expectations represent an important element in the economy: If everyone believes things will turn out fine, there is a greater chance they will. The Nordic countries have open economies, a high degree of social protection, a good welfare system, the wage formation works well and you have a good education system," he says, and with that he underlines Ylva Johansson's points.
This is the third of four Nordic conferences on the Future of Work. Sangheon Lee has read the reports from the previous two conferences. In brief, he thinks things have moved forwards since the first one which was held in Finland in 2016, when the future outlook was a bit more pessimistic. The second conference, held in Norway in 2017, saw a more balanced attitude and increasing optimism, while this year there is considerably more optimism and less unease and pessimism. 
"This shows that the Nordic countries have had a good process, and that they have been preparing well by addressing all of the issues, while becoming more self-aware in face of how things are developing. This is very good for the discussions about the future which we will be having in connection with the ILO centenary in 2019.
"The Nordic countries represent a good role model for the rest of the world when it comes to attitudes to how we can change the future of work through good politics and social dialogue."
The global commission heading the debate within the ILO will publish a relatively short report with a range of recommendations. This will be a contribution to the centenary conference next year. The conference will then discuss which recommendations should end up as global policy. 
Will there be a new declaration?
"Many hope that will happen, and that this will be a new start for the ILO. But it is difficult to predict how things will pan out," says Sangheon Lee.