14 percent of jobs in OECD countries are at high risk of becoming automated, while a further 32 percent of jobs will change radically, says Mark Keese, Head of the Skills and Employability Division at the OECD.
"The rapid development makes it hard to issue a prognosis," said Mark Keese as he addressed the conference on the Future of Work in the Nordic countries, held on 15th-16th May.
The OECD is also working on a report on the future of work, he said. Their approach is not unlike the one used in the research which the Norwegian research foundation Fafo has been commissioned to do.
"We wanted to do something different this time, compared to the reports where we gather facts, talk to all stakeholders and then perform our analysis in our ivory tower. So we will stage a range of policy workshops, with those affected by developments.
"We know very well that there is no single solution that suits everyone. The results will be presented in the next Employment Outlook 2019, and later we will raise some of the issues in our policy reviews for separate countries."
Automation
He used automation as an example of how things are developing faster. 
"There are twice as many robots in the world today as there were in 2010. The number will double again in the next three to four years. 
"Translating a Swedish document to English using Google Translate five years ago, or three years ago, often produced a strange text. Today the result is much better and looks like proper English."
He points out that things will develop differently in different countries. Japan has the highest number of robots, and faces acute challenges linked to its ageing population. Today there are two people aged 16-64 for every person aged 65 or older. But by 2050 there will as many pensioners as people of working age. That is why Japan is focusing most of its robot research on the elderly care sector – not only to help carers, but to act as social objects for people suffering from dementia.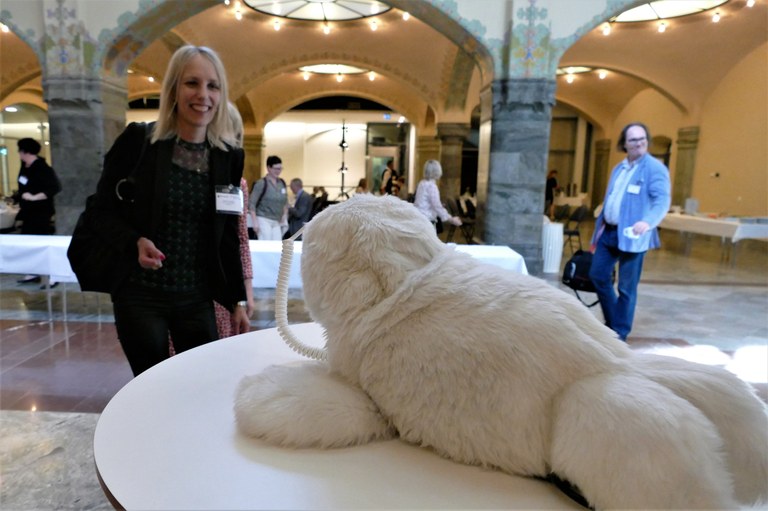 A photo exhibition at the conference showed images from Japan plus a couple of animal robots – a cat and a seal which tempted many of the participants to give them a stroke.
"The fear of robots is greatest in the USA and smallest in the Nordic region, since employees here feel they have the chance to influence developments," said Mark Keese. 
Automation bottlenecks
There are still some bottlenecks which make it hard to automate certain working tasks:
Tasks linked to judgement and handling, especially when it is happening in unstructured, complex situations – like working in narrow spaces.

Tasks which depend on creativity – like providing completely new ideas.

Tasks which demand social intelligence.
More education and training is needed to manage the changes. But there is a mismatch between the need and what is on offer. Those with the least amount of education get the least amount of training. While 40 percent of employees in OECD countries have had some kind of training during the past year on average, only 17 percent of people with low skills levels have had the same. 
"When we look at how many jobs are going to disappear, which within the OECD is 14 percent on average, and compare this to the Nordic countries, the numbers there range from six to eleven percent. These lower numbers could be a sign that these jobs have already disappeared, since the Nordic countries usually are well ahead of developments," says Mark Keese.
"If you add those 14 percent of jobs which might disappear completely to those that might change radically, you are looking at 46 percent of jobs in the OECD. For the Nordic countries the number is 33-40 percent of jobs." 
Although some argue that even high-skill jobs are now at risk of becoming automated, like Camilla Tepfers at inFuture argued during the conference, Mark Keese said these kinds of prognosis have yet to prove correct. 
"On the contrary, artificial intelligence is threatening even more low skill jobs than during earlier waves of technological change. The jobs that are the least threatened are those that demand higher educations."
Will women get a better deal?
What about women? Will the digital change improve and worsen the situation for one of the sexes? Arguments for the strengthening of women's situation include that they already are more highly educated than men. New technology can also make it easier to find more flexible ways of working, combining paid work with looking after the family – something which women still do more of than men. 
"What surprised us when we looked at how this is divided up between the genders, was that we thought women's jobs would be harder to automate, since they are often jobs that are not routine but involve working closely with people. But women also work in sectors where there is greater risks of automation of working tasks.
"Certain platform economy businesses, like Uber, show a somewhat higher number of female drivers than traditional taxi services. But platform businesses are not necessarily better in general. If women are to not miss out on existing opportunities, especially within the STEM sector (short for Science, Technology, Engineering and Mathematics), you need measures aimed at increasing the number of women who chose to study these topics."
Differences greatest in Finland
The difference between the number of men and women who work as specialists in information and communication technology (ICT) is greatest in Finland within the OECD, while the difference in Sweden is the third largest.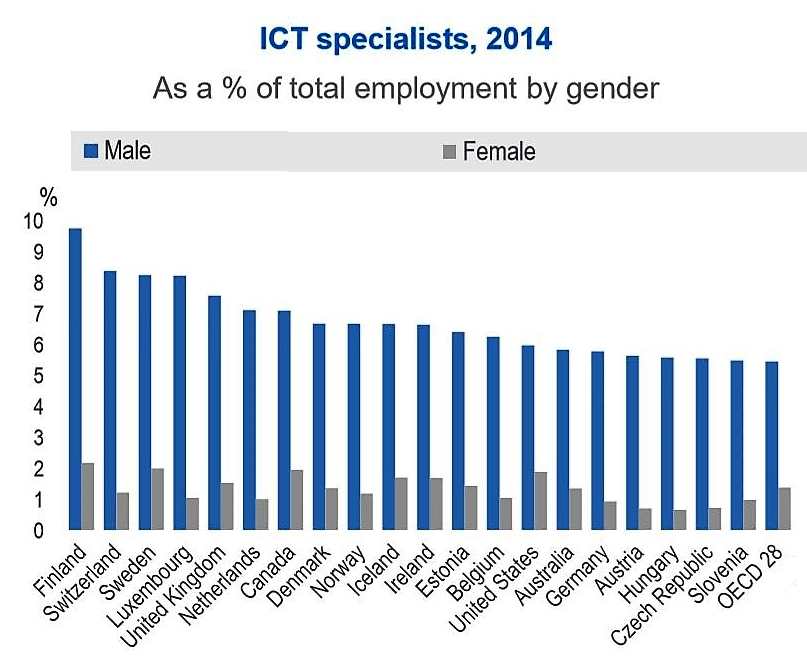 The number of ICT specialists as a percentage of the working force is the largest in Finland - but the men dominate the profession in an even higher degree than other OECD countries. The graph shows the 19 countries with the highest percentage of ICT specialists, as well as the average for OECD. Source: OECD
"Nothing will happen on its own. 60 percent of the world's population still has no access to the internet. 1.7 billion women do not own their own mobile telephone and there are 250 million fewer women than men online," says Mark Keese.