Getting newly arrived refugees quickly into work is a high priority with Roskilde municipality. Experience shows that early and employment-focused activation helps all parties.
Abadi Tefade Tewlde is one of around 550 refugees and family reunification members who have arrived in Roskilde municipality in the past three years. The municipality has an active policy for getting refugees into the labour market as quickly as possible. He arrived two years ago from Eritrea, and now has a permanent job as a caretaker. 
"I am very glad for my job and my colleagues are nice. We work well together and help each other," says Abadi Tefade Tewlde.
He and five colleagues are employed by Roskilde municipality's integration department, and the small team solves a range of practical tasks across the municipality's more than 30 refugee centres. This is where newly arrived refugees are being housed until they get a permanent place to live.
"We cut hedges and mow lawns, look after the heating system and provide transport when refugees are moving in and out of the centres," explains Abadi Tefade Tewlde. 
The job covers 25 hours a week, but Abadi Tefade Tewlde is ready to work full time whenever he is given the opportunity, because he is married with three children aged three, five and eight.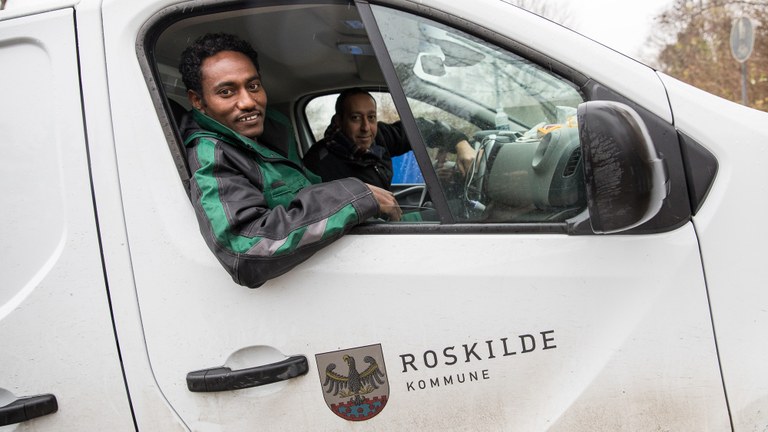 One of Abadi Tefade Tewlde's colleagues is Mohamad Rydahl, who was also once a refugee. He came to Denmark 20 years ago from Iraq, and back then the integration process was not anywhere near as good as it is today, thinks Mohamad Rydahl.
"Today the municipality is far more active when it comes to helping refugees to quickly get a traineeship or a wage subsidised job, and that is a great leap forward. When I came to Denmark, I got Danish lessons four hours a day, and apart from that nothing happened. Nobody helped me get in touch with the labour market, I had to do all that my myself."
Many in traineeships and wage subsidised jobs
Abadi Tefade Tewlde's mother tongue is Tigrinya, and he also speaks Arabic and English. He can speak and understand quite a bit of Danish after having had Danish lessons for 18 months. This makes him a valuable employee for the municipality's integration department, says the head of integration there, Maria Tvarnø. 
Before Abadi Tefade Tewlde got his permanent position, he had a traineeship with in-work training for six months at Materielgården, the municipality's own contractor. That worked so well that Maria Tvarnø decided to offer him a permanent job.
"Abadi Tefade Tewlde is one of several refugees who have got a permanent job with Roskilde municipality after having been in a traineeship with training and perhaps in a wage subsidised job. We consider it to be very important for refugees to quickly get out to a workplace. It gives them a Danish network, they learn more Danish and they learn about conditions in a Danish workplace and about the demands and expectations linked to getting a job. 
"Most refugees consider an ordinary job with a normal salary to be their best chance to be able to care for their own families themselves, and create a new life in Denmark," thinks the head of integration.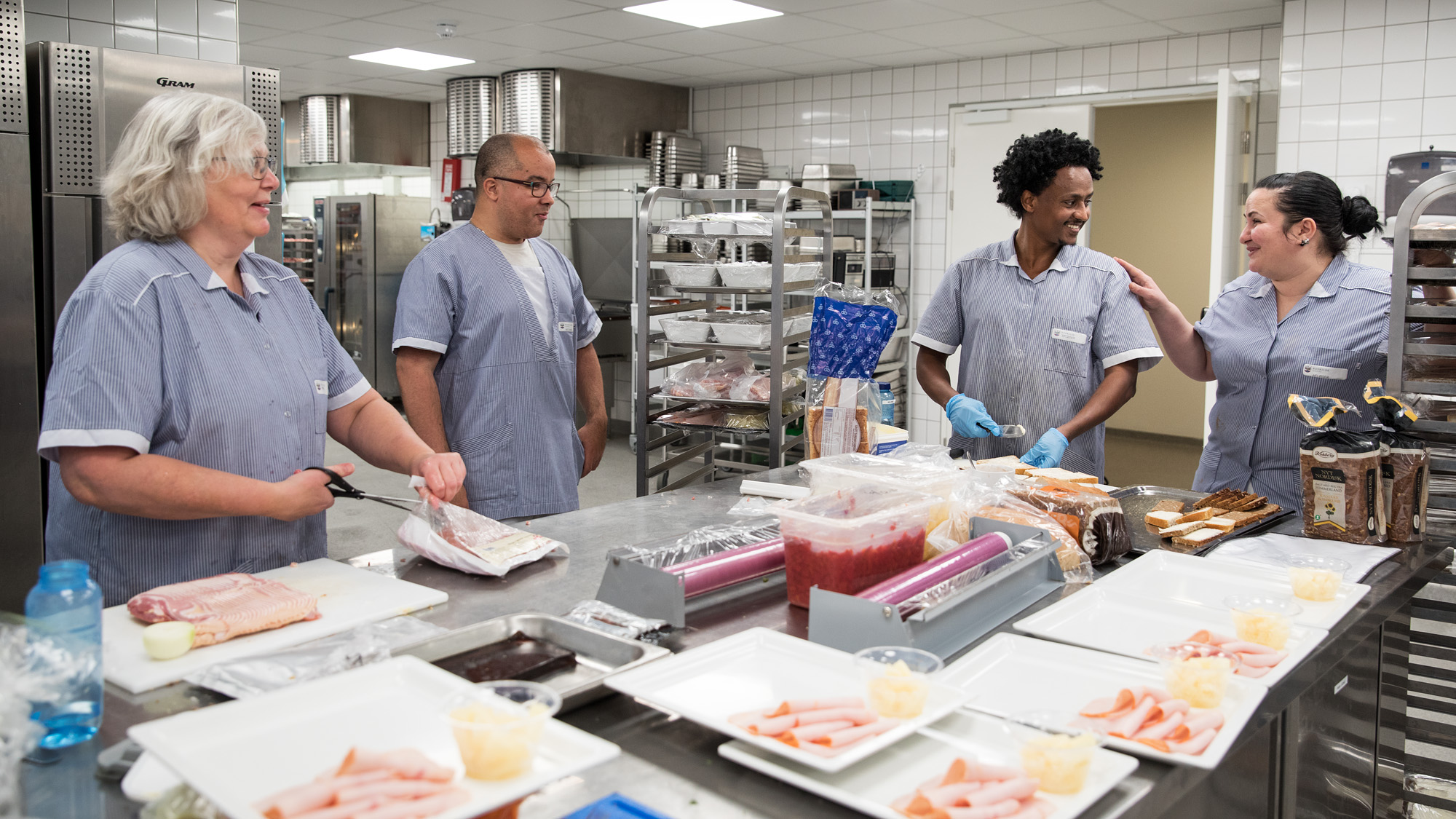 Bhane Mamu, a refugee from Eritrea in the kitchen at the nursing home Trekroner in Roskilde, where he works. To the left of him Hanne Jensen Sode and Michael Plummer,  to the right Necla Sentürk.
Roskilde municipality therefore puts a lot of effort into creating traineeships and wage subsidised jobs for refugees, both with municipal and private employers. The municipality has a dedicated integration department which takes care of its overall integration drive, including receiving and integrating newly arrived refugees. There is a lot of support for the from the city council and from the businesses, says Maria Tvarnø.
"At any one time, Roskilde municipality has 70 to 80 refugees in traineeships, and the numbers are rising. The number of new refugees who have gone on to find jobs with wage subsidies and ordinary jobs is also rising. 
There are exactly 40 refugees in wage subsidised jobs and another nearly 40 new refugees have found an ordinary job. This is progress we are very happy about, says Maria Tvarnø. Another 20 or so new refugees have started an education.

New thinking from the municipality
Roskilde municipality's integration department spends a lot of energy identifying businesses which need labour, and where refugees can make a difference. Maria Tvarnø is very focused on the fact that the municipality's measures for refugees should have a real work perspective.
"Both traineeships and wage subsidised jobs are temporary, but we are very careful to create traineeships and wage subsidised jobs which can bring refugees closer to the goal: A real job or an education."
Getting businesses to agree to a binding cooperation on recruitment and to keep refugees on their books demands creativity and the desire to think new, the head of integration thinks. 
"We will be ready to go the extra mile with the businesses. We have for instance got a cooperation deal with a large conference centre in Copenhagen, the Bella Centre, where some 20 refugees are now trainees. To make this work and to make it a success, some of my colleagues have for a period of time been stationed at the Bella Centre.
She hopes and expects that the Bella Centre will offer some of the refugees wage subsidised jobs. She is very excited about how many of them will get that offer. The head of integration is also developing another major project – a driver's education for new refugees in cooperation with a transport sector temping agency.
"If we get that up and running, we are looking at 30 spaces, and there is a great chance that this would lead to jobs. Because we know that transport managers are struggling to find the necessary manpower."

Far from all refugees experience that a traineeship or a wage subsidised job leads to a permanent position. Bhane Mamu is one of those who failed to secure a job – for now, at least. Like Abadi Tefade Tewlde, he fled from Eritrea and has soon finished a traineeship with the company Madservice Roskilde, which makes food for the municipal nursing homes. Both his boss and his colleagues are very happy with his work, but there is no money to hire him on a permanent basis, explains Pia Fastholm at Madservice Roskilde:
"We appreciate Bhane Mamu a lot. He does something good for the whole staff. He is really nice, industrious and helpful, so it is really sad to have to wave him farewell. But we have no spare capacity, so we cannot keep him on when his wage subsidies position stops. Hopefully his stay with us has made it easier for him to find work somewhere else," says Pia Fastholm.