There is only one position of power in the Nordic Labour Journal's gender equality barometer which no woman has ever held in a Nordic country – the commander-in-chief for a country's armed forces. And while women have been absent in war, they have been equally ignored in peace negotiations and peace keeping missions.
Between 1992 and 2011 less than four percent of people signing peace agreements were women. Less than ten percent of peace negotiators during this same period were women. That's according to statistics from UN Women.
It's been 60 years since the establishment of the first UN peacekeeping mission, but not until 2014 did such a mission get a female commander, when Major General Kristin Lund became the commander for UNFICYP in Cyprus.
But why is such an appointment important? The Nordic Labour Journal asked Torunn L Tryggestad, who has just been appointed Director for the Peace Research Institute Oslo PRIO's Centre on Gender, Peace and Security:
"It is important for many reasons. Symbolically it shows that women as well as men can reach the top, which is also important in terms of young girls having role models," she says.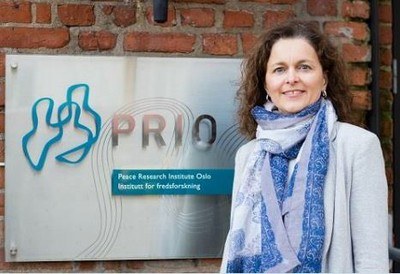 "Women also bring different experiences than men. But there is not all that much research in this area. Another difference is that women have had limited access to weapons compared to men, and they are more positive to reconciliation processes and cooperation across ethnic, cultural and religious borders."
At PRIO, a core group of four people have been doing research on gender and conflicts for ten years. Yet when the Norwegian government were going to implement the UN resolution 1325 on women, peace and security, it became clear that further research was needed. As a result, a few weeks ago the PRIO Centre on Gender, Peace and Security was established. It has secured several years of funding and will be able to boost research considerably.
Is there a particular reason why Cyprus got the first female commander?
"Cyprus might have no such history of its own, but it has been said that the UN wanted a success story. So when it chose a woman for the first time it was to lead a smaller operation with a greater chance of success," says Torunn L Tryggestad.
According to statistics from UN Women, peace agreements involving women have a 20 percent higher chance of lasting for at least two years. The chance for a peace agreement to last for more than 15 years increases with 35 percent.
But could that not simply be because women are only allowed to take part in the easiest peace negotiations?
"I must say I am sceptical to those figures and wonder how they have been arrived at methodologically. The probability might be larger, but there is no causality. The number has been blown up politically. But when I give a speech I too make the point that considering the state of today's world, results are not too good when only men are involved.
"I believe it is mostly about rights, that women should have the same rights to participation, and I am not so fixated on evidence. But if you want to use numbers you must make sure they are correct."
With the establishment of the Centre for Gender, Peace and Security, what is the first thing you will be focusing on?
"What we have just been discussing will be important. How important is female participation? Will peace negotiators get better if they are also trained in a gender perspective? We already cooperate with the UN and the Finnish Crisis Management Initiative (CMI) on this. We will monitor the work and see whether it has an effect." 
Is there a dilemma here? To demand that women must be allowed to serve as soldiers and kill other people – is that really feminism?
"We do not take a stand on this as an institution. But UN resolution 1325 has been championed by many peace movements and pacifist groups which believe you should concentrate on keeping women away from the armed forces. Yet if you look at what 1325 actually says, it also includes the military aspect."
When will we see a female commander-in-chief in a Nordic country?
"We have just had a new commander-in-chief in Norway, so it will be a while until the next appointment. But there were several strong female names in the running last time. Perhaps next time a woman will get the position, but this is also about which government will be in power at the time. Social democratic governments are probably the most keen when it comes to such an appointment."
Minister of defence has become a female job in Norway. The current minister, Ine Marie Eriksen Søreide, is number six since Eldbjørg Løwer became the first one in 1999. Sweden has had three, Finland has had two (but after that only men – seven after Anneli Taina). Denmark has only had one and Iceland has no defence minister at all.
"I don't think the recent developments in security policies has much impact on the defence minister position, but there is a development where the commander-in-chief is becoming more important and the defence debate is more coloured by cold war rhetoric. The new security political debates which began emerging in the 90s, focusing on humanitarian security rather than state security, have started to fade.
"Many fear the current unstable security policy situation will lead to a backlash for women, peace and security issues related to this," says Torunn L Tryggestad.
 Female ministers in the Nordic region 1970-2016
| Minister | Denmark | Finland | Iceland | Norway | Sweden |
| --- | --- | --- | --- | --- | --- |
| PM | 1 | 2 | 1 | 4 | – |
| Finance | 1 | 1 | 1 | 2 | 2 |
| Foreign | 1 | 1 | 2 | – | 7 |
| Social | 20 | 15 | 4 | 9 | 8 |
| Labour  | 4 | 5 | – | 3 | 7 |
| Industry  | 5 | 1 | 3 | 5 | 2 |
| Justice | 6 | 7 | 3 | 13 | 6 |
| Defence | 1 | 2 | – | 6 | 3 |
| Transport | 3 | 8 | 1 | 7 | 6 |
| Agriculture | 6 | 1 | – | 4 | 4 |
| Culture | 8 | 6 | – | 11 | 6 |
| Education | 8 | 10 | 3 | 4 | 1 |
| Environment | 5 | 3 | 7 | 9 | 7 |
| Total | 69 | 62  | 25  |  77 | 59  |
If a minister has returned to her post after a break, or has served in a different ministry, it is counted as two ministers.