Since last year's barometer there has been a change of government in Finland and in Denmark. Both resulted in governments with fewer female ministers. As a result Nordic gender equality falls by three points to 64 points. Behind the seemingly slight loss, women particularly in Denmark are facing a real setback in the fight for power.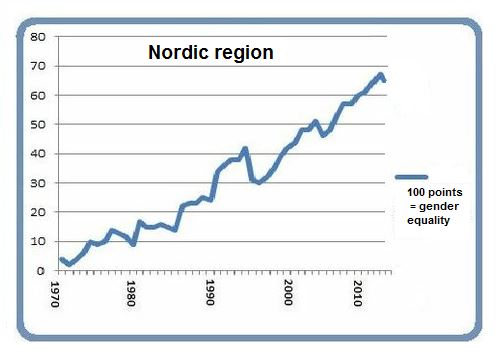 This is the sixth year in a row we use our barometer to measure gender equality in 24 positions of power within politics and in the labour market. 100 points shared between the five Nordic countries means full gender equality. We also look all the way back to 1970, the year before the Nordic cooperation began on the ministerial level.
This year the female points were shared like this: 
| Country | Points 2016 | Change |
| --- | --- | --- |
| Danmark | 11 | -3 |
| Finland | 5 | -2 |
| Iceland | 10 |  +2 |
| Norway | 22 |   0 |
| Sweden | 16 |   0 |
| Nordic region | 64 | -3 |
Denmark with fewer female ministers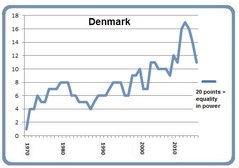 When Lars Løkke Rasmussen formed his government on 28 June 2015, it had 17 government ministers. The number of women was remarkably low for a Nordic country – only five, or 29 percent. That is comparable to the outgoing government of Helle Thorning-Schmidt. Six of her 20 ministers were women, which was marginally higher at 30 percent.
But the comparison is an example of how misleading it can be to use pure maths when studying gender distribution. In Helle Thorning-Schmidt's government, women held some of the most important posts. The Prime Minister was a woman, so too the party leaders for the two coalition partners, the Socialist People's Party (SF) and the Danish Social-Liberal Party who also served as government ministers. 
Anette Wilhelmsen from SF was Minister for Social Affairs, while Margrethe Vestager from the Social-Liberal Party was Minister of Economic Affairs before leaving the government to become an EU commissioner.
Lars Løkke Rasmussen's government only has two women in the ministries we look at: Karen Elleman is minister for Social Affairs, while the Minister for Food, Agriculture and Fisheries, Eva Kjer Hansen, is stepping down after the opposition threatened her with a vote of no confidence. She was replaced on 29 February by Esben Lunde Larsen, the former Minister for Education. Ulla Tørnæs took over his position.
The only thing which saves Denmark from a severe setback for gender equality in positions of power is that the Danish Confederation of Trade Unions (LO) has elected its first female leader. That is worth four points, and together with the President of the Confederation of Professionals in Denmark, Bente Sorgenfrey (two points), the two government ministers and Queen Margrethe as head of state (three points), Denmark gets 11 points this year, three points down on 2015.
Finland from bad to worse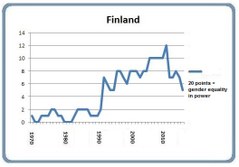 Juha Sipilä from the Finnish Center Party formed his government one month earlier than the one in Denmark, on 29 May 2015. It only has 14 government ministers, four of whom are women – 35 percent. That is more than in Denmark, but far from what his party colleague Matti Vanhanen's second government after the 2007 elections had. It beat the world record with eight in twelve ministers being women, or 60 percent. 
Juha Sipilä has three women in the posts which we measure: Minister of Social Affairs Hanna Mäntylä, Minister of Transport and Communications Anne Berner and Sanni Grahn-Laasonen who is Minister of Education and Culture, a twin role which gives her two points.
Pauliine Koskelo is President of Finland's Supreme Court. All in all Finland only gets five points in our gender equality barometer, down two points. That is a new bottom ranking.
Norway still a clear number one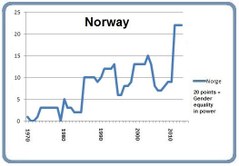 In 2014, Norway became the first country where women reached full gender equality within the 24 positions of power which we measure, with 22 out of 40 possible points for one country. Norway kept that position with an equal number of points in 2015. This comes as a result of a combination of a large number of positions held by women and the importance of those positions. Here too the party leaders, Erna Solberg and Siv Jensen, hold government positions – the top ones at that: Prime Minister and Minister of Finance.
Another woman entered government after a reshuffle last October, when Anniken Hauglie replaced Robert Eriksson as Minister of Labour and Social Inclusion. As a result, all the social partners' top people are women.
The women lost one point in the government since the post as Minister of Climate and Environment went from a woman to a man, while Sylvi Listhaug moved from the job as Minister of Agriculture and Food to the newly established post as Minister of Migration and Integration. That meant the Minister of Justice, Anders Anundsen, was freed from some of his tasks, but the Minister of Migration and Integration does not figure in our gender equality barometre. There are also no points for the new Minister of EEA and EU Affairs, but in total women won positions.
In addition the new Chief Justice of the Supreme Court of Norway, Toril Marie Øie, is a woman. She started in her job on 1 March, just one week before International Women's Day. This also means that Norway gets 22 points, same as the year before.
Swedish politics in stormy seas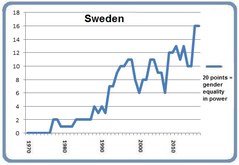 There has been far more focus on integration lately in Sweden too. Minister for Employment Ylva Johansson is responsible for this area, yet Prime Minister Stefan Löfven does not want to go as far as calling her a minister for integration. That is probably out of consideration for the Green Party, which used to be responsible for such issues.
"Ylva Johansson becomes 'Minister for Integration' and steps forward as a possible successor to Stefan Löfven. The world's smallest government reshuffle is both a step back for the Social Democrats – and a loss of power for the Greens," commented Göran Eriksson from the daily Svenska Dagbladet.
There are no other changes which impact on the gender equality barometer, and as a result Sweden gets the same number of points as last year, 16. But Swedish politics has been in stormy waters too, and it has mostly centred on Minister of Foreign Affairs Margot Wallström. 
In January the tabloid Aftonbladet disclosed that she had been allowed to hire a flat from Kommunal, the Swedish Municipal Workers' Union, which allowed her to bypass a queue which normally means eight years on a waiting list. Meanwhile the spotlight also landed on Kommunal because the trade union's restaurant and hotel business had lost 320 million kronor (€34m) since 2002. As a result, the female head Anneli Nordström announced she would be stepping down in May.
Presidential election in Iceland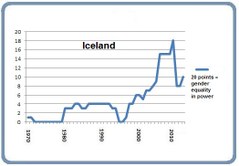 Iceland has not seen any changes which affect the points in the gender equality barometer in the government. But on 22 April 2015, Þórunn Sveinbjarnardóttir became President of the Icelandic Association of Academics (BHM), after the position for a short while had been temporarily filled by a male president. That gives Iceland 2 extra points, a total of 10. 
But in his new year's speech, President Ólafur Ragnar Grímsson announced he would be retiring on 1 August. There have been only five presidents in Iceland since the country gained independence in 1944, and Ólafur Ragnar Grímsson has held office for the longest, more than 19 years. The presidential election will be held on 25 June, and four candidates have put themselves forward, among them a woman – the author Elísabet Jökulsdóttir.