Finland has been caught unprepared by a flow of refugees the size of which the country has not experienced since World War II and the evacuation of Finnish Karelia. Many private individuals have been willing to help look after the new arrivals by offering food, clothes and accommodation. And now entrepreneurs are starting to turn up at refugee centres.
The government estimates that some 30,000 asylum seekers will arrive in Finland this year, and another 15,000 in 2016. It also predicts just over one third of them will be granted asylum. That means that Finland will see more refugees arriving in just two years than in the past 40 years — between 1973 and 2012 (40,742 people).
"The number of new arrivals has risen rapidly. Even with additional funding, we need to introduce new and cost efficient measures in our integration work," said the Minister of Justice and Labour, Jari Lindström in November when he asked the Finnish parliament for extra funding in order to help the refugees.
The government has now got help from an unexpected source. This autumn two adventurers and entrepreneurs, Riku Rantala and Tuomas Milonoff, introduced a new initiative: Startup Refugees. The idea is to map the skills among the new arrivals and to try to get them into work as soon as possible.
Starting grant
Many refugees will have been skilled professionals in their home countries, and should be well positioned to set up their own company. The idea is to give each asylum seeker a starting grant worth 1,000 euro which they can use as they please. Riku Rantala says this could be anything at all.
"A small initial investment, a work tool, a hygiene passport, an occupational safety or language course, hairdressing equipment, a computer, a mobile telephone, money for a bus pass so that they can travel to work, a computer program."
In the past few weeks several hundreds of university and vocational university students across the country have visited refugee centres to map asylum seekers' skills. Johanna Vierros is one of the coordinators of this work, and she says the job is not altogether easy since most of the people interviewed do not speak English. 
"We are now in the data collection phase. We create profiles, who they are, what they have done previously, what high schools and universities they have been attending, who are doctors or lawyers."
The other problem is understanding what the corresponding Finnish level of education is.
There is great interest in the project. Every day business representatives call Startup Refugees to learn how they can contribute.
"This is powerful," says Rantala, who got a standing ovation when he presented his plans to the global entrepreneur conference Slush in Helsinki. 
Rantala and Milonoff have been crossing continents around the world while filming their adventures for the internationally distributed TV series Madventures and the follow-up Docventures.
"I see the enormous advantage of people who understand different cultures, markets, languages — how many Finns understand the Arab market, for instance?"
Games developer
Among those helping to finance the project are the owners of games developer Supercell, Ilkka Paananen and Mikko Kodisoja, who became incredibly rich when they sold their majority share to Japanese SoftBank in 2013, and more stocks earlier this year. Supercell's games include Clash of Clans. Paananen and Kodisoja paid more than €100m in taxes on their capital gains. 
Paananen and Kodisoja have established the Me-säätiö foundation, which aims to bridge social gaps partly by improving public administration. The Managing Director, Ulla Nord, comes from various roles at the non-profit Helsinki Deaconess Institute where she has spent more than 20 years working with marginalised youths and children.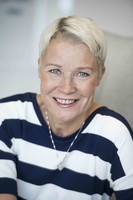 "In the biggest cities the major challenge is the sheer number of youths with foreign backgrounds who don't have a place in society, who are not studying nor working."
Ulla Nord says that number in Helsinki is close to one fourth compared to around four percent among youths on average. That is why it was not difficult to accept Startup Refugees' request for help.
"We wanted to contribute and create opportunities for people with a refugee background, to make them part of Finnish society, its culture and language," she says.
Each year the foundation awards some seven million euro to various programmes, and the capital is linked to shares, including at Supercell, whose dividend is being used for the programme. The foundation also recently awarded 2.5 million euro to the Helsinki City Youth Centre, to support a five year project for the integration of immigrant youth. 
Long term
Riku Rantala says successful integration also benefits businesses.
"We realised we had to get businesses on board, they can benefit from it. They don't need to recruit people, they get new innovations and this should not be funded with tax money."
For Rantala, Startup Refugees was not something he started on a whim.
"I want to highlight the fact that this is a long term project — an investment in the future."
Refugees have the right to apply for work within three to six months after handing in their asylum application, but the system has become clogged up and in reality it could take a year before a refugee can start looking for a job. The competition with other new arrivals is tough, too: unemployment among immigrants is considerable higher than among the native population — in Finland it is 2.5 to 3 times higher.