Numeracy is more important for participating in working life than previously thought. An OECD assessment of adult competencies shows that being bad at maths increases the risk of unemployment and influences wage levels.
PIAAC, short for Programme for the International Assessment of Adult Competencies, assesses adults' skills in literacy, numeracy and problem solving. There has traditionally been a lot of focus on literacy and working life, while only a few surveys have compared literacy to numeracy.
"Numeracy is more about everyday life than the maths we learn in school," says Hanne Størset, a researcher at Vox, the Norwegian Agency for Lifelong Learning.
Together with the Finnish researcher Antero Malin she has compared groups of people with strong and weak numeracy and literacy skills and assessed how they fare in working life in the Nordic countries. 
"Numeracy is an ability we often take for granted and we don't consider it to be a particular skill. Numeracy is often a routine part of daily work, which means neither the employee nor the employer are aware that the work tasks also demand numeracy skills," says Hanne Størset.
Nurses must for instance use numeracy in order to give the correct dosage of medicine, carpenters must be able to calculate how much material they need to purchase and chauffeurs must be able to assess how long it takes to drive from one place to another.
The PIAAC survey is part of the cooperation within the OECD and consists of a test given every ten years to adults between 16 and 65 covering literacy, numeracy and problem solving. They are divided into groups according to a scale ranging from 0 to 5. Hanne Størset and professor Antero Malin have studied the correlation between numeracy and literacy in each end of the scale, i.e. the group scoring 1 or lower and the group scoring 4 or 5.
Nordic network
The Nordic network within the PIAAC is unusual since Estonia participates, but not Iceland or the autonomous areas. According to the Nordic report, three million adults are suffering from skills shortages in literacy and numeracy in these countries.
The largest group, 1.7 million people, are weak in both literacy and numeracy. 500,000 are weak in literacy only, while 750,000 are weak in numeracy. The variation across the countries is not so great when it comes to those performing less well in literacy and numeracy. Finland has the lowest share, 16 percent of the population, while Denmark with 18 percent has the greatest share. 
The results are influence by the number of immigrants. At the time of the test immigrants participated according to their share of the total population. If you look exclusively at those with Swedish as their first language, for instance, the size of the group which is weak in both literacy and numeracy is halved in Sweden.
Larger differences among the well-performing
The differences between countries increase if you look at the proportion of the population with the best literacy and numeracy skills. Finland is top with 28 percent in the group scoring 4 or 5. Estonia is bottom with 16 percent.
If you compare the Nordic region as a whole with other countries the differences are even larger, with 35 percent of the Spanish population ending up in the weakest group, while only six percent are in the strongest one. On the other end of the scale you find Japan, where only nine percent end up in the weakest group and 28 percent are in the strongest group, the same as Finland.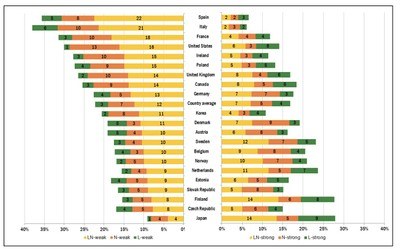 There is a strong link between education and good literacy and numeracy results in PIAAC. There are also gender differences in all countries; women perform slightly better than men in literacy, but worse in numeracy. The difference between the sexes is not so pronounced in the weaker groups, but it increases among those with good numeracy skills.
"It is interesting to see relatively small differences between the sexes when it comes to weaker results. Most, both women and men, need to improve their literacy and numeracy skills. If we want more working life participation, our results show that numeracy is what should be improved.
"We have not investigated why there is a gender divide when it comes to strong performances, but I presume this is influenced by participation in working life and by the type of occupation, position and working tasks people have. In Norway we see for instance no differences in literacy skills between women and men who work full time," says Hanne Størset.
More men in physical work
Other surveys besides PIAAC, particularly a larger British survey, show that poor numeracy skills represent a disadvantage for women because they tend to work in the service sector and retail, where handling money is an important part of the job. Men are more often engaged in physical jobs, where this is less important.
"Numeracy is also a skill which is easier to loose than literacy if you don't use it. This can make it harder for women to return to working life if they have been unemployed," says Hanne Størset.
Compared to elsewhere in the EU and to other non-EU OECD countries, fewer people in the Nordic region have poor literacy and numeracy results.
"The most important conclusion we have made after looking at the PIAAC tests for the Nordic region is that it is numeracy, and to a lesser extent literacy, which influences adults in working life. The group with weaker numeracy skills suffer both from higher unemployment and poorer pay. Those who score well in numeracy are better paid," says Hanne Størset.