It is women who decide over most home purchases and their buying power is growing. Yet most products are created with men in mind. This is one of the reasons why Sweden's innovation agency Vinnova's has created a unique new program which focuses on norm-critical innovation.
When women buy a new telephone they are interested in how it can contribute socially. Men making the same purchase mainly look at its performance. When women come ashore after a few summers on a recreational boat, they might say "never again". One important reason might be that they have spent their summer on a vessel which has been made without any thought of what women need. This has an impact on their experience of a holiday at sea. 
And what do the driver's cabins of long-haul trucks look like on the inside? How can we improve ergonomics and other needs to make it better for women to work as truck drivers?
Female specific products often turn out small and pink. But with no change in that attitude, companies will loose out on the big economic potential female consumers represent. They are now the strongest purchasing group and are behind 80 percent of all purchasing decisions, except when it comes to alcohol and tobacco, according to Professor Linda Scott from the University of Oxford. 
This is where the company Ampersand in Gothenburg comes in. For many years it has been looking at innovative solutions which incorporate women's perspectives both in the manufacturing, retail and marketing of goods.
"Our theory is that not all customers are white, middle-aged men and when producers and marketers realise this, much better business can be made," says Tatiana Butovitsch Temm who runs Ampersand together with colleague Camilla Palmertz.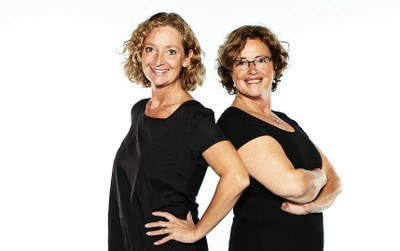 Tatiana Butovitsch Temm (right) and Camilla Palmertz.
Reaches a larger customer group
By taking gender, ethnicity and age into consideration when creating new products, but also during retail and marketing, businesses will reach a far larger customer group. This will also have an impact on the bottom line and on the products themselves. 
"Gender issues in Sweden are often about organisation, about gender division in boardrooms and leader groups, but we do something different. We see the benefits of including the woman as a customer in product development, marketing and retail, without the exclusion of men. Changing organisations takes time, this is quicker," says Tatiana Butovitsch Temm.
We meet the day after she returns from the Women Buy conference in Munich. This is the conference's second year. Tatiana Butovitsch Temm is full of enthusiasm. Her company is one of the conference organisers, together with Volvo and the company Design-people from Århus. The conference homepage says this is not a political movement or a women's liberation conference. This is about how companies and organisations can grow their business by understanding women better — the world's fastest growing customer group.
"Companies are measured by their profitability. That is why we want to create an interest in including women by following the money," says Tatiana Butovitsch Temm.
Women want more than small and pink
Her talent for thinking in terms of genders goes way back. She used to work for Volvo, where she and a group of other women created a concept car where all decisions were made by women. The car was presented 11 years ago, it was a success and was showcased on nearly all continents. Today 22 of their ideas are in production in the car industry, including the possibility of topping up windscreen fluid without having to open the bonnet. 
"The concept car was not small, not pink and not shown together with babies, which is nearly always what happens when you make something especially aimed at women. There are other important things to focus on. For instance a good driving position, a good view and somewhere to put your handbag," says Tatiana Butovitsch Temm.
Men are winners too
She says men were surprised. "But it looks good", some said when they saw the concept car. And perhaps this is at the very core of the issue. When women influence the way products are made, they do not make them worse for men. On the contrary, says Tatiana Butovitsch Temm. When you look at which qualities men and women look for in a product, they overlap or compliment each other to a large extent, she says.
There might be what she calls "a pink fragment" which stands out targeting quite narrow female desires, and sadly, she observes, many companies aim for the little pink fragment when they want to target women. You get razors which are smaller, pink and more expensive. Or hotels aimed at women which offer skin lotion rather than good lighting in their bathrooms and adjustable chairs to suit men and women.
It sounds like companies and female as well as male consumers would all be winners if you were to introduce gender focus in the creation of all new products. Yet things are moving slowly. One reason is that producers are scared their products will be feminised. Women are more likely to buy masculine products whereas men are less likely to buy feminine ones, observes Tatiana Butovitsch Temm. 
"We work a lot with major male-dominated companies, and things have been going well for them, so they might think 'why change a winning concept?'. But the big obstacle is to believe that we are already equal, that there are no differences between men and women. You say all customers are equally important and do not want to single out women. This is like turning a big oil tanker around," she says.
Norm-critical innovation
Through a grant called 'the Diversity Lab — norm-critical innovation' at Vinnova, Ampersand recently got money for a pilot study. They will work together with Chalmers Business Innovation at the Chalmers University of Technology to start developing a national index which companies can use in order to see how inclusive they are when it comes to their customers. 
"Ampersand's work, which looks at how technology can improve if you take women into consideration, is one of the choice bits coming out of 'the Diversity Lab — norm-critical innovation'," says Sophia Ivarsson at Vinnova.
She is responsible for the development of what she calls a unique programme. It is unusual to use a norm-critical approach as a starting point for innovation creation, and the programme has also got international attention. It started when Vinnova wanted to support gender equality in existing innovation structures. This gave exciting results, says Sophia Ivarsson. 
Needs were defined in new ways and the projects created more innovative solutions. The new programme 'Norm-critical innovation' would focus specifically on how established norms, like gender, ethnicity and other reasons for discrimination represent an asset for innovation. The grant also underlines that the solution itself should be innovative. Sophia Ivarsson has several examples of projects which had secured money from the grant.
One is run by the Swedish National Police Agency. Their drugs squad picks up male users but rarely female ones. They wanted to use the project to find innovative solutions for how to profile drug users to better reach female users. Another example is the Equalisters which is developing an equality calculator where the media can analyse their own output to see who is being heard in the media.
Some unexpected and undesirable results
Breaking norms can mean many things, however. It could be to not always do as customers expect, but do something unexpected and unwanted. One example: some years ago a 'workman's kilt' was developed, which would help workmen on hot summers' days. Another example is the so-called Androchair, which started out as a joint project between the KTH Royal Institute of Technology and the Halmstad Health Technology Centre, which looked at a classic gynaecological chair in a gender perspective. It turned out that it was not even adapted to women's needs, it was not suitable and had remained largely unchanged since its inception. The project also discovered that there was no chair which suited men with gynaecological problems. 
The result was the development of the Androchair, a concept chair to demonstrate the double gender problem. The Diversity Lab has later continued the work to develop a unisex chair for gynaecological examinations of both men and women. 
"When you link gender equality and innovation you increase the ability to innovate and you get a more equal and sustainable society," says Sophia Ivarsson. 
In 2015 15 million Swedish kronor was awarded over two rounds of grants. Most of the money has been awarded to pilot studies.
"There is a lot of interest, and we have had more than 100 applications for each round. These are cutting edge issues. It also represents new ways of looking at innovation and to create innovation," says Sophia Ivarsson.