"The important thing is to create a feeling of "us" for everyone who lives in Sweden and who sees their future to be here. If you want to live here you should also have a future here, but then there are issues which must be sorted out; like a job, language and security," says Sweden's Minister for Integration Erik Ullenhag.
"What would you do if you could decide?" asks Sweden's Minister for Integration Erik Ullenhag a group of children milling around him at the Sollentuna International School (SiS).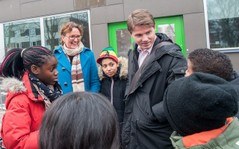 They have their origin from all over the world and don't hide their amusement or curiosity about having a government minister visiting their school. Not all of them know quite what a minister does, but Erik Ullenhag shakes their hands, asks questions and explains. He moves with ease through the throng of chatting and laughing children. He is on a one day visit to Sollentuna, a municipality of 57,000 people just outside of Stockholm. He has come to meet people and learn from the way they work with integration and solve issues concerning outsiders, jobs, language and security. 
It is a grey day as colourless as the 1960s blocks of flats called Malmvägen which at times have been as notorious as the Stockholm suburbs of Tensta and Rinkeby, or similar areas in Malmö and Gothenburg. Erik Ullenhag regularly goes out to listen to people who work in areas facing serious problems. 
"It gives me an idea of what works and sometimes also some new ideas which you can turn into reality. Sometimes the images are quite similar, for instance the problems surrounding cooperation between municipalities and the Public Employment Service. It also gives me a contact network and allows me to compare different parts of Sweden," says Erik Ullenhag.
Birthplace is down to luck 
The tone is struck as the day begins. Erik Ullenhag opens a major conference on orphaned refugee children, in front of 400 participants from across Sweden. An increasing number of children between 13 and 17 come to Sweden. Last year 4,000 sought asylum, most of them boys.
"If you're born in Sweden you've been lucky. So it is our responsibility as fellow human beings to acknowledge this and to help find safety and development for those who have not been so lucky, and who were born with no freedom into poverty," says Erik Ullenhag. 
He wants Sweden to be an open country and warns against a Europe turning increasingly xenophobic and closed. As an example he tells the audience about a meeting with a BBC journalist who told him "you welcome refugees and labour migrants. No British politician would ever be able to say that". He also warns about the risks of having xenophobic political parties in national parliaments, which often leads to more established parties starting to borrow their views in order to satisfy anti-immigrant voters. 
The result is already visible in several countries: the xenophobic parties grow while the political centre becomes more closed and sceptical to immigrants. Erik Ullenhag adds that we must decide which continent we want — a closed one or a human one? Welcoming refugees and labour migrants also makes us richer in so many ways — partly because of an improved economy but also because of all the new impulses and knowledge immigrants to Sweden carry with them.   
Integration takes time
This does not mean integration is easy, which became very clear last year with the riots in the Stockholm suburb of Husby, when images of burning cars were broadcast to the world.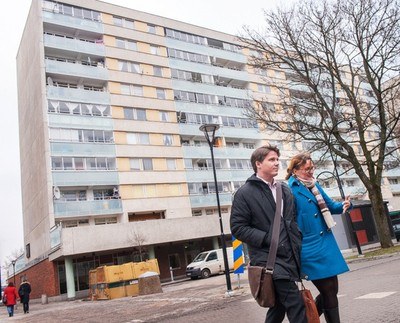 Malmvägen in Sollentuna is not as well known, but the area has been struggling with the same issues and things got so bad that the centrally placed Turebergs school was closed and demolished after much vandalism. It also takes a long time for people of foreign heritage to get into the labour market, despite new figures showing 185,000 out of the 260,000 new jobs created since 2006 have gone to foreign-born people. Yet at the same time research shows that someone called Muhammed will have a considerably harder time finding a job than someone called Kalle, even when their CVs are identical. 
Unemployment figures are also considerably higher for people of foreign heritage and young people often leave education early. Hate crime has fallen since 2008, but a new report shows that people with an African background run a considerably higher risk of being targets for discrimination and hate crime in Sweden compared with other immigrant groups. They also suffer verbal abuse, they are kept out of certain environments and they face discrimination at work. Many Afro-Swedes also fail to report incidents of discrimination because they lack confidence in the police and other authorities. 
So how do you solve these problems? Which measures work when you want to create an "us"? How do you get rid of contempt of authorities and create a belief in the future?
The importance of listening
"You need to meet people where they are and find out what it is they want. But we don't just take over people's problems; we ask them 'what can you do yourself?'," says Annika Nordgren who works at Möjligheternas kontor (The Office of Opportunity) – a company started by the municipality's education and labour market department in 2013. It targets unemployed youths from 16 years of age who need support to find ways of supporting themselves.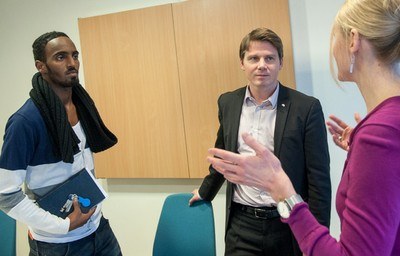 She and her colleague Abdulkadir Bulhan meet mostly young people, but sometimes others, to talk about their futures. What skills did they have before they came to Sweden? What are they good at? What steps do they need to take in order to be able to compete with others? The team's main task is to figure out the youths' knowledge and desires, what suits them, and then to make sure they find the right contacts in order to move forward. They have a number of coaches to help them. One of their advantages, they say, is that they do not act as an authority nor do they spend time on red tape and administration. They have been up and running for less than a year, and have so far met nearly 400 people. 129 have been 'signed out'. Out of these 39 have found jobs and 14 are in education. 
Erik Ullenhag pictures himself in the shoes of a 17 year old Muslim boy — perhaps he has finished studying only three subjects and been discriminated against and left feeling 'I can't be bothered'. What would the people at The Office of Opportunity tell him?
"Change your mentality! What do you think you are worth yourself? Overtake those who know nothing and improve your grades. We cooperate with Kunskapsparken [the local adult education authority] and can apply motivating measures to help him study," says  Abdulkadir Bulhan.
Step out of your comfort zone
He grew up in Malmvägen himself and was not particularly motivated to study. Yet he got good grades and he took further secondary education in Stockholm. His father was so proud over his results that he personally carried his son's grades into the university to make sure he was accepted.
Abdulkadir Bulhan, like several other young people we meet, talks about the importance of breaking out of your comfort zone. They see it as important to look beyond their own area and the role models and conditions which exist there. This could happen through education, travel, working in other areas and in other companies. The demolition of the Turebergs school could in this way mean many of the pupils from Malmvägen have been forced out of this comfort zone.
The Office of Opportunity also found jobs for a group of youths last summer. The group of 30 were chosen by the local social office. Early intervention is alpha and omega, agree Abdulkadir Bulhan and Annika Nordgren.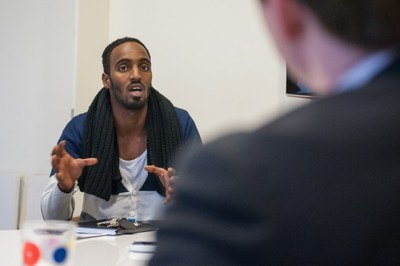 "Our challenge is to face up to the evil forces and contempt of authority which you find in this area. Many don't see the possibility of further education, but end up competing for the same temporary jobs together with everyone else rather than study and improve their competitiveness," says Abdulkadir Bulhan.
The area does not only have the Office of Opportunity but also the Place of Opportunity — a charity created by local youths for youths. Their aim is to counteract destructive forces and reduce the chance of people becoming outsiders. They organise activities, night patrols and arrange lectures which are relevant to the youths. Last summer they managed to find 14 summer jobs for local youths. The process included real job seeker processes like writing applications, CVs and attending job interviews.
Swapping roles
Erik Ullenhag listens, asks questions — one of them is "If you were in government, what would you decide or change?"
"Help young people fight unemployment, do more outreach work to prevent young people from just hang around with nothing to do," sum up Anam Islam and Akan Yetke.
"Create a functioning cooperation between authorities and people who have access to these areas. Early intervention is important as well as a good school, even if it is what happens outside of school which is often the most important. We also need to get the authorities to take discrimination seriously," says Bashar Tancro Hussein, who leads the Place of Opportunity and coaches in Sweden, Kurdish and English.
Erik Ullenhag also raises the question of how you can describe discrimination. Is there a risk that the way it is described becomes a self-fulfilling prophecy? 
"The problem [of discrimination] does exist, but if you feel sorry for yourself because of it you only amplify the problem. It is there, but you can get past it," says Abdulkadir Bulhan.
The study visit is over and Erik Ullenhag is rushing to another meeting. He sums up the day.
"What's positive is the belief in the future which is still there. Young people saying that if you get help and are allowed to get an education you will soon see results. What worries me is that there seems to be more drugs around and the consequences for people and for the level of crime as a result of it. The main issue here is safety. You could take it with a pinch of salt, but one of the school children answered my question about changing things by saying "I want the guns to go away". That's not the sort of thing you'd hear everywhere in Sweden," says Erik Ullenhag.