It is hard to find a better role model for apprentices than Henrik Tanum. He is full of enthusiasm and drive. Right now he is also the face of the Norwegian employers' organisation Virke, as he is learning the job as their receptionist.
"Working at Virke is both fun and challenging. You can learn a trade in school, but you don't get to practice what you learn. After a year here I still fell I'm learning new things every day and it's good for my personal development too," he says.
He has already been interviewed several times by different media because Virke is one of the organisations which have wholeheartedly embraced a campaign initiated last December by trade unions, employers and the government, called 'Lærlingløftet' (a wordplay meaning both the Apprentice Promise and the Apprentice Lift). The aim is to increase the number of apprenticeships by 20 percent by the end of 2015, compared to 2011 figures. 
The government and the social partners signed a social contract promising to work together to increase the status of vocational training and to motivate more people to finish such training once they have started.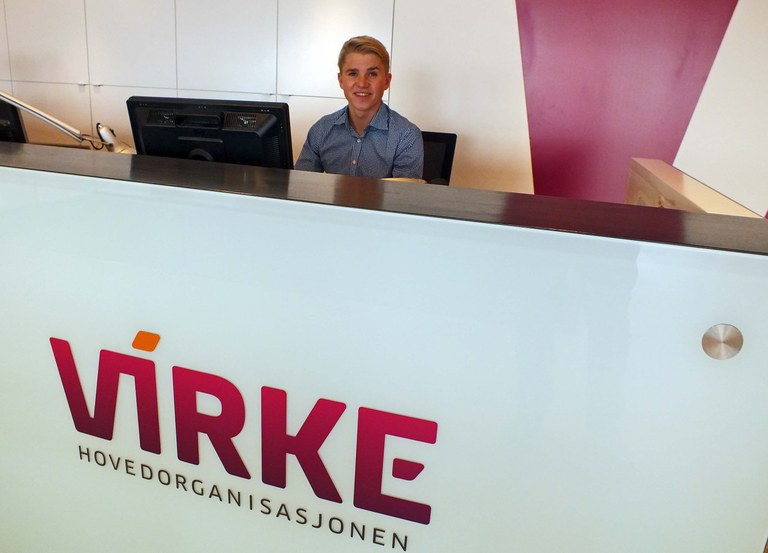 Henrik Tanum worked in the reception the day NLJ met him.
Despite Henrik Tanum's enthusiasm, all the Nordic countries face problems with their vocational training. A recent Nordic study summed up the situation like this:
"You do not attract resourceful and ambitious students by marketing training to  academically weak groups of people, and you do not improve the status of the training either."
Tired of school
Put bluntly, vocational colleges struggle with an image of being somewhere you send youths who are tired of school, not a means to train for an attractive job. As a result, many businesses have set up their own in-house training schemes. There are Hennes & Mauritz schools, Clas Ohlson schools and ICA schools (for food retail). 
"We're not even close to reaching our goal of 20 percent more apprenticeships," admits Marianne Westbye, coordinator for the Social Contract at the Norwegian Directorate for Education and Training.
"But we're hoping for a ketchup effect, that we will see many more suddenly emerging towards the end of the period. Changing attitudes takes time," she says.
Østfold county used to be one of the country's worst regions in terms of the number of apprenticeships. But a new drive has seen some 100 new apprenticeships spring up there.    
The employers' organisation Virke, with 18,000 members from many different areas of Norwegian business, does see an increase in interest from them, however.  
"73 percent of our businesses are looking for some kind of skills which you don't learn in school, like entrepreneurship, initiative and energy. These things you learn on the job," says Anne K. Eggen Lervik, who is responsible for vocational training at Virke.
A proper career path
"We need to work with our reputation to make it attractive to choose vocational training and to make it a career path. The ones who choose this now are very happy with their choice and get to do many interesting things." 
To make vocational training more attractive, Virke wants to see changes in three areas. As a result, the organisation has launched three pilot projects.
▪ More fluidity between studies and work. The Norwegian model is two years in the classroom followed by two years' apprenticeship. 
▪ In-house company training should be incorporated into the vocational training.
▪ Teachers in vocational colleges should spend more time within businesses.
"It takes too long to get students into apprenticeships. That is the motivation," says Anne K. Eggen Lervik. Henrik Tanum agrees. He says he matures faster as an apprentice compared to sitting in a classroom where you only interact with people your own age. Moving from his home city of Larvik to Oslo at only 17 probably also helped.
More opportunities for further education
"Virke wants better acknowledgement for vocational training programmes. More career paths must be created so that vocational schooling gives students the chance to study at university. We call it the Y Path (from 'Yrke', Norwegian for 'occupation'). It would for instance allow an electrician to carry on studying to become an electro engineer," says Anne K. Eggen Lervik.
"Y Paths were also created in sales, office work and tourism 6-7 years ago, allowing people to get a bachelor degree in service management for instance, but not enough people know about this opportunity."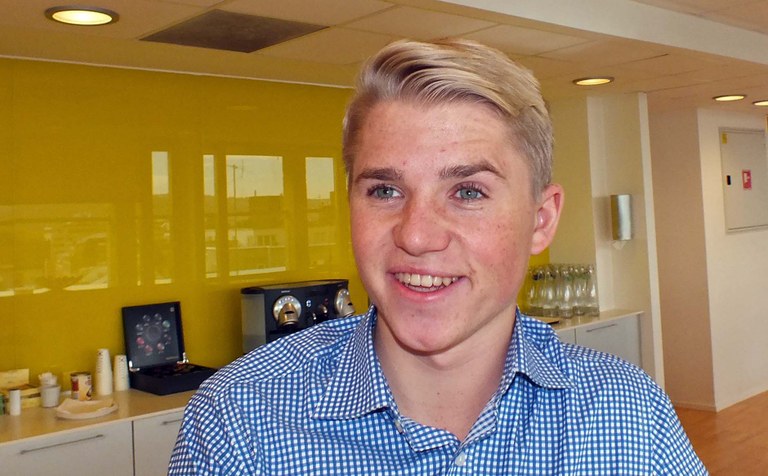 Henrik Tanum  also worksi n telesales for the Aftenposten newspaper where his responsibility includes being a group leader.
Henrik Tanum can choose to go straight into work when he finishes his two years' apprenticeship. His monthly pay has risen from 11,000 kroner (€1,338) in the first year to 17,000 kroner (€2,067) in the second. 
"In addition to my apprenticeship I work in telesales for the Aftenposten newspaper where my responsibility includes being a group leader. I also run a company, Russepakken, together with three other youths," he says.
Norwegian college graduates are called 'russ' and walk around in red or blue overalls. Many get together to buy an old bus and turn it into a rolling disco. Henrik's company develops logos and songs for those who want to make their celebrations extra special. 
"You can be a russ at vocational college too, but I have not been that. My motivation to keep studying has not decreased, however. I will probably take a further course, but first I want to get my professional certificate," says Henrik.