3D printers have been in the spotlight for a long time. They represent technology which now looks like it is having its breakthrough. This is not only about printers becoming cheap enough to buy for private individuals. It is about a completely new production technology which represents the opposite of the way industries produce products today.
Additive manufacturing is a term used to cover several different techniques with one thing in common. It makes products directly from a digital construction design by constructing an item layer upon layer.
This means only the exact amount of material needed is being used. Today most industries make things the opposite way: You start with a piece of metal and cut, drill and turn it into what you want to make. Or you mould things in casts, which themselves must be made first.
Design-driven digital direct manufacturing
"One advantage with 3D technology is that you can construct things in a different way. The design and innovation process is different," says Mats Falck, area manager at Umeå University. He has been commissioned by Sweden's Innovation Agency Vinnova to head a working group to develop a status report for what is called "design driven digital direct manufacturing".
It is the first step to make 3D technology a strategic innovation area in Sweden. Once it is done it will be possible to apply for project support to the tune of 100 million Swedish kronor (€11m).
"A couple of Swedish companies are world leaders in additive manufacturing, but that might not be enough to develop a functioning cluster. It might also be an idea to expand the agenda to take in a Nordic dimension," says Mats Falck.
The two companies are Arcam in Mölndal near Gothenburg and Höganäs Digital Metal in Skåne.
Which raw materials will be used?
For Sweden this is partly about how metals and cellulose can be used as raw materials in the production process and what the technological development will mean for industry.
So far additive manufacturing has mostly been about various forms of tailored medical and dental prosthetics where each prosthetic is unique, as well as parts for the aviation industry where it is crucial to make items as lightweight and strong as possible.
"Until now it has been more expensive to make products using additive technology than using traditional methods. It has therefore been used more to make prototypes. But while companies often use machines costing a million kronor to make prototypes, a 5-6,000 kronor machine might now be enough for private individuals to create their own work of art, parts for their household machines or their own mobile telephone cover," says Mats Falck.
Increased capacity
3D technology bypasses many development steps and will therefore speed up production development. And as the technology matures, the capacity will increase. Höganäs can already make 30 items at a time instead of only one.
3D technology will also have major consequences for where a product is being manufactured. Why transport something halfway around the world when all you need to do is send the construction design over the Internet to a nearby 3D printer? In the USA there is a lot of talk about moving production back home from China.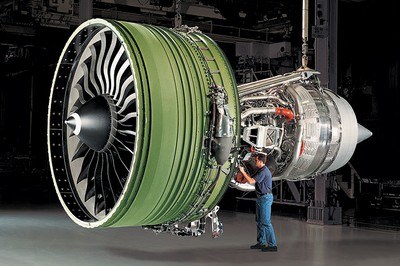 In January this year GE Aviation announced they were building a new $100m factory in Indiana, USA, which will manufacture the first jet engines with fuel nozzles made using additive technology. Each engine will have 19 fuel nozzles which the company says will be five times as strong as the previous model. The additive technology means the number of brazing and welding points are reduced from 25 to only five.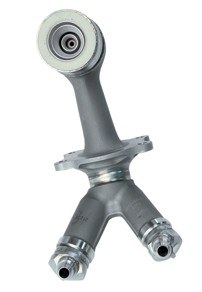 GE Aviation will install the new engines in their aircraft from late 2015, which means they must be able to make 25,000 fuel nozzles a year. 
Each nozzle will be made by spraying a cobalt and chrome powder onto a surface. The powder is then heated up using a laser until it melts and gets the precise desired shape. Each layer is thin, so the process needs to be repeated 3,000 times for each part. But by then the fuel nozzle will be able to withstand temperatures of 1,315 degrees Celsius inside the jet engine.
Important patents out of date
One reason 3D technology is taking off now is that some of the important early patents are out of date, which means more companies can make use of the technology.
Another reason is that President Barack Obama in March 2012 announced he'd spend a billion dollars to build a national network of 15 institutes which will act as regional hubs for companies and researchers working on the development of additive technology. The US armed forces is among those very keen to explore the technology. 
The consulting firm Wohlers makes prognosis for the future sales of 3D technology. It estimates the industry's global turnover will increase from three billion dollars in 2013 to 10.8 billion dollars in 2021. 
If Sweden and the other Nordic countries want to keep up, there needs to be an education drive too. 
"So far we've had only four Swedish PhDs on additive manufacturing," Vinnova administrator Jens von Axelsson points out.
Criticism of Vinnova
According to Evald Ottoson, one of the most central people within Swedish 3D technology, Managing Director at Protech and spokesperson for the newly established trade organisation SVEAT, Sweden was a world leader in additive manufacturing in the 1990s.
'Thanks to the work mainly done by the IVF research institute, Swedish industry was able to keep up with the international development and make industrial use of the new additive technology," he writes in an opinion piece for Ny Teknik magazine. 
"This positive development for Swedish industry came to an abrupt end when Vinnova, while preparing a research proposition in the early 2000s, concluded 3D printers and additive technology would not be of any importance to Swedish industry. The result of this catastrophic conclusion was that pretty much all the people with skills within additive manufacturing left Sweden or changed trade. The skill disappeared to the USA, Norway and the UK, who happily welcomed it."