Gunnel M Helander came to Sweden with her family aged four in late summer 1954. She now lives in Hanko in Finland's south-westernmost point and is a retired architect. She feels Nordic: Swedish, Finnish and Ålandish. Her removal van has made many trips between Sweden and Finland.
The first time the Väinömöinengatan street in Helsinki was swapped for Grafikvägen street in Enskede. Here's a childhood memory:
"We always had girls' parties on my name day because my birthday is in the summer, and was celebrated in Bromarf in Finland. Mummy always made tjinuskitårta [a caramel cake]. When school ended we took the big boat to Finland. We took a taxi to Skeppsholmen quay and the bags slid into the ship's storage room. We had brought a demijohn full of juice from the Apotekarnes [a Swedish soft-drinks manufacturer]. When we returned home it was filled with currant juice."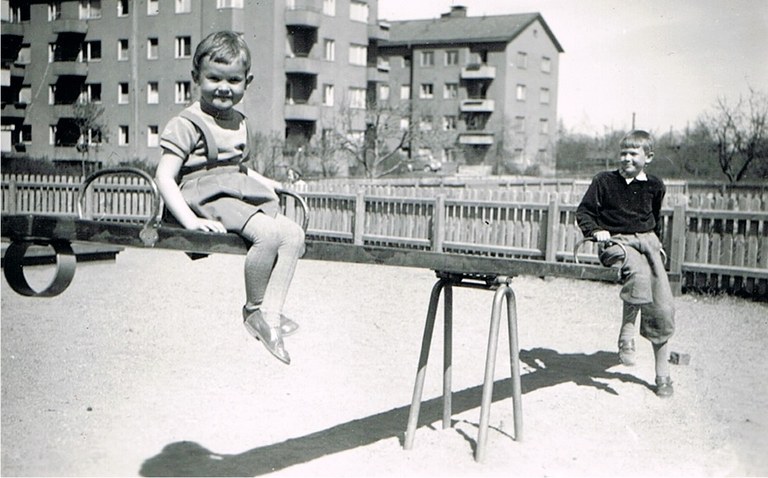 Gunnel  and her big bother Fred-Johan in the Stockholm suburb Enskede. Photo: Private.
We then jump forward to the early 1970s when she finished her architect training at KTH, Royal Institute of Technology in Stockholm:
"During my first two years as an architect I worked for Aarau in Switzerland. I then applied for work in Sweden, but times were bad and I remembered we had a well-known architect in the family, Erik Kråkström. I wrote him a letter and he contacted his friends in the Åland Islands. That's how I ended up at Pejo and Myrielle Svahnström's architect agency in Mariehamn in Åland. That was in 1975 and I was going to stay for one year.
"Sadly there wasn't enough work there, so I went to the mainland (Finland) and did some freelance work, came to Ekenäs and went to Curt-Ove Backman's planning agency. He had failed to find an architect and thought it very strange that I suddenly popped up. I worked there until 1981 when I moved back to the Åland Islands, but I kept working from a distance."
Married a priest
"That same year I married Henrik, who is a priest, and we settled in Hammarland in Åland. Little by little I established contact with city architect Folke Wickström in Mariehamn. He had just lost a fight with politicians for a new vision for city planning and wanted to take a year off. I got the job and got Finnish citizenship, which you need when working for the government. But process planning, city planning and committee meetings wasn't quite my thing.
"In 1984 i founded my own architect agency which is now celebrating 30 years. I have drawn all kinds of buildings over the years, from schools to hospitals to detached houses and parish houses. I have also planned the renovation of churches and vicarages. In the mid-90s I felt my identity as an architect was quite weak, because I spent most of my time as a mother and priest's wife. Then I read an article about an architect who had won several competitions but none of his designs had ever been realised. I checked my own projects and made a list, noticed there were 63 of them and only two had not been realised. That strengthened my professional identity and provided inspiration for new projects."
"We bought our house, Villa Ina, in 1996 and totally renovated it. The old drawings were still available from when it was built in 1910. Neither Henrik nor I have ever lived in one place for so long. Other people seem to think I am not at home here, but to me that has never been a problem. I feel like a Nordic citizen: Swedish, Finnish and Ålandish."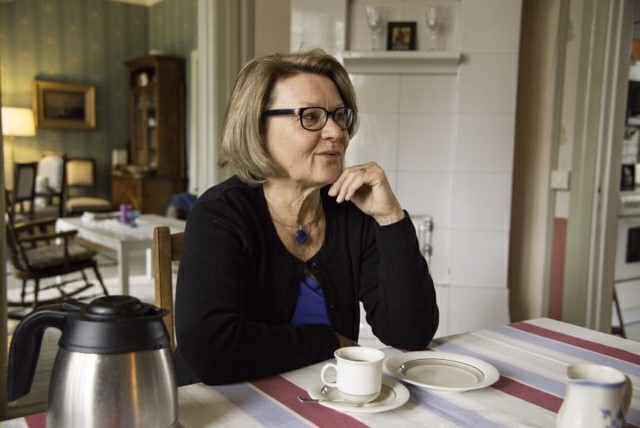 "I used to draw on paper and make copies using a spirit duplicator. In the year 2000 I realised I could no longer put off entering the computer age. I bought a design program and learned to draw 3D models. Now I always know how a building looks and I'm able to create things in a completely different way.
"I am also politically engaged in Hanko and I've been on the environment committee from 1997 and in the city council since 2005. I take great interest in city development issues, and I have taken the initiative for an environment award. If public spaces are planned and properly looked after you create a better environment for citizens."
Ice swimmer
"Each morning we go Nordic walking to De fyra vindarnas hus (the house of the four winds) and then we go for a dip in the sea, every day during winter. This is my close encounter with the sea. I also do some picture painting and have learned to see the nuances, it is really fantastic.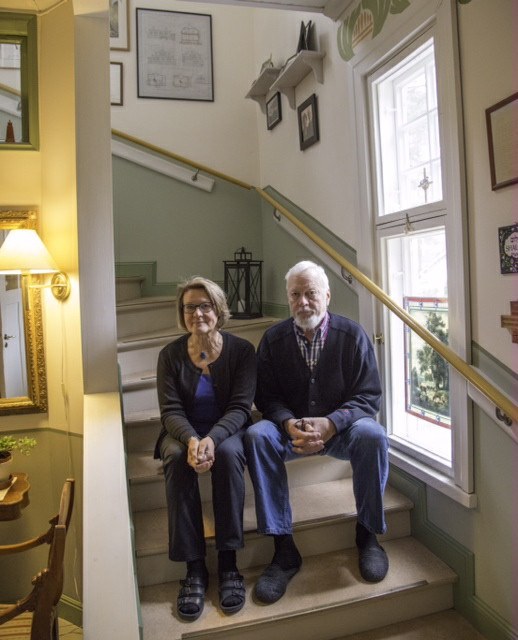 Gunnel and her husband Henrik.
"Both of my brothers live in Sweden, but I have not wanted to return to Sweden. I have completely assimilated with this place. When you marry a priest you enter into a social setting. We who live in the church always have a congregation wherever we move."
Gunnel has five children together with husband Henrik, two of them from his previous relationship.