This August Norwegian badminton player Erik Rundle has lived in Denmark for longer than he lived in Norway, and he doubts he will ever return for more than holidays and to defend his badminton titles.
Norwegian Erik Rundle arrived in Denmark at 16 to attend a school for young badminton talents. It would change his life: he has never returned to his home country and has just bought a house in a Copenhagen suburb together with his Danish girlfriend Stine. 
"It's a perfect fit for me. I have a fantastic job, my girlfriend Stine is Danish and we have just bought a house together here so there's plenty of space for my family to come and babysit when we have children," he says. 
The best years
In August Erik Rundle will have lived in Denmark for 16 years, which is longer than he lived in Norway. He used to think that he would probably move back to Norway at some stage, at least when he became old. But with a Danish girlfriend and the possibility of starting a family in Denmark, that perspective has changed. 
"I have always thought Norway is a better country to grow old in, but the way my life here has developed means I will probably never go back."
His life in Denmark started in 1998 when his parents dropped him off at a badminton college in the small Southern Danish town of Assens, where he and a Norwegian badminton buddy would spend three years. Before that, Erik Rundle had only visited Denmark a few times when attending badminton training camps, and he didn't know any Danes. 
"They became the best years of my life, even though I suddenly had to do my own washing, which I hadn't tried before. The mentality was also very different from Oslo, where I'm from. Danes seemed to be more open."
He clearly remembers a Danish car driver who willingly offered him his parking ticket. A Norwegian would never have done that, thought Erik Rundle, as he held the ticket in his hand.
Scandinavian workplace
After three years at badminton college Erik Rundle chose to study and play badminton in the elite division. He moved to Copenhagen and studied marketing parallel with playing badminton, and later he started a bachelor degree at Copenhagen Business School. He then got a job with the American IT company Dell at their Scandinavian headquarters in Copenhagen. He has been there for ten years and is now head of sales for the Danish market.
Before that he headed Dell's customer relations in the Nordic region — where he had Danish, Swedish and Norwegian colleagues and all of the Scandinavian languages were spoken.
"I spoke Norwegian. It was very nice. In my present job as head of sales for Denmark, all my colleagues are Danish so I only speak Danish," says Erik Rundle in fluent Danish with only a hint of an accent.
Norwegian champion ten years running
Parallell to his work career, Erik Rundle has enjoyed an outstanding badminton career and is the reigning Norwegian champion. He plays for Hvidovre Badminton Club, where the Danish badminton elite traditionally has been playing. He has had a secure place on the Norwegian national team for many years.
Erik Rundle takes part in only one Norwegian badminton tournament each year — the Norwegian championships. Every year for the past nine years he has returned from Norway with gold or silver medals in double or mix double — or in both disciplines. 
"The Norwegian players have become used to me coming up to beat them. But there are many strong young players who are ready and dreaming of beating me one day," he grins.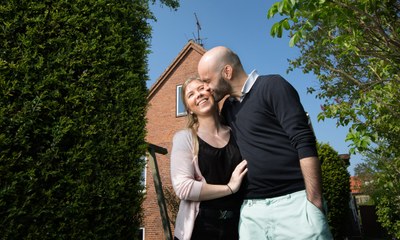 What he misses most of all from Norway is nature. So he and his girlfriend spend summer holidays in Erik Rundle's family cabin in Kristiansand, and Erik Rundle and his brother have bought land next door where he wants to build his own cabin.
"I have always been a man of nature. I've been hunting since I was 15 and I have done a lot of skiing. So this is a deep longing."
He also reckons the weather is better in Norway.
"It is colder but it feels nicer because it's not blowing. The worst thing with Denmark is sideways rain or storms five months a year," he says.
Even though Erik Rundle expects to stay in Denmark for the rest of his life, he will always feel Norwegian. He is quite sure of it:
"As a badminton player I have represented the Norwegian national team many times, and that always makes me proud. I am a part of Norway and have a strong national identity, even though I love Copenhagen and Denmark."