Per Billington moved from Norway in 1984 to work at Volvo's research department in Gothenburg for one and a half years. It shaped his entire career. This is where he learned 'ordning och reda' — Swedish 'proper order' — and he learned to love diesel engines.
"I grew up on the other side of the water. So I haven't moved far."
Per Billington looks out of his office window. Outside flows the Sandvik river and above it runs the railway in to Oslo. Hundreds of red NSB trains zoom past every day outside the sound-insulated windows, along with the coal grey Flytoget Airport Express which runs to Oslo Airport Gardermoen. Some 20km outside of Oslo, Sandvika is still central. This is where Per Billington has created his own company PBT with eight employees and with the oil sector as customer. The company specialises in simulating how oil moves from reservoirs and up through the platform. But it all started on a smaller scale. 
"I have always been interested in engines. I studied mechanical engineering with focus on process technology at NTH, as the Trondheim university  of technology was known back then — now it's called NTNU. Volvo in Gothenburg was the nearest car manufacturer, so I applied for a job there."
Record number of Norwegians
Per Billington was not alone. In the mid-80s many Norwegians were moving to Sweden. There has never been so many Norwegians in Sweden after the war as there were in the 80s. The number rose from 26,000 in 1980 to 38,000 in 1990. 
Accommodation was an apartment hotel in Hisingen.
"When I first arrived there were flowers on the door. The card had a greeting from Volvo CEO Roger Holtback. This made you feel welcome."
He worked in a small team of six to seven people in the research department, which employed a couple of thousand people.
"My task was to test different fuel injection systems and their performance" 
"On my first day I was given a map where a red line indicated where I should go to find the test vehicle I was going to use. When I got there I found a large welcoming cake instead, which the team had ordered in my name.
Wages doubled
Per Billington enjoyed the work and his colleagues. The fact that he stayed for a shorter period of time was a result of a change in Norway's economic cycle. The price of crude oil, which had fallen from 35 dollars a barrel to only 10 dollars a barrel in the summer of 1986, had begun to climb again. 
"Wages for engineers exploded. When I moved to Gothenburg I was paid 112,000 Swedish kronor (€12,300) a year, which was approximately the same as in Norway. After one year Norwegian wages had doubled."
Per Billington also had a girlfriend in Oslo which he commuted to see every week. The flat he lived in was in an area where foreign production workers lived. 
"If Volvo did something wrong it was to put everyone in one place. The area wasn't a very nice place to invite my girlfriend back to."
After paying rent and his student loan, there wasn't much was left of his wages. Per Billington considered whether he should become even more Swedish and buy a place to live in Gothenburg.
"But it was hard to get a mortgage since I didn't have a customer relationship, I had built a cabin in Risør [in Norway] and the oil industry was crying out for people."
He moved home in the autumn of 1985.
"On my last day at Volvo there was a smörgåsbord. But all the 'ordning och reda' which I learned at Volvo I have brought to my own company. Returning to Norway was a bit of a downer, to be honest. Where organisational development was concerned, Norwegian industry was far behind in those days."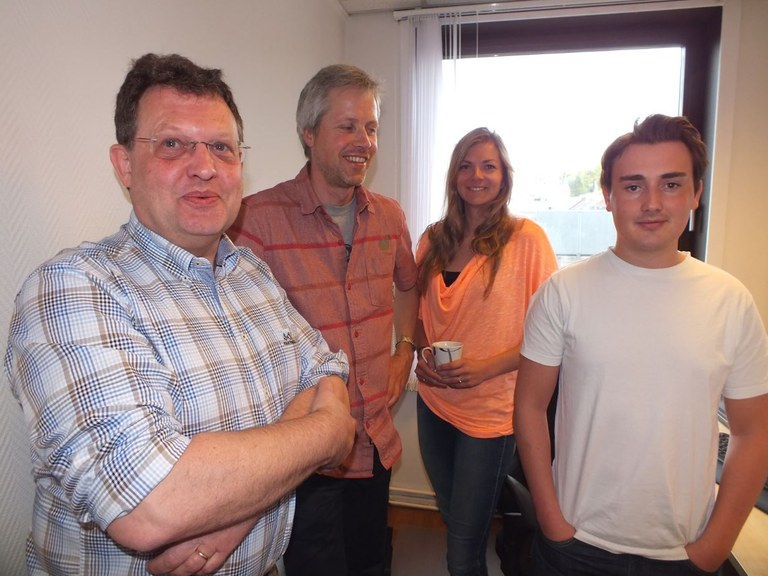 Today he employs eight, soon to be nine people including one person in England and another in Belgium. Three of them, Arne Gulbraar, Katrine Plünecke och Simen Haukås Martinsen are seen above.  He uses video conferencing and planning programs which helps everyone see who works with what. 
"There is no longer the same need to move. My motto is that you should work where you enjoy living."
His wife also works for the company - she is responsible for the economy. But in the parking space sits a little piece of Sweden — an 18 year old Volvo.
"I have a Mercedes too, but it is the Volvo that I love to drive!"