Few workplaces take on more diverse staff than call centres. Youth, pensioners, handicapped, immigrants – it is the attitude and voice that determines your success, not your background or look. Even so, one of the fastest growing sectors is struggling to find enough people who want to work.
"For young people, call centres can represent a good entry point to working life, and also for special groups. This is a sector without prejudice, and that is important," says Professor Nina Nevala at the Finnish Institute of Occupational Health and the University of Jyväskylä, who has been looking at how the work environment for call centre staff can be improved.
Jeanette Borg, who runs the Suoramarkkinointi Megas (SM-Mega) call centre in the centre of Helsinki, readily agrees. She feels her work gives her great satisfaction because her workplace represents the first step into working life for many. 
"Young people learn to show up on time, they learn the reasons for why you work, they get a job certificate."
Telephone salesperson. Consider the work. Most people associate it with pestering voices down the telephone which you want to get rid of as quickly as possible. But the trade is in rapid growth and its bad reputation has become a problem for employers. SM-Mega employees nearly 400 people around Finland and in the Baltics.
Managing Director Timo Niemi says he could hire 50 new people right now. The company has to turn down many commissions because they lack the capacity. 
"There are so many unemployed people, but where are they?" wonders Niemi, who began working in telemarketing 27 years ago. 
No collective agreement
In Finland call centres employ an estimated 100,000 people, but most work with customer relations in larger companies and there is great variation in working tasks. According to the private service sector Service Union United (PAM), there are around 10,000 people working for companies involved with telemarketing, and around half of the companies are members of the employer's union and therefore covered by collective agreements which means paying a minimum wage.
"When there is no collective agreement, the greatest problem is people work for a full month and perhaps get paid 100 Euro," says head of negotiations Juha Ojala. 
The trade union also believes the trade has an undeserved reputation of being a low-wage trap. Ojala says those who are good and who have long experience can earn big money as telemarketers. 5000 Euro a month is not uncommon. At Mega salaries varies between 1500 Euro and just over 4000 Euro.
Telemarketing is characterised by young staff working short contracts often part time – but this is not the case for all companies. The average age at SM-Mega's Helsinki office is around 40 and the oldest employee is 74 year old Sirkka-Liisa Salo, a former Finnish teacher who didn't want to stop working. In the evening many people in their 20s work to fund their studies.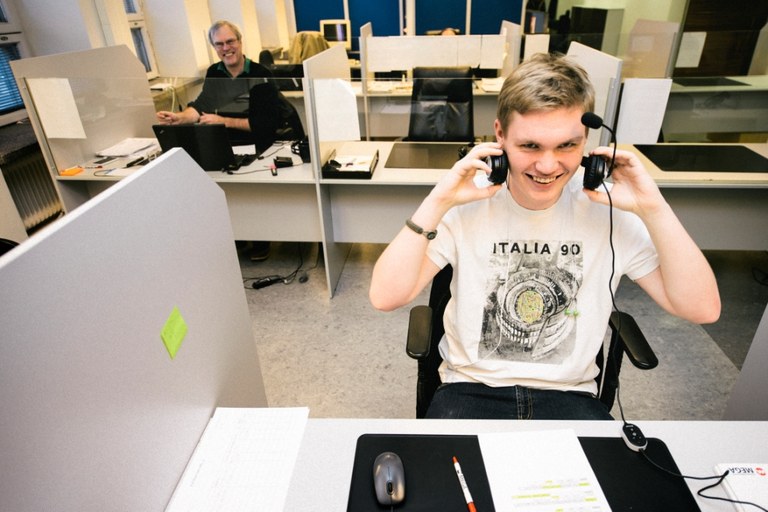 Kim Jämsén at work.
A gap year
Two of the youngest ones are both 19. We meet friends Thomas Fagerholm who has worked here since the summer and Kim Jämsén who started two months ago. Both finished their upper secondary education in the spring. While Thomas was accepted at a vocational university college, Kim is taking a gap year while figuring out what he wants to do in the future. This job, they say, is much better than slouching on the sofa at home.
SM-Mega has between 70 and 80 customers delivering customer directories. This means the company's salespeople don't do any cold calling, but target people who have already showed an interest in the product. It amounts to 5,000 calls a day.
"If it's an unknown product, most people will hang up," says Thomas.
He says the salesperson's mood is very important.
"If you're happy and positive you feel strong, and things go well."
"You should sound friendly on the telephone. It doesn't matter so much what you say, but how you say it," Thomas points out.
"For me things are going well," says Kim: "I haven't had many bad days."
Thomas agrees: "There are more and more good days."
According to Jeanette Borg, the office manager, Kim and Thomas are fairly typical. Youths who work while waiting for their studies to start. And she thinks the telephone sales has an important function in a young person's life; to make an impression on future employers.
"Our mission is to help young people getting into working life."
She has been working with telephone sales herself since 2005.
"In the beginning I couldn't tell people where I was working, but now I confront them: we are not like any job out there, we are important and we have customers who expect the job to be done – we are like nurses."
SM-Mega has a list of seven skills characterising a good telephone salesperson, but Jeanette says she has witnessed the most unlikely people succeeding too. 
Crucial management
Nina Nevala has helped improve the work environment by coming up with solutions to ease the strain on neck, shoulders, eyes and ears.
"Management is crucial to how work is organised and crucial to training – so far there has not been too much focus on that."
She points out that telephone sales is a trade in which people with handicaps are not discriminated against, and there are special solutions which helps for instance people with reduced eyesight to work. 
Timo Niemi says health problems have also been reduced considerably since he started in the trade. Before sales people had to hold the handsets and write information on the computer. Now they wear lightweight headsets and the computer looks after the documentation. And employees also have a responsibility. 
"When there's a break you could do something else than going outside to smoke."