Less than ten percent of Iceland's medical students want to seek work at Iceland's largest hospital, the university hospital Landspítalinn. Why? Bad working conditions, stress, low pay and long working hours.
Iceland's National University Hospital Landspítalinn needs some 1,000 doctors in order to operate well. Today the hospital employs only 800 doctors. This means the hospital has to recruit doctors from abroad.
But Iceland also trains its own doctors - 48 of them every year. That's why the consultant in general medicine and Deputy Hospital Director Ólafur Baldursson at Landspítalinn thinks it is worrying when less than one in ten medical students are interested in working in his hospital. Iceland trains doctors so that they can work in Iceland.
A new survey shows that students are pessimistic when it comes to Iceland's hospital environment. Just under 90 percent consider the conditions to be unacceptable. More than 60 percent are considering moving abroad at the end of their studies. Just 7.8 percent would consider a job at Landspítalinn. 
Everyone is aware of the situation
Ragnhildur Hauksdóttir (22), studies medicine at the University of Iceland and right now she is practicing at Landspítalinn's surgical ward. She says the debate surrounding the hospital's environment has been negative lately, and that this is not only about continuing budget cuts. It might also have something to do with a lack of training of medical students. The lack of personnel means doctors focus on patients and don't have much time for looking after students. The problem is most severe in general medicine.
"All the doctors know that this is not a good situation. They really try to find time for training right now", says Ragnhildur Hauksdóttir.
"But that can be hard when they are very busy with other work," she says.
No time for supervision
Ragnhildur Hauksdóttir is in her fourth year of training and arrives at the hospital at 8am and usually stays until 4pm. At weekends she and her fellow students work shifts under the supervision of on call specialists and other doctors. They work at least 16 hours, from 8am until midnight. Icelandic news media says 50 medical students have been working night shifts without supervision over the summer.
In the past, specialists and other on call doctors gave regular lectures and held meetings with students to discuss various cases, but after recent years' cuts there has been no time for that.
"The pressure on staff has been enormous and wages are too low. So the debate has not been particularly encouraging and this can influence students to develop a negative attitude," says Ragnhildur Hauksdóttir.
The medical students are also exposed to considerable stress. Surveys show work engagement among medical students and newly graduated doctors to be zero. They feel the work pressure is too high and complain about serious stress. They feel more ill and angry, depressed and tired than in 2012.
The working environment in itself is inadequate. Fjóla Dögg Sigurðardóttir is the head of the student union. She says that students for instance do not get a dressing room but must get changed in the lobby. Health safety is also a problem.
"Students aren't automatically given the same inoculations as other hospital staff unless they insist on being vaccinated," says Fjóla Dögg Sigurðardóttir.
A worrying situation 
All hospital staff get a discount in the hospital canteen, but medical students don't. They must pay full price. Fjóla Dögg Sigurðardóttir thinks this is unfair. She says students can't work to make money while studying, so it would make sense to grant them the same discount as staff, because they have no chance to leave the hospital to find cheaper lunch alternatives. 
Professor Dean Magnús Karl Magnússon at the University of Iceland is worried for  Landspítalinn. He has discussed the issue with the student union, the Ministry of Health and Social Security and the hospital's management. He thinks the situation is worrying . 
"Cuts at Landspítalinn in recent years have led to inadequate training of medical students," says Dean Magnús Karl Magnússon.
"The university hospitals are interested in jobs, especially as staff at this type of hospitals can work both as specialists and also do research," he continues.
"But budgets have been cut by more than 20 percent over the past ten years. That of course does have an impact on how things are run," says Magnús Karl Magnússon.
"Young doctors don't apply for jobs at Landspítalinn. This is serious," he says.
A social problem?
Consultant Ólafur Baldursson says the hospital management is looking for a solution together with the Ministry of Finance and the medical students. Ólafur Baldursson thinks it is important to find a way of making Landspítalinn an attractive workplace for young doctors.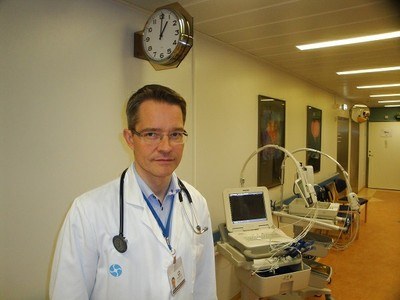 He wonders whether the staffing problem is unique for Landspítalinn or if this reflects a larger social problem in Iceland.
"I am worried that Iceland is turning into a European backwater, in the same way that the city of Raufarhöfn is to the whole of Iceland - from where educated people move away never to return," says Ólafur Baldursson. 
Complicated training
The competition for educated staff is becoming tougher and tougher. Ólafur Baldursson
thinks Iceland won't necessarily solve the problems at Landspítalinn by employing more doctors. He thinks there is a need for a modern hospital building which works well, modern technology and more support staff on the wards which can help ease the doctors' workload.
"Medical training is complicated throughout the world. The Americans have good clinical programmes for young doctors and medical students, where they have to work hard. Nobody asks questions about working hours," says Ólafur Baldursson.