Every day someone from Spain applies for a job in Iceland. Some Spanish travel there and go from workplace to workplace looking for jobs. Meanwhile, Portuguese who worked in Iceland before the financial crisis are getting back in touch with old employers to apply for work.
Eures advisor Þóra Ágústsdóttir at Vinnumálastofnun – the Icelandic employment service - gets job applications from Spain every day. Sometimes from Italy too.
"We have no data to show the actual increase, but it seems like people mainly from Spain and Italy, Romania and Bulgaria are really interested in finding a job in Iceland," says Þóra Ágústsdóttir.
"I clearly see an increase in applications from Spain when I go through my email. Spain is definitely behind the largest increase," she says. 
There are jobs in Iceland which Icelanders aren't interested in, despite the five percent unemployment figures. Þóra Ágústsdóttir says most jobs are to be found in the tourism and restaurant industries during the summer, as well as in agriculture and horticulture certain times of the year. 
Trying to help
The Spanish consulate in Reykjavik gets daily requests from people who want to move from Spain to Iceland to look for work. Margrét Jónsdóttir is the vice council in Reykjavik. She tries to help as much as possible. In her office is a Spanish woman looking for work in Iceland.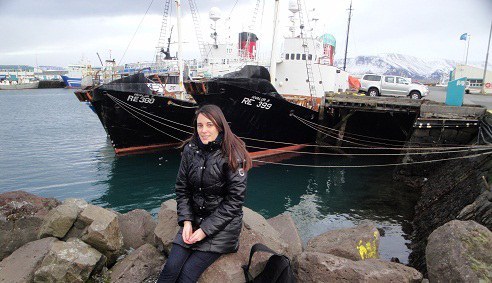 Laura Perote speaks English, German and French and is looking for a job so that she doesn't have to go back to unemployment in Spain. Several of Perote's friends in Spain have left the country to find work.
She says her friends can be divided into two groups; those who want to set up their own company and try to manage in Spain, and those who go abroad to find work. 
Make or break
The consulate does its best to help job hunting Spanish people. Spanish job seekers call the consulate nearly every day, and many travel to Iceland to apply for jobs. For many young people this is make or break.
"They have nothing to loose and just come here," says Margrét Jónsdóttir. 
"They always find a job as cleaners or in the hotel industry and can start from there," she says.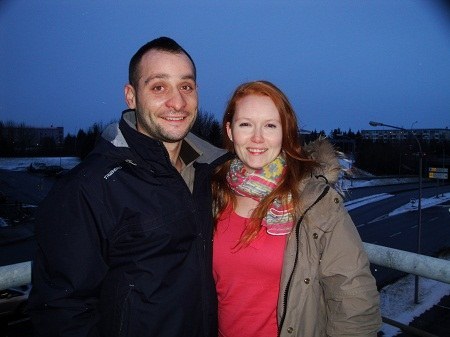 Halldís Eva Ágústsdóttir has lived in Spain for nearly 20 years. Four months ago she brought her Spanish partner, Marcos Gonzalez María, back to Iceland. Her partner had been a blacksmith for fifteen years but recently lost his job. Halldís Eva Ágústsdóttir had been working in a hospital reception.
She is now a bookkeeper for a Reykjavik company and he works as a blacksmith.
Need personal number
Halldís Eva Ágústsdóttir has met several Spanish families with small children who have moved to Iceland to look for work. She thinks it is an advantage if they have an Icelandic contact who can help them out in the beginning. She also says it is important to speak English. But not everybody can.
"I know some Spanish people who have had serious difficulties. A woman quickly got a job at a gym, but her husband found nothing. He is now a hotel cleaner," says Halldís Eva Ágústsdóttir. 
Her friends also had problems getting paid. In Iceland you need a personal number in order to open a bank account. This takes time unless you have got a job through the Eures work scheme. 
Everybody finds work
Vice consul Margrét Jónsdóttir is optimistic and believes all Spanish jobseekers will find work in Iceland.
"They don't remain unemployed for long," she says.
"If they want to work and are prepared to work hard, they seem to manage well," says Margrét Jónsdóttir. 
We're fine
Portuguese workers made up a large immigrant group in Iceland before the 2008 financial crisis. The Portuguese sometimes send job applications to the Eures advisors. The Portuguese enjoy a good network in Iceland from the time before the crisis. They contact people who they know who have stayed in Iceland or they send applications to former employers.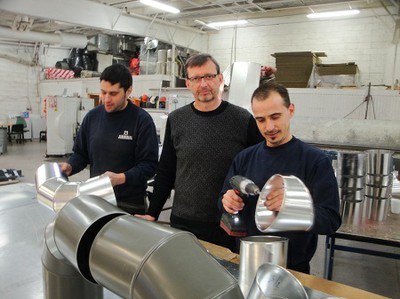 Antonio Joao Teixeira, Friðbjörn Steinsson and Armando Filipe Soares work with sheet claddings for tinsmiths Stjörnublikk in Iceland.
The tinsmiths employs several Portuguese workers. Stjörnublikk had to make 50 Portuguese workers redundant during 2008 and 2009. Most went back to Portugal. They are now getting back in touch to see whether there are any jobs. They would very much like to go back to Iceland.
Project manager Friðbjörn Steinsson says Stjörnublikk receives job applications from abroad every day. Not only from Portugal, but also Eastern European countries. 
"We regularly get requests from Portuguese workers who we were forced to let go during 2008-2009. Now they want to return to Iceland," says Friðbjörn Steinsson. 
"The situation in Portugal is horrendous. We think we have a financial crisis here in Iceland, but that is a misunderstanding," he says.
"We're just fine compared to Portugal," says Friðbjörn Steinsson.