Youth unemployment is a priority for Stockholm Municipality. Considerable work is being done within the city and between the city and other authorities, in order to get young people off benefits and into work or education. Two projects show that strong support on an individual level can be a recipe for success.
"I am 24, a mother of three and I will never again live on benefits. Filur helped me realise that I am unique," says Nadja.
The audience applauds. Nadja is on a podium together with seven other youths.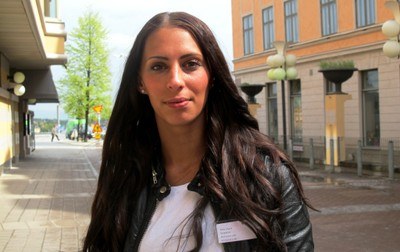 What they all have in common is that they are young, used to be unemployed and used to be pretty far from working life or school - some of them very, very far. But that was then, and their stories of change is the reason for this audience's enthusiastic applause. It is mid May, the venue is a large conference hall at Hilton Hotel in central Stockholm and the mood is almost like during an exam. 
Today they are presenting two Stockholm based projects called Filur and Merit and their work with unemployed youth. Both are financed by the European Social Fund (ESF) and Stockholm municipality, and have for several years worked with young unemployed people with weak links to the labour market. Today both efforts and results are being presented. 
Starting with the individual
Unemployed youths are often lumped together as one group. Together they make up a number which in Sweden and in the rest of Europe is so high that it is a source of great unease among politicians on all levels. There is even talk about a lost generation.
Perhaps that is why these young people's stories about change are received so enthusiastically by the audience here today. They give hope and show that things can work out. They also demonstrate the importance of what is the very core of these two projects: to start working with what the individual person wants to do, to find the driving force in each person and use this to create structures which give them the possibility to move on into work or education.
Meder (26) from Vårby gård south-west of Stockholm is another one of those who have managed to change their lives despite all odds. He makes the audience laugh with his humorous way of talking about his problematic background - including his so-called "involuntary holidays" in an institution. He was unemployed for ten years after dropping out from upper secondary school. One day he took a look in the mirror and decided he could do better. Being "the man of the house" he had to shape up - for his mother's sake. He frequented what is known as Jobbtorg (Job market) Stockholm, but only to claim his benefit. 
When he heard about the Filur and Merit projects he though they sounded dodgy - a bit like returning to upper secondary school. But in reality they proved to be different. At Filur he got to discuss ethics and morals and learned how to see himself and his role in the group. He says he learned to be strong and realised that he was not a rejected person despite his past. Today he works as a temp helping people with psychiatric problems become self sufficient. His old mates accept his new life and call him doctor Meder.
"Today, thank goodness, I am a Svensson [Joe Blogs, an average Swede]. It's the best thing ever. I get up, drink coffee and go to work. I was given an opportunity," he says.
Work equals self esteem
The eight youths' stories describe completely changed lives. They are stories about the importance of work and the feeling of regaining control over your life and economy - things which are very important to your self esteem. And it has all happened through the Filur and Merit projects, which both grew out of Jobbtorg Stockholm. Jobbtorg operates out of six venues and aims to get people off benefits and into work. But for many the move from passive unemployment to the available activities or jobs was too hard. The projects have been focusing on finding a way to ease the transition from benefits to self sufficiency or studies. 
Filur's target group is the young people who have struggled the most trying to enter the labour market. The programme spends the first eight weeks focusing on strengthening the participating youths' self esteem, while also helping them understand their own role within a group. The groups work together, but consist of around 15 people who have started the programme one month apart. Several participants talk about how the group has been almost like getting a new family.
The idea has been to make the youths more self aware, give them more self esteem to prepare them for the labour market. They have been taught how to dare to accept the labour market measures which are out there. After the initial eight weeks, the youths are given four weeks practical work with the support from a coach and supervisor.
Nadja says she was sceptical in the beginning. She is one of the project participants who for a long time had very weak links to the labour market, hardly any at all in fact. She had not had a job since 2007, but attended Jobbtorg to draw her benefits with little enthusiasm between her periods of parental leave. The Filur project did not tempt her at all.
The best eight weeks of her life
"I was so negative in the beginning and could not separate the authorities I met in order to get my benefit and the support I got through Filur. I was stuck in the system, bitter and constantly broke. I thought I knew everything about myself, but little buy little I learned that I can be a positive person and that I can get a job by simply being myself," says Nadja.
Today she is a support teacher in a primary school and has decided to study to become a remedial teacher. She is saving money and believes in the future. She describes the first eight weeks of the project as the best ones of her life, which brings tears to the eyes of project leader Helen Starkman, who is listening in. Time and again during the conference it becomes clear that one of the things which drives this forward is the strong commitment of those who work on the projects or with other labour market measures. 
"Our approach within the groups has been to work within a jointly agreed framework and to support each other," says Helen Starkman. 
At the end of each week as the participants have evaluated what the past days has given them, they have underlined the importance of being given the tools to take one step further on their own.  
"The soft skills - social competence, improved self esteem - are important," says Helen Starkman.
The Merit programme has taken a different approach. It began in 2010 and was due to finish in July 2013, but has been extended to run until 2014. It targets unemployed 16-29 year olds who are not quite as far away from the labour market as the young people targeted by Filur. Yet they still need extra support to be able to take advantage of the labour market measures which do exist. The project participants spend one to two weeks with preparatory training, led by coaches. They are then offered different measures like work introduction, work courses, apprenticeship training or training aimed at land and building maintenance or caretaker work. The coaches are ready to provide support during the entire project period. This has all happened in partnership with companies like the ICA school, the Swedish Employment Service and housing association Svenska Bostäder.
Individually tailored activities
"What makes Merit and Filur unique is the way in which we work with the individuals' personal development, the opportunities to work in groups and and the job evaluation. We also tailor our work to the individual's possibilities as we go along, and offer the participants increased support through coaching as long as they are part of the project and as long as they need it," says Jennie Bergsten.
For Maya (23), from Spånga north-west of Stockholm, Merit became a way forward. She had been unemployed for seven or eight months and had tried to find jobs herself. But she felt she never managed to highlight her own skills. With help from the coach she concluded that she needed to take a commerce course, and even though she had attended a commerce school she did get many new and more practical skills. She now works part time for a supermarket chain and part time in a kiosk, while planning to study economics. 
"Being unemployed is not a good life. Through work I have got my life back and I feel that I am part of a chain which also means something to other people," says Maya.
Most of the young people who have attended the projects do well. Since the beginning in 2010 more than 400 youths have been full-time participants at Filur. A January 2013 survey showed 78.5 percent of those who attended the project's first two and a half years are now self sufficient. Among the more than 390 Merit participants who joined in 2012, 58 percent were self sufficient 90 days after the end of the programme. The results have improved while the projects have been running as the methods have improved. The idea now is to incorporate the projects' methods into Jobbtorg Stockholm's ordinary operations.