"A murderer can become a fantastic worker. He has been in prison, thinking. Employers who dare hire a former criminal get very loyal workers," says Nanna Ravn Hansen, a consultant at High:five.
The Danish project was one of 26 good examples of youth unemployment-reducing measures presented during the Youth Employment Forum at Stockholm's Fryshuset on 16 May.
High:five works with under 30s who are at high risk of entering a life of crime or who are about to be released from prison.
"We get to know the youths so well. Every one is subject to a personal review and we guarantee that they are free from drugs. We have found work for 900 people since we started in 2006. 80 percent of those we've helped since 2010 are still in steady work," says Nanna Ravn Hansen.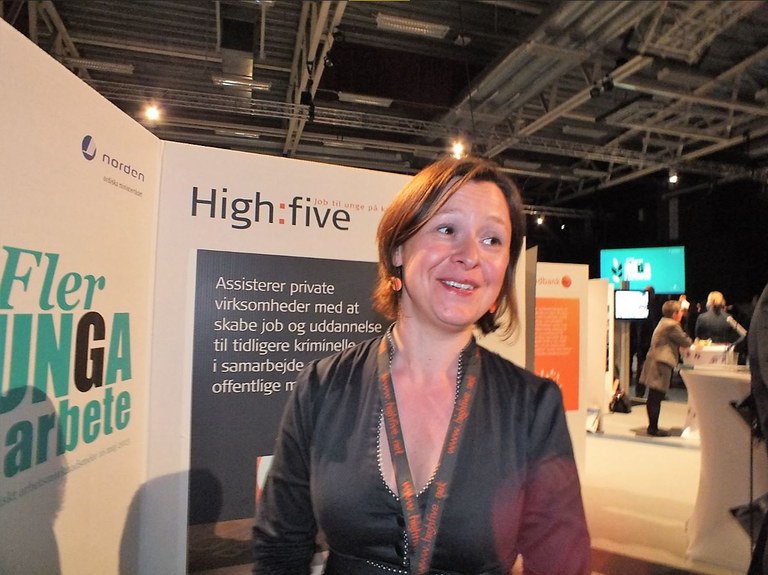 Nanna Ravn Hansen works for High:five.
Not all organisations work with equally demanding tasks. Sometimes all it takes is just a little push in the right direction. Norwegian JobbX is a voluntary organisation working with 16-26 year olds and especially with minorities. 
"We try to get in touch with the youths even before they become unemployed. We offer intensive courses of 3 x 3 hours to help them map their own motivation and skills; we train them in interview situations and help them write CVs," says Karen Bøhle Aarhus.
The wrong end of the stick
This sounds like something a job centre would do, but the difference is that help comes at a very early stage.
"I started with the wrong end of the stick. When I was looking for work, I started by writing 'Hi, I am an 18 year old guy', instead of describing what it is that I can do," says Fardin Abdullah, who arrived in Norway from Afghanistan four years ago.
After thinking about it for a while, he introduced himself as someone who masters five languages – Persian, Norwegian, English, Urdu and Pashto.
"Now I've got four jobs. I choose a job rather than waiting for a job to choose me. I now work for the Oslo amusement park Tusenfryd, two hotels and the temping agency Adecco alongside finishing my degree."
"And you're running courses for us at JobbX," says Karen Bøhle Aarhus, who we met shortly after Swedish Prime Minister Fredrik Reinfeldt and his Danish colleague Helle Thorning-Schmidt had visited their stand.
"With a job you can think about the future"
Norwegian Prime Minister Jens Stoltenberg visited Swedbank's stand, where he met Natalia Tozlovaku from Moldova and Anna Szymik from Poland. They have both managed the difficult transition of learning a new language and finding a job, thanks to the bank's internship programme.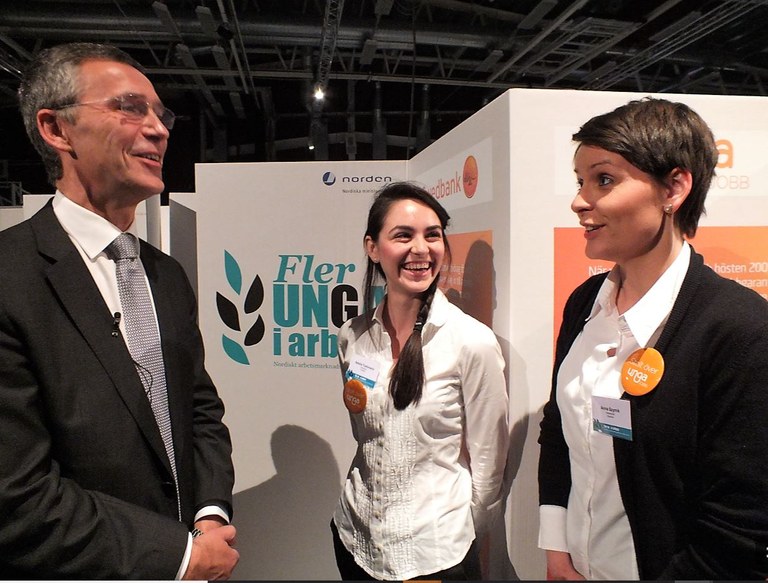 Norwegian Prime Mininister Jens Stoltenberg chatting with Natalia Tozlovaku from Moldova and Anna Szymik from Poland.  
"The best thing about having a job is that you can find a place to live and you can travel. You can start thinking about the future, about having children," says Natalia Tozlovaku.
"I feel safe and you get money," says Anna Szymik, who was asked by Jens Stoltenberg why she chose to move to Sweden and not Norway.
"It's love," she said.
"Yes, that is a very good reason," said Jens Stoltenberg, who also got to hear about a project in his own country, where the Norwegian Labour and Welfare Service (NAV) uses culture to boost self confidence among young people who struggle to settle in school and who cannot find work.
Culture makes youths thrive
The project is called 'We just do it', and is aimed at NEETs (youths neither in education, employment or training). This group is most at risk from ending up in long term unemployment. 
The project is run by NAV in the Midtre Namdal region in the middle of Norway.
"We started the project because we wanted to get better at reaching young people. We use culture as a meaningful activity which can get youths to thrive. We use theatre performances, music or looking after cultural heritage as tools. The mentors represent the most important part of the project. Each youth get his or her own mentor who can give them attention and encouragement," says Øyvind Rasmussen from NAV Midtre Namdal.
Some of the many other projects participating at the forum were Finland's Sanssi card - which proves that employers have the right to have some of the young person's salary covered by the state, Iceland's Fjölsmidjan - a youth employment service offering their own car garage, computer department, domestic science department and joinery, and the Volvosteget – which is working to safeguard the long term skills development for the Volvo group.