A new Statistics Sweden survey due to be published in May shows Nordic cross border commuting increased by 166 percent between 2001 and 2008. Swedes are most likely to work in neighbouring countries, and now 80 percent of Nordic citizens who commute to Denmark and Norway come from Sweden. Higher wages seem to be the biggest draw.
"Working in Norway is a great opportunity for people in our region and many here think of it as an obvious thing to do. Norway is so close and is viewed by many as the same area. There's a strong labour market and wages are better," says Marisa Chefe Conde at the job centre in Arvika, one of the areas in western Sweden where cross border commuting is part of everyday life for many people.
Mobile Swedes
A cross border commuter is a person who lives in one country and has his or her main income from a job in another country. Between 2001 and 2008 cross border commuting has increased a lot and for the most part Swedes are behind this increase. In 2008 some 47,000 workers commuted between the Nordic countries and 80 percent of them were Swedes. More Swedes go to Norway than to Denmark, but the commuting looks different in different regions. The Öresund region is special as it is dominated by two large cities while the commuting into Norway is more spread out.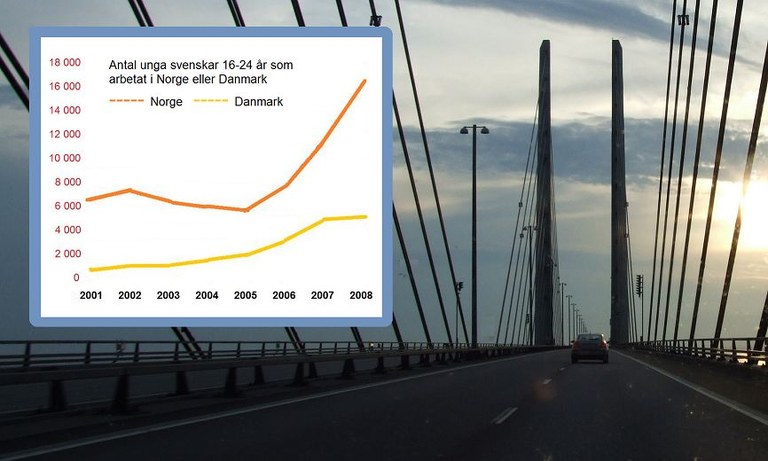 Diagram showing the number of Swedish youth 16-24 years working in Denmark and Norway.
These are some of the results from the report 'Cross border commuting from Sweden to Denmark and Norway between 2001 and 2008', due to be published in May. It has been written by Statistics Sweden on commission from the Nordic Council of Ministers and builds on cooperation between statistical authorities in Sweden, Norway and Denmark. The report's mandate is to demonstrate the nature of cross border movement and also to identify the typical cross border commuter. The idea is to provide information which can be of help for regional decision makers. 
"It's important to map the major cross border movements. It's important for trade and for growth in the border regions. The purpose of cross border commuting is to create a larger labour market, and the larger it is the more productive it can become," says Carl-Gunnar Hanaeus at Statistics Sweden.
More carrot than stick
The typical cross border commuter is quite young - half of them are less than 35. Just over 50 percent have finished college and a third have further education. Of those, many are nurses, doctors, economists and technicians. More than half of cross border commuters in 2006 were single, and of those who were married or lived in partnerships fewer had children living at home compared to those who worked in Sweden. There are still more men than women who cross border commute, but women are on the increase. This is particularly the case in Denmark, where the number of women cross border commuters has risen from one in three to 40 percent. In Norway too more and more women are cross border commuting, and today the number is around one third. The average commuting period lasted for three years and in 2006 around one third of people who chose to work in a neighbouring country were first-time commuters. 
"We were surprised not more were unemployed before looking for work across the border. The driving force seems to not to be unemployment but the fact that it is considered attractive to apply for jobs outside your own country," says Carl-Gunnar Hanaeus at Statistics Sweden.
Cross border commuters are found in all trades, but most work in the service industry. The highest growth in cross border commuting is found within the temping agency trade, which increased by 758 percent between 2001 and 2008, followed by the retail trade which during the same period increased its Swedish labour force by 355 percent. Some eight percent of cross border commuters worked in healthcare during the period while the number of commuters in the building trade fell.
Changing flow
People moving across Nordic borders to work is nothing new, and has in fact been encouraged in the Nordic countries. The idea has been to match supply and demand and as a result strengthen pan-Nordic competitiveness. Nordic citizens have been free to move between countries without work permits since 1954, and in reality even long before that. Over time the flow of workers have changed direction. In the 1960s and 70s Sweden's labour market was interesting to Nordic neighbours, not least a lot of Finns came. Swedes traveled to Norway and Denmark mainly to shop. 
Today the flow has been reversed. Swedes in the Öresund region commute to the Copenhagen region and in Swedish border municipalities of Västra Värmland and Västra Götaland many commute to Östfold or Oslo. Årjäng, the neighbouring municipality to Västra Värmland, belongs to Oslo's local labour market. Strömstad and Tanum in Sweden make up another local labour market alongside Norwegian Sarpsborg, Fredrikstad, Halden and several other smaller, nearby municipalities, and in the Västra Götaland region there is cross border cooperation to ease commuting and create a greater labour market.
One important part of the cooperation is to understand how labour moves around the region, and this is a kind of cooperation which is organised by projects like KUSK, within the framework of the cross border Interreg Sweden-Norway programme. KUSK stands for Competence, Development, Statistics and Communication.
"The Norwegian economy enjoys a greater level of growth and they are dependent on us for labour and we are dependent on them for jobs. Norwegians also invest in companies, they shop and many spend their spare time here," says Christina Christiansson, an analysts at the secretariat for regional development  at the Västra Götaland region.
No fear of a brain drain
The report's mandate does not include finding a reason for why Swedes represent nearly all of today's cross border commuting. Those involved with cross border commuting to Norway see active, interested Norwegian employers who will happily hire Swedes.
"There's huge interest among Norwegian employers to hire Swedes, who are often described as engaged, service minded and responsible. Being Swedish is an advantage and there are great needs to be met across all trades in Norway today," says Marisa Chefe Conde at the Arvika job centre.
The report's results do not indicate any brain drain either. Relatively few of the commuters have higher education, and most health care workers only work for limited periods of time abroad - for instance during holidays or while they have time off from their permanent jobs in Sweden. The people Marisa Chefe Conde meet have not indicated there's any sign of a brain drain from Sweden - a country which also lacks enough health care workers.  
"Nurses who work in Norway don't tend to move, they only try it for a while before they return. For many this is a chance to earn some extra money and to try different jobs. It is also an achievement to have dared to work in a different country. It demonstrates an ability to show initiative and allows people to contribute with new knowledge," she says.
Christina Christiansson does however think demographic changes might mean the competition for labour will be tougher in the future, as more and more people retire.
"It's important to be aware of the fact that it can become very difficult in future to secure enough labour within the health care sector, as the number of older people is increasing while a large proportion of today's labour force approaches retirement," she says.
Both Carl-Gunnar Hanaeus at Statistics Sweden and Christina Christiansson at  the Västra Götaland region are worried about how to develop cross border labour movement statistics in future. The report which is about to be published was commissioned by the Nordic Council of Ministers, and builds on previously collected statistics. It is unclear how such statistics will be funded in future, and it is not certain any more will be produced. The ideal solution would be a pan-Nordic funding model, but the Finns do not want to contribute and the Danes are mostly interested in mapping the commuting patterns in the Öresund region. So far the Västra Götaland regions have invested their own money, for instance, as well as the Skåne region.
"When we show how people move across borders we help create a basis for regional decision makers and we create an incentive for cooperation. Cross border commuters are also of national interest to Sweden, because Swedes are earning 20 billion kronor outside of their own country - money which is not taxed in Sweden despite the fact that people actually live here," says Carl-Gunnar Hanaeus.