Developments in the aviation industry have presented new challenges to politicians, employers and trade unions. Deregulation and increased competition makes it cheaper to fly, which means increased growth. But market conditions could end up being tougher than the partly state owned airlines can handle.
If you compare the annual number of passengers carried by the "flag carriers" i.e. SAS, Finnair and Icelandair, to the private low-cost airline Norwegian, it soon becomes clear that the Nordic airspace has become crowded.
The Norwegian airline celebrated its first decade of flying this year and carried nearly 16 million passengers last year. The other three airlines which have operated for 66 to 89 years carried just over 32 million passengers. Even if the four airlines aren't always in direct competition with each other, and even if there are other players in the Nordic aviation market, these figures say something about the power balance. Out of these four airlines, Norwegian has taken a third of all the passengers.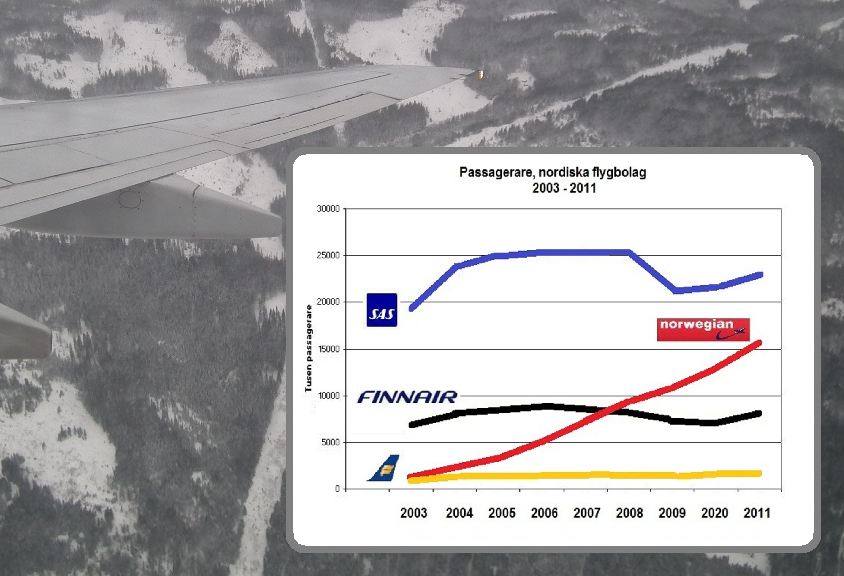 Norwegian Air Shuttle's entry into the Nordic aviation market has dramatically changed the power balance measured in the number of passengers. From the top: SAS, Finnair, Norwegian and Icelandair. 
Flag carriers is an expression dating from a time when each country had its own airline and aviation traffic was regulated through bilateral agreements. The airlines also usually enjoyed a monopoly even domestically.
USA first with deregulation
USA began the aviation industry liberalisation back in 1978. The EU followed in a process which led to the establishment of a common aviation market from 1993. 
This saw aviation traffic increase on average twice as fast between 1995 and 2004 compared to 1990 to 1994. It created 1.4 million new jobs and allowed Ryanair, Easyjet and other low-cost carriers to start up and grow quickly.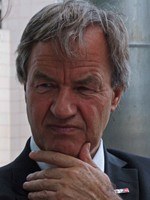 Low-cost airlines used the Internet to sell their tickets, making it easier for customers to find the lowest prices. Meanwhile aircraft design has improved at a rapid rate; the use of composites makes them more fuel efficient. The airline with the youngest fleet has the lowest cost.
In January this year, Norwegian's CEO Bjørn Kjos announced the largest ever aircraft order in Europe. The airline has ordered 122 aircraft from Boeing and 100 from Airbus, paying 127 billion Norwegian kroner (€17.2bn). The aircrafts will be delivered until 2018.
Norwegian has been able to grow so big because the deregulation prised open the established airlines' way of organising flights - the so-called hub and spokes system. Passengers were flown to a central hub before boarding various domestic or international flights. This was particularly prevalent in Sweden where there was no domestic competition - unlike Norway's Braathens and Denmark's Maersk - when the aviation market was deregulated. 96 to 97 percent of domestic passengers flew via Stockholm.
Direct flights save time
Norwegian set up a system consisting of 96 percent direct flights. This gives travellers less choice but saves time. Charter passengers could for instance travel direct from their home city to a holiday destination. This system also allows for rapid adjustments. If a route has too few passengers it is closed down.
Although a lot has been written about pricing, the competition is as much about customers as it is about how often the airlines operate a certain route. The lack of take-off and landing slots at the main airports makes it harder for new airlines. 
The Swedish Competition Authority has tried several times to break up the rules which have allowed SAS to keep the most attractive slots. Norwegian started operating a few years after the opening of Norway's new main airport Gardermoen, making use of the expanded capacity.
Norwegian authorities also banned SAS from using their bonus point system domestically in Norway, which had been an efficient way of tying customers to one airline. That meant the Norwegian government, while owning 14.3 percent of SAS shares, also helped Norwegian grow into a serious competitor which also won customers over when it expanded into the neighbouring countries. SAS was considered to be bureaucratic and too much in the thrall of trade unions.
"Old hags"
"The media largely depicts SAS cabin crew as demanding old hags who can't keep up with social developments. We are considered to be inflexible snobs who earn far too much," writes Lena Ronge, a SAS purser, in an Aftenposten comment piece.  
After tough negotiations where trade unions were presented with an ultimatum to sign a deal involving considerably longer working hours, weaker pension rights and lower wages, public opinion has turned somewhat.
The Council of Nordic Trade Unions, representing 16 unions and nine million members, put it this way:
"SAS' way of dealing with the company's current economic crisis is an example of how the state and employers act in an unwise and shortsighted way, believing they can gain from trying to move away from the Nordic model."
Thai cabin crew
When Norwegian starts operating long-distance flights between the Nordic countries and New York and Bangkok next year, the airline will establish bases there and adapt Thai labour legislation.
"Most cabin crew will be Thai. Anyone can apply, but they must live in Bangkok. The most important thing is that they are experienced and skilled. Because Norwegian is from Norway our pilots must hold European licenses," Bjørn Kjos told Norwegian media.
Could this be the beginning of airlines going down the same route as Norway's shipping industry, where there are now 17,000 Filipino seamen working on Norwegian ships?
According to Airbus some 28,000 new passenger and freight aircraft will be built in the next 20 years, but only 10,000 will be scrapped. Air traffic has increased by 53 percent measured in passenger kilometres since the year 2000.
The other major aircraft producer, Boeing, warns there is already a shortage of pilots in some parts of the world.
According to the 2012 Boeing Pilot & Technician Outlook 460,000 new civilian pilots and 601,000 aircraft technicians must be trained by 2031.