Finnish women top the Nordic Labour Journal power barometer with 15 out of a possible 40 points. Not least because both their president and prime minster are women.
There's a small sting in the tail though; Finland's first female prime minister had to resign because of a political scandal, and the present one got her job because of somebody else.
The Centre Party's Anneli Jäätteenmäki became Finland's first female prime minister in spring 2003. During electioneering she had made use of secret documents detailing Finland's relationship with the USA and the Iraq war. When it emerged she had lied about how she had obtained these documents she was forced to resign, after only 68 days in power. 
Matti Vanhanen took over and formed his second government since the 2007 elections, one which beat all records for the number of female ministers - eight in twelve were women, or 60 percent. But even Vanhanen faced a political scandal, this time over the financing of the Centre Party election campaign. When he then proposed to rise the retirement age fro 63 to 65 the trade unions turned against him. He stepped down on 22 june 2010 and Mari Kiviniemi took over.Finland's President Tarja Halonen is not burdened by any political scandals and has become a symbol of stability in Finland. She was first elected in the year 2000 and her present period in office ends in 2012.
Female quota introduced in 1995
Women's strong political position is not mirrored in local politics and in working life. Finland was the last of the Nordic countries to introduce gender equality legislation in 1987.
In 1995 this was strengthened with a quota stipulating each municipal committees and board must have at least 40 percent of each gender.
The quota legislation also covers the composition committees and working groups in the state administration. Despite this the number of women in high public sector positions has stagnated at 28 percent despite the fact that nearly half of all public sector employees are women.
"The fact that the male dominated leadership level is about to retire has not vastly increased the number of female leaders either," says the latest report from the Ministry of Social Affairs. 
A quota for listed companies?
The government's gender equality programme for 2008-2011 sets out a goal of 40 percent women in public sector company boards. Listed companies only had 17 percent female board members in 2010. There has been a debate whether Finland should introduce a quota akin to the Norwegian model, but no decision has yet been made. But such a quota system could also be needed among trade unions and employers' organisations. 
In 2009 only 13 percent of trade union leaders were women and only one in four of board members were women despite the fact that women made up more than half of all union members.
Only 14 percent of board members and deputies at the Confederation of Finnish Industries (EK) were women in 2009. The  chairperson of the board and all deputy chairs were all men. The highest decision-making body - the General Assembly - only had eight percent women that year.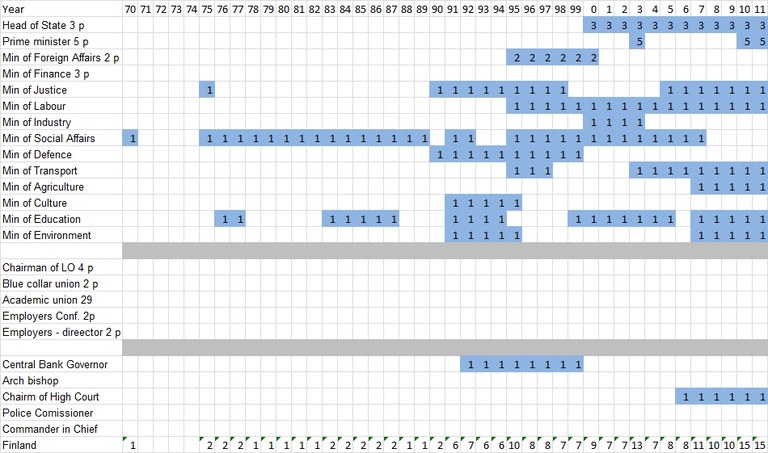 Finnish women have become President, Prime Minister (twice) and conquered many other ministerial posts. But none of the leaders of the main unions or the Employers Confederation have ever been female.