Border obstacles have been on the political agenda since the Common Nordic Labour Market was established in 1954. When one obstacle is removed, another pops up.
This is not only because Nordic countries introduce new legislation without considering the consequences for neighbouring countries, or because they adapt different EU directives. It is also because our relationship with the nation state has changed. Just like the terms 'married' or 'single' no longer suffice to describe modern family life, we are increasingly living a life on both sides of the border.
"It is not reasonable that a builder from [Swedish] Värmland who commutes between Sweden and Norway must become a Norwegian resident if he lives there for more than six months," says Bjarne Mørk-Eidem, Norway's representative to the Freedom of Movement Forum, established by the Nordic prime ministers in 2007.
"He might be staying in barracks in [the Norwegian county of] Østfold, but he has his house and family in Sweden. That's where he belongs. It is obvious that we need to disregard the six months rule in some cases - even if it means the municipality in Østfold can't collect any tax from that person."
The past decades have seen many new ways of living together. People are cohabiting or living apart together. There are same sex marriages and heterosexual marriages. Families include children of several fathers or mothers. In some cases people from untraditional families discover they do not have the rights they thought they had. The person who opted to stay at home to look after the children might be punished during the distribution of marital property after a divorce. But lawmakers are also catching up and are granting cohabiters the same rights as married couples.
Citizens of more than one country
Similarly, many today have a less rigid relationship with the nation state. People don't enjoy rights in their country of birth only, but in the Nordic region and Europe too. While authorities think it is a simple question of counting the days someone lives in a country to determine their tax obligations or social rights, it might not be so straightforward for the individual.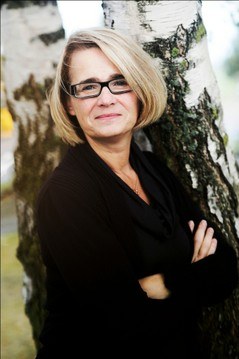 "In the Öresund area we have always had people who live in Sweden and work in Denmark or the other way around. But 'in the good old days' they were only a few thousand people. Today there are between 20,000 and 30,000," says Pia Kinhult, the Swedish representative to the Freedom of Movement Forum.
The forum's mapping of different border obstacles have showed there are greater differences between the Nordic countries than many thought.  
"There are very different basic philosophies when it comes to labour law and social insurance. They have been constructed with their own logic in each separate country," says Pia Kinhult, who is regional councillor for the Moderate Party in Skåne, southern Sweden.
Many differences
There are differences like retirement ages - 65 years in Denmark, Finland and Sweden and 67 years in Norway and Iceland. There's different ways of determining whether a person is unable to work, and when the switch from temporary redundancy to full-term unemployment happens. There are even different definitions of what constitutes a family.
One of the largest problems according to Pia Kinhult is the conflict with tax authorities when a person lives in one country, works in another but takes on an extra job in the country where he or she is resident. 
"In a time when we need to work more and we try to protect people's willingness to work, that problem should be solved. This is also about being able to be an instructor at a local sports club and receive a fee for it," she says.
Bjarne Mørk-Eidem, who has been a member of Norway's parliament, fisheries minister, auditor general at Norway's national audit office and head of the Norden Association, has experience from many different levels and has seen the problems from many different angles.
The individual's right
"Often the border obstacles are not so much about being a hindrance for mobility as a hindrance for fairness. We will make sure the individual citizen can move freely. This must also apply to people with disabilities," he says.
People with disability vehicles can for instance not bring their vehicle across the border when they move, but must apply for a new vehicle in their new country of residency. 
When asked why it takes so long to remove border obstacles, he says:
"The breaks are applied in more than one place. But politicians come and go and the bureaucrats remain. They are not the first ones to opt for changes. Only political pressure gives results. 
"It is very easy for bureaucrats to answer no to a request and refer to some paragraph. But they should also be forced to explain how the law must be changed in order to fulfil the necessary conditions. That would have been a useful exercise."
He points out that there actually are many things that work remarkably well between the Nordic countries.
"I have a Norwegian father-in-law who worked for some years as a Swedish sailor towards the end of the 1940s. Suddenly a small Swedish pension started arriving completely automatically."
Öresund entrepreneurs
On the other hand it is not always easy to see what the consequences of working abroad will be in the long term.
"I call those who work in the neighbouring country Öresund entrepreneurs. It is like those who emigrated to the USA in the 1800s. They didn't know the consequences either. We should be grateful that someone dares to do it," says Pia Kinhult.
"Luckily we also have a friend in the EU. Sooner or later an EU directive will arrive which forces a change," she says.
Both Bjarne Mørk-Eidem and Pia Kinhult praise the work of various cross-border organisations like Hallå Norden, Öresund Direkt and Grensetjänsten (the border service). The latter is a cooperation between the Norwegian county councils of Hedmark, Akershus and Østfold and Sweden's Dalarna county council and the council of Värmland.
Nordic ombudsman
They are also positive to the establishment of a Nordic ombudsman, a proposal from 1987 and the late Swedish Liberal Party politician Karl Erik Persson. The proposal never gained the necessary support. 
"A Nordic ombudsman is not a bad idea. Ole Norrback, who heads the Freedom of Movement Forum, could be the first one," says Bjarne Mørk Eidem.
"In a way the Freedom of Movement Forum already works like a Nordic ombudsman. But to give such an institution legitimacy you need one in each country," says Pia Kinhult.