Reykjavik citizens demonstrated their level of distrust in traditional politics and politicians by voting in comedian Jón Gnarr as their new mayor in last spring's local elections. Mr Gnarr's party, The Best Party, entered a coalition with the social democratic party Alliansen (Samfylkingin).
He ran on a ticket promising a polar bear in the family park, free towels in public swimming pools to give them spa status and he promised to break his promises just like other political parties usually do.
Reykjavik has elected a mayor who wants to twin the city with the Mumin Valley and who doesn't shy away from taking part in the Gay Pride parade dressed in drag.
But reality catches up even with stand-up comic and funny man Jón Gnarr. After two weeks thinking about it, Reykjavik's new mayor says he won't have time to talk to Nordic Labour Journal - and to Icelandic broadsheet Morgunblaðið he says:
"We're not here to talk but to act."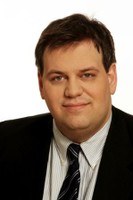 Andrés Jónsson, a commentator with PR company Good Communication (Góð samskipti), says Jón Gnarr's election win was people's way of saying they reject the old and want something new.
"Once his party was established and ended up gaining momentous support the traditional parties had a hard time getting their message through. People lost faith in their ability to present credible solutions or make real change happen.
Bankruptcies multiply
The banking crisis hit Iceland particularly hard. All the large private banks went bust and were nationalised. Summons are issued regularly. Loans and instalments have become larger, the property market is falling, purchasing power falters and bankruptcies multiply.
"People have a very negative attitude towards politicians. As a result they don't dare take drastic measures, out of fear of getting their heads chopped off. Power and influence has shifted in a very short amount of time. Bloggers and commentators have seen their influence rise - not least the then minority who criticised the banking system before the October 2008 crash.
This spring a poll showed a considerable reduction in the number of people who say they have great trust in Iceland's parliament, the Allting - from 18 percent in the autumn of 2009 to 10.5 percent.
The poll also showed an increase from 52.4 to 56.4 percent of people who distrust the Allting.
Only 20 percent said they have great trust in the government, which comprises the Alliansen party and the Greens. 60 percent say they have little trust in the government. The opposition parties fare no better, with 54 percent of people saying they distrust them. 
Least trust in banks
No surprisingly the banks come out bottom of the trust scale. 78 percent of those asked distrust the banks.
Mr Jónsson says the country is stuck in a rut.
"Distrust just growths when politicians are close to being unable to take any action, while people with power within the economic sector are faceless and prone to populism."
This could explain why the normally peaceful Icelanders suddenly had had enough and took to the streets with torches and sticks. There is a considerable contempt for politicians and the mood is sometimes hateful.
"Image is becoming more important with institutions, businesses and those in power. That could reduce the risk for making illogical and wrong decisions, but to me it seems that this also leads to some not daring to make any decisions at all. We need something different than that right now," says Andrés Jónsson.
Unhealthy state of affairs
He also believes the hate and distrust could be fertile ground for subversive movements, and that this could lead to an unhealthy state of affairs.
"We need to trust each other and stick together. Our solidarity is fragile right now, and we need to see trustworthy action from the special prosecutor looking into the economical crimes that triggered the banking crisis, we need constitutional change, greater openness and more democracy. Our nation is no longer afraid of levying criticisms. Institutions and companies, not least finance companies, have begun firing people and re-hiring because new brooms sweep clean."