Another milestone in Norwegian-Russian cooperation is reached as Norway and Russia agrees on visa-free travel for border region residents,. The visa-free zone crosses the Schengen border, making it a rarity in Europe. Yet there are reasons to remain patient. It could take another 12 months before the agreement comes into force.
During his visit to Oslo on 2 November, Russia's Foreign Minister Sergei Lavrov together with his Norwegian counterpart Jonas Gahr Støre signed the agreement on visa-free travel for people living within 30 km from the Norwegian-Russian border.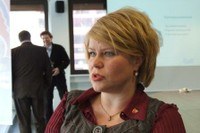 Linda Beate Randal, Labour Party mayor in the Norwegian border municipality of Sør-Varanger, witnessed the signing together with her Russian colleague. 
"This is the beginning of a vision. We are very happy for visa-free travel, if only as a first step. If we want a dynamic zone where people can trade and work across the border we need more than visa-free travel," she says.
Knut Henningsen from Kirkenes Næringshage, a local business interest organisation, agrees:
"A visa-free zone would be very positive for the local population. As it is, Russians need to travel to Murmansk to organise visas."
Some 40,000 Russians live within an hour's drive of the Norwegian border, but complicated red tape forces people to drive 200 km to Murmansk to obtain a visa before they can cross the border.
Visa-free travel will benefit some 45,000 people in the Petsjenga municipality as well as the cities of Nikel, Petsjenga and Zapoljarny. On the Norwegian side it will cover some 9,000 people in Kirkenes and the nearby areas in the Sør-Varanger municipality.
"The Russian time zone, two hours ahead of Norway, benefits me. I can leave Zapoljarny at eight o'clock in the morning, spend two hours travelling and getting through the border and still start work at eight, Norwegian time," says Jelena Romanov who has just started work at Thon Hotel in Kirkenes.
Common labour market wanted
Visa-free travel will ease border crossings, but it will not change work permit rules. It is already easier for Russians than for other non-EU/EEA citizens to obtain a work permit in Norway's northernmost region of Finnmark. Yet Knut Henningsen from Kirkenes Næringshage is not satisfied.
"We want to see a visa-free zone and a common labour market in the region, allowing people to live and work on both sides of the border. Today this is complicated as jobs must be advertised across the EEA before they can be advertised in Russia. It's a time consuming process. It's even harder for Norwegians who want to live and work in Russia to get a work permit."
Two percent unemployment
Sør-Varanger municipality, which includes the city of Kirkenes, has two percent unemployment - that's less than 100 people. At the same time there are many jobs to be had and a need for competent labour within most sectors.
"We haven't seen anything of the economic crisis," says Cato Lindbäck at the Norwegian Labour and Welfare Administration (NAV) in Sør-Varanger municipality. He lists sectors where labour is needed.
"The health sector - Kirkenes hospital and Sør-Varanger municipality are always looking for health workers. There are many Swedes and Finns but not many Russians. The education sector lacks skilled workers. We urgently need 20 preschool teachers and we're looking both in Finland and in Sweden."
He doesn't stop there but moves on to construction. Several major construction projects are on hold. People are needed in fisheries and in the hotel and travel industry. Hotels employ youth from Italy and Spain. There is a shortage of engineers and other skilled industry workers, and even more jobs could crop up. 
March 2011 should see a decision on whether the world's largest off-shore gas field - Shtokman - will be developed. People in Kirkenes hope to reap the benefits and supply most of the development chain. With the agreement on the Norwegian-Russian Barents Sea maritime border the region could also see test drilling for new petroleum fields on the Norwegian side of the border. The perspectives could be enormous and the demand for labour equally huge. 
"So it is important to have access to labour, but we are not looking to steal labour from Russia. We need dynamics in competence both here and there. We also need to make ourselves attractive to our neighbouring municipalities and get people from elsewhere to turn their attention to our region. 'The mine' has hoovered up all spare capacity. That's a challenge yet only a luxury problem," says Linda Beate Randal.
Mining with Nordic commuters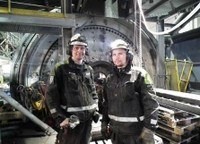 Newly opened Sydvaranger Gruve AS (a mine producing iron ore concentrate) still needs more people. The mine is run with so-called fly-in/fly-out labour from Finland, Sweden and Iceland. So far the company has not hired Russian miners out of fear of language problems which could affect safety. But within the 30 km zone on the Russian side, mining is the main industry. The nickel resources there won't last forever and some Russians have learnt Norwegian through work in other sectors. Today eight percent of Sør-Varanger citizens are Russian, and cooperation is much more common. Russian language has become a popular choice in secondary schools, with as many as 20 percent of youths choosing to study Russian.
The old A/S Sydvaranger had been the main industry in Sør-Varanger since 1906 when it closed in 1996/1997 with the loss of the Norwegian expertise. When mining resumed in 2008 the company had to look for skilled people elsewhere in the Nordic region. Today the mine employs some 350 people - only 62 percent are local, the rest commute. 120 people work for subcontractors, and the same number commute.
CEO at Sydvaranger Gruve, John Sanderson (himself headhunted from Australia), illustrates the lack of Norwegian competence by pointing out that there was only one student of mine engineering at the Norwegian University of Science and Technology in 2009.
"We hope to play a role and motivate young people to choose mine engineering," says John Sanderson.
The mining company aims to have at least 80 percent local employees. It wants to be recognised as a apprentice company in order to recruit more local youth. A local workforce would be cheaper for the company and better for the local community. The commuters work to so-called offshore rotas, i.e. two weeks on and three weeks off. They live in portacabins and eat onsite.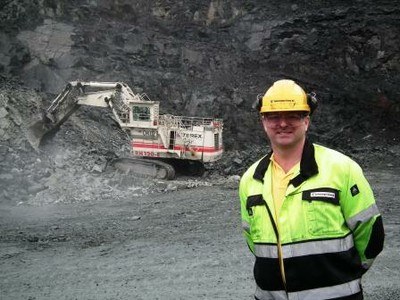 "The pay is the same in Norway and Australia, but working hours are much shorter in Norway. Here you work 336 hours for the same money as 514 hours wold give you in Australia," says Mr Sanderson.
Popular Finnish neighbours
"Northern Finland has traditionally struggled with high unemployment, so it is interesting if we can manage to recruit from there. Sweden is a little bit too far away," says Knut Henningsen at Kirkenes Næringshage.
There is a tradition for Finnish labour in the fisheries here. Not far from Kirkenes lies Bugøynes, a small community where Finns have lived for generations and where they still speak Finnish. With the decline of the fishing industry there was a need for nurses and later carpenters. 
"We run Norwegian classes for carpenters in Finland and help them find apprenticeships. We use our networks in both Sweden and Finland, but particularly in Finland as it is our neighbouring region," says Cato Lindbäck.
Unemployment along the Northern coast
The need for labour in Sør-Varanger municipality means NAV also tries to mobilise people outside the labour market and those living along the coast. Between 25 and 30 percent of working age people in Kirkenes are outside the labour market and receive state benefits. This amounts to 1,500 to 2,000 people.
"Cooperating with employers allows us to try making more people work part time while they receive reduced social support. Employers can then offer more work when they need to," says Cato Lindbäck at NAV Kirkenes.
It is also possible to recruit people from elsewhere in the Finnmark region.  
"The coastal areas tend to have higher unemployment, so NAV organises job fairs to get people from other towns and villages to apply for work in Kirkenes - especially people near enough to commute daily."
Kirkenes is an area under pressure with not enough housing and prices level with those in Oslo. The municipality has now identified a plot for development which can hold 1100 housing units. But the mayor also wants the mining company to make an effort to help its employees find a place to live. 
"The mining is now up and running. I expect the mine will do what it takes to make it easier for their workers to live locally. When Snow White (a major offshore gas landing terminal) began production in Hammerfest, [operator] Statoil built 100 apartments because they saw housing would be a challenge in a small community. They were hiring 330 people. Here, the mine needs the same number of people yet the mining company has not contributed to any new housing schemes. I believe this will be an important factor if they wish to reduce the number of commuters," says Linda Beate Randal.
Border permit a good solution 
"A border permit is a good solution, but it must be combined with other measures to make it work," says Knut Henningsen at Kirkenes Næringshage.
Getting more people to cross the border presents practical problems, he says. The border pass must be distributed and there is also a need for improved facilities at the border crossings.
"Last weekend you had to wait for three hours to cross. There are plans for a new border crossing with larger capacity.
"Also: even though many people live on the Kola peninsula, their purchasing power is limited, so it's not sure this will affect trading that much."
Knut Henningsen hopes for closer cooperation between small and medium businesses, but so far things haven't been too smooth because of the very different structures in the two countries. 
"In Russia there are 20 to 30,000 employees at Norilsk Nickel. Norwegian companies typically employ up to 100 people. Sydvaranger Gruve in Kirkenes is the largest private employer with 350 to 450 employees. Russian business is more varied, larger companies have been split up and smaller ones have sprung up, but there is a lot of service industry. The travel sector is an interesting area for cooperation. 
"The most interesting thing for businesses is a common labour market region, and in the long term business cooperation," says Knut Henningsen at Kirkenes Næringshage.
"I believe the last pieces of the puzzle will fall into place. What our foreign minister has managed in terms of cooperation with Russia is nothing less than a paradigm shift," says the mayor of Sør-Varanger municipality, Linda Beate Randal.