They suddenly appeared in all European capitals and tourist cities: the living statues. Where did they come from? What are they thinking while they stand there, lifeless? What do they do in winter? We came with many questions and quite a few prejudices when we approached one of the most peculiar occupations there is.
Being a living statue might seem like a meaningless job. Nothing ever happens. Still, we are tempted to stop and watch - just for a bit - to see if something does happen. Watching the audience is often as exciting as watching the statue. The motionless person seems to almost hypnotise some people. 
"Some see beauty whilst others see an object for derision. Rarely have there been forms of art that have drawn such extreme reactions, good and bad, from members of the public - and all from standing still in silence." That's how English event company The Living Statues Company market themselves online.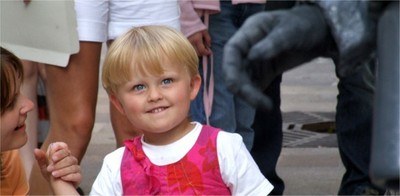 The trick is to stand still yet connect with the audience so that they stop and donate money. 
In many countries you can hire living statues for business events, festivals and openings. A living statue which suddenly moves can help break the ice among guests who might not know each other. 
Some living statues blog about their experiences. We soon understand why they all stand on a box. There are far too many dogs that can't tell the difference between a living and a dead statue...  
We contact Canadian Kate Mior via email - she has performed as Marie Antoinette in many European cities. She says it varies from city to city whether she needs a licence to perform. In some places you need to set up early to secure a good space, sometimes the street artists arrange a draw for times. A season lasts about four to five months, and she works four to six hour days. 
"My takings are my secret ;-)," she writes. 
A chatty sculpture 
Our online search then takes us to Eventartist in Stockholm, run by Roger 'Gräns' Jonsson. He is very chatty on the telephone.
"I was Sweden's first living statue," he says. 
"I started on the street, but it was cold and I was soon approached by a company that wanted me to perform at various events."
Our first prejudice - that living statues have no education - immediately falls by the wayside:
"I am a mime artist with five year's education from Paris. I think that is a good prerequisite to do well as a living statue. Dancers tend to want to move, while mime training is a combination of tension and relaxation. It's all about how to relax in one position. To be able to move in slow motion you need to be physically trained. That takes a couple of years," he says. 
The father of the art of mime
Roger Jonsson was educated at a school founded by Etienne Decroux. 
"He is considered to be the father of the art of mime and taught Marcel Marceau among others. When I arrived there he had just retired. One of his assistants trained me.
"Describe a mime class?"
"We had three lessons a day, divided into two classes each time. We started with a warm-up followed by 'scale exercises'  - twisting our head, chest and pelvis in the same direction and the opposite direction. Etienne Decroux developed the pure mime technique, a three dimensional body movement system.
"Decroux didn't like pantomime (i.e. comical mime). He disliked audiences laughing even before they knew what was going to happen on stage. He compared the art of mime to classical music, mime to him was something very serious. 
"Later we would practise various figures, like a carpenter or a shepherd picking flowers. The training was far from what most people think of when they hear the word mime. 
Mime education a requirement
Roger Jonsson gets irritated when he sees bad statues, people who have only attended a minor course.
"When I hire living statues, they must have a mime education. I want to give people a good experience, it's not all about getting paid but also about providing the best possible experience. One show can cost between 500 and 1000 Euro for a few hours. 
"What do you think about, standing there?"
"Once you've got your costume and makeup on and are in place, you soon achieve a stillness. It's like meditation. And you don't really stand completely still - perhaps only for a few minutes before you twist a bit or make some kind of movement."
"Will there still be living statues in five years time, or will people have grown tired of them by then?"
"On the contrary - I believe the fascination will increase. There are so many things that move fast in our society, and suddenly you see a person standing completely still. People think it is cool. Many dream of taking it easy, that's what people miss - to have enough time to themselves and to achieve some sort of harmony," says Roger Jonsson.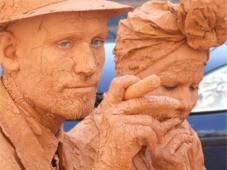 Arnhem Mime Festival
The Dutch city of Arnhem has proven that living statues can have an economic impact too. The city organises an annual festival to choose the world's best living statue. This year's festival runs from 28 to 29 August.
"There are usually 300,000 visitors to the city during the festival. This year we are expecting 300 living statues if you count amateurs and children," says Dionne Aldus, one of the festival organisers.
Photo: Roger Jonsson (silverstatue) from Eventartist