Morten Skov Nielsen got a job and lots of self-confidence - and he's growing with the task. "It's much better than I'd thought", says 24-year-old Morten Skov Nielsen.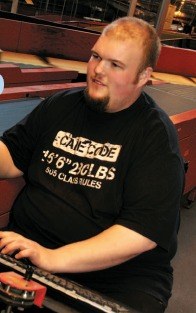 He got his first real job four years ago with Copenhagen Pakkecenter, which is part of Post Denmark (the Danish postal service), in Brøndby near Copenhagen. He used to rely on social benefits. He was accepted on a course for computer literacy, but he really wanted to work as a security guard. But at 21 he was too young. Then the municipality contacted him to ask if he wanted a job at the postal parcel facility. It turned out to be just the thing. Morten is very happy after four years working there.
"Time has flown by, and I've gained a lot of self-confidence.
I started out as an ordinary worker, but wanted something more. Now I've been chosen to coordinate the running of my
team.
"It's been quite a change for me, as I used to be very shy. It does not do to be shy when you coordinate a team and is expected to address large groups of people.
"I've become much more self-confident, I trust myself more and I'm much better at my job. It's quite unbelievable to think this is only my first proper job", says Morten Skov Nielsen, who keeps working at the conveyor belt of the parcel facility.
From outsider to employee
He was among those who struggle to enter the labour market, and who as a consequence become dependent on social benefits.
During the past few years, however, there has been a genuine effort in Denmark to get more people into the labour market. The Ministry of Social Welfare and The National Board of Social Services have launched a comprehensive campaign to get 'the remaining few' into the labour market under the banner "From outsider to employee". There is an acute labour shortage in
Denmark, and there has never been a better time to get more people into employment. The goal is to educate 10.000 leaders and employees by 2010 to embrace and look after social outsiders. 
Mentor
At the Copenhagen Pakkecenter we meet head of personnel Mads Smedegaard, and personnel consultant Annette Rodeck Michaelsen, who is also trained as a mentor. Her specific task is to get outsiders into the working environment.
Quite a few people with hearing difficulties work here, and we can see them getting ready down in the packing room for the
day's work. They are in fierce debate using sign language.
"We follow certain guidelines for how we treat and help people who work her. This is something we have to do as a state enterprise.
I've been looking into how we can accommodate people with hearing difficulties. We must have interpreters, and all those hard of hearing wear a vibrating telephone which we can use for communication. Other workers here also want to learn sign language  to communicate with those who cannot hear, which is a very positive thing", says Annette Rodeck Michaelsen.
"High 5"
While the group of people with hearing difficulties might be the most visible here, there are others,says Mads Smedegaard.
"We have people here who have never been in work before, or who have been placed here by the municipality. We also have a  group of young people called "High 5". They are all individuals who either have a criminal record or who run the risk of getting one. We cannot, however, accept anyone who has been convicted of theft. Some of these people start out as salaried trainees, others get paid by the municipality. It can be hard in the beginning for those who have never been in regular work before", says Mads Smedegaard.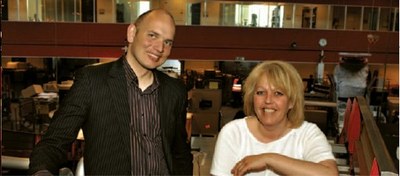 "We talk about their convictions when they arrive, and we follow it up - but not purely in a negative way", says Annette Rodeck Michaelsen.
"When they come here they're given a chance, which often makes them very keen. You should also expect good work from them, because that gives them self-respect.
If they cannot live up to those expectations, we cease co-operating. There have been times when people simply haven't been serious enough."
More support necessary
"We've been working with this since 2003, in a very systematic way. We have managed to keep some 75 % of the workforce, a relatively high figure. As of today,that number is probably down to 50 %. Of the 50 % who leave, we reckon 10 % will find a new job,while the rest will need help to find other employment.
"It's been hard to keep hold of people because of the low unemployment. It takes more effort to keep on board those who come here now than those we received before. It's important to be able to offer mentors to help those who whish to move on to other jobs.
"I also employ alcoholics, who get Antabuse from me", says Annette Rodeck Michaelsen.
"You almost enter a mothering role when some of your employees feel things get too tough. You need to help them move on", says Mads Smedegaard.
"I can give them a feeling of safety, but sometimes I'll also give them a kick up the backside", says Annette Rodeck Michaelsen.
Soon we see an example of the latter in the packing hall. One of the employees with a hearing problem is being read his rights, both in spoken and sign language.
It is all with the best of intentions, though, as his employers only want him to become a strong and stable colleague.
More 'social' work "Annette used to be helping out with mainly work-related issues", says Mads Smedegaard.
But now she also helps people find accommodation and child-care. It all looks more and more like social work.
"The municipality's employment clerks have a set number of people they need to get into the labour market. They started out with the easier ones, but now we're working with Matchgroup 4 - an altogether 'heavier' group of people. Still, we feel great loyalty from those who do start working. People with hearing difficulties are very stable, and thrive working in a 'hearing' workplace.
"The municipality funds our mentor programme. For us it makes economic sense to help people into work - we actually make money from this. We receive a range of subsidies to fund the specialist who help us get people into work", says Mads Smedegaard.
Dressing up the businesses
The Danish National Centre for Employment Initiatives (CABI) is responsible for educating some of the 10.000 businesses the government wants to embrace outsiders. Carsten Kjærgaard is their project leader.
"Our job is to 'dress up' the businesses by educating their workers in how to employ and look after social outsiders. We've reached Matchgroup 4, and the challenge to get them to stay in the labour market is greater than what has gone before. In the beginning you got those who were easily employable - i.e. Matchgroup 1 and 2 - but now we're at Matchgroup 4, which is an altogether harder group to keep in employment. However, over the past three years, we have managed to get 35.000 people into regular jobs, people who no longer need social benefits.
It looks like the good times are benefiting also the weaker groups in society.
"People retire early, and that lowers the threshold for those weaker groups to enter the labour market. Our experience tells us there are quite a few jobs for these groups out there", says Carsten.