The Nordic Council of Ministers' new Secretary General takes on responsibility for the Nordic cooperation as challenges are piling up – on security policy, the environment and the Nordic model itself. But she is an incurable optimist and believes the Nordic vision can be achieved.
Karen Ellemann's office at Nordens Hus in Copenhagen has turned into a small gallery.
"The paintings on the walls are by Icelandic artist  Þorlákur "Tolli" Kristinsson. I contacted Iceland's embassy here in Copenhagen because I want to showcase art from whatever country holds the Council Presidency that year," she says. 
The pictures are vibrating with colour combinations that you might not associate with the volcanic island, but that emerge from a combination of glaciers, lichen, moss and water reflections. Two large landscape motifs are veritable fireworks, and they match the Secretary General who has held the position for only six months and who is brimming with a strong work ethic. 
"I will be 54 in 14 days. The children have moved out and I am at my peak in terms of energy and motivation. I have the time and determination to take on what is truly a major task since the Nordic cooperation is so large and complex," she says. 

Karen Ellemann likes using her hands while she speaks.
But she brings a backpack full of experiences, and it is a roomy one. Few people have seen the Nordic cooperation from so many angles as her. Not only was she a Danish MP for 15 years and a delegate to the Nordic Council. As a government minister in various posts, she has met Nordic colleagues in the different councils of ministers. She has been Denmark's Minister of the Interior and Social Affairs twice, she has led both the Ministry of the Environment and the Ministry of Fisheries and has also served twice in the position of Minister for Nordic Cooperation. 
As if that was not enough – she has also been head of the Norden Association in Denmark. 
But it all really started way back at school in Søllerød, a Copenhagen suburb, when her year 5 class visited friendship classes in Haugesund in Norway, Ystad in Sweden and Ekenäs in Finland.
"I notice that we now have municipalities in Denmark who want to establish friendship municipalities in China. I struggle to see the benefit of this. First, you need to learn where you come from yourself," she says.
The school trips planted the first Nordic seed in Karen Ellemann and her parents made sure there were other trips around the Nordics too. She admits that she had studied the news from Nordens Hus for a while before she applied for the job – which in reality became available at an inopportune moment for her since she was also running for a new term in the Danish parliament. 
"But the dream to get this position has been there," she admits.  
As she took office on 1 January this year, she was cautious about making any programme statements because she wanted to get to know the organisation first – both the secretariat at Nordens Hus with its around 120 staff and key people on the Nordic Council. She also wanted to visit the many different Nordic organisations from major institutions like Nordforsk to smaller ones like the Nordic Institute on Åland.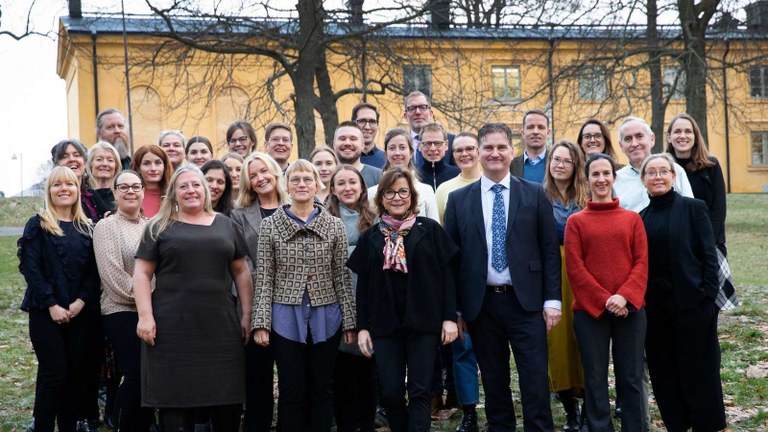 Karen Ellemann visiting Nordregio in Stockholm, one of the larger Nordic institutions. Photo: Martina Huber/norden.org
There has been intense travel both in the Nordic region and in the Baltics. She has taken part in democracy festivals and political meetings in addition to the many gatherings of the 12 different councils of ministers. When we meet her, she is getting ready for Arendalsuka in Norway, an annual political gathering akin to Sweden's Almedalsveckan on Gotland and the Danish Folkemødet on Bornholm.
"I am so proud and enthusiastic about our Nordic cooperation model in all its breadth! It has enormous power when everyone is pulling in the same direction. I have of course seen a lot of this before, but I was pleasantly surprised when I saw the full extent of the Nordic cooperation," she says. 
Iceland holds the Nordic Council of Ministers Presidency this year. The Icelandic Minister of the Labour Market Gudmundur Ingi Gudbrandsson is also the Minister for Nordic Cooperation and hence holds a key position. Karen Ellemann met him already back in January.
She has also taken over as Secretary General in a time when the challenges are bigger than in many decades. 
Despite her being impressed by the Nordic institutions and the cooperation, she is also very clear that some things could have been done differently – especially during the pandemic. 
"Other regions in Europe did not close their borders as we did in the Nordic region. A lot of Nordic citizens and border commuters were hit hard by this. Yet I am not sure what I would have done myself as a government minister in that situation – we were all scared. 
"Understanding the consequences these decisions had for our populations is a costly lesson. We must have more consideration for our Nordic neighbours when introducing comprehensive changes. I think a lot needs doing in terms of the labour market, border region commuting and more. We have a significant amount of work ahead of us here."
At the same time, there is a lot of willingness to find pragmatic solutions, for instance among parliamentarians.
"But then the parliamentarians' proposals meet legislation and civil servants. That is when we need to appeal to them to think Nordic to allow us to succeed in implementing the concrete solutions that benefit Nordic integration."
Karen Ellemann highlights the Nordic Freedom of Movement Council which has one representative from each country – often a former politician with some seniority. It assesses existing potential border barriers and proposes solutions. 
Which one issue would you like to be resolved during your time as Secretary General? 
Karen Ellemann gives this some thought and a little hesitantly starts talking about how Nordic payment solutions for mobile telephones – like Swish in Sweden, Vipps in Norway and Mobile Pay in Denmark – should work together. But then she asks if she can give the question some more thought. On our way to the airport, she texts her answer.
"When we talk about solving border barriers, there is one particular issue I feel is incredibly important, especially since it is a barrier that really affects many people and companies.
"That is why I have a clear ambition to make commuting within the Nordic region as unhindered by red tape as possible, both for the worker and the employer. And cross-border commuters should be able to work from home without it having consequences for the amount of tax they pay – just like it is for everybody else."
Border commuting between Nordic countries lags behind that between other EU countries, as we write about elsewhere in this edition.
But back to Ellemann's office, where we switch themes to the new security policy situation in the wake of Finland's Nato membership and Sweden's probable membership. 
"This is a time of several crises where our security is being challenged, not least because of Russia's invasion of Ukraine. We do not cooperate on guns and bullets at the Nordic Council of Ministers, but the sense of community that we help create in the Nordic region is very important," she says.
Nordens Hus houses both the secretariat for the Nordic Council of Ministers, which represents the governments, and the secretariat for the Nordic Council, which represents the parliamentarians. In early summer, the Nordic Council launched an initiative to revise the 1962 Helsinki Treaty, something which many had wanted to see for a long time. The Treaty is often called "the constitution" of the Nordic cooperation. It is 27 years since the Treaty was last revised, back in 1996, when Finland and Sweden had joined the EU.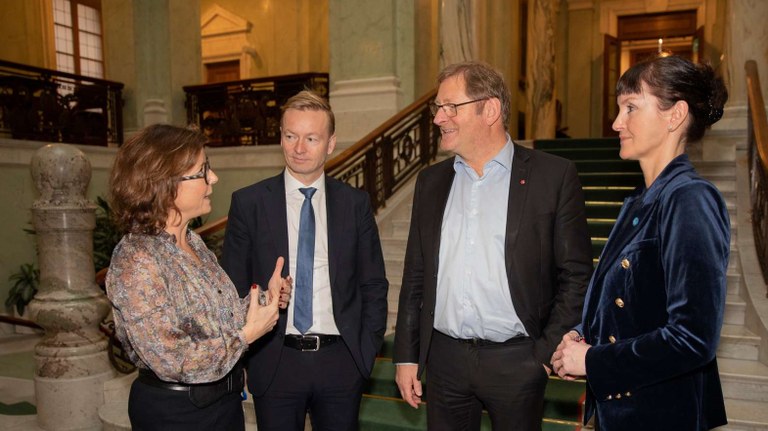 Karen Ellemann meeting the Nordic Council Presidium, with President Jorodd Asphjell to the right and Vice-President Helge Orten to the left. To the far right is Kristina Háfoss, Secretary General for the Nordic Council Secretariat. Photo: Martina Huber/norden.org
A working group has been established to "investigate the need to update the Helsinki Treaty and to specify which areas may need to be updated. The objective is to ensure that the Helsinki Treaty serves as the best possible framework for stronger Nordic cooperation now and in the future. The working group must assess the need to include any new policy areas in the treaty such as security, emergency preparedness, and defence and foreign policy." 
"I do not believe there is any merit in establishing a separate council of ministers for defence issues. That is already being taken care of by Nordefco [the Nordic Defence Cooperation], and this does not change because of the security policy situation," says Karen Ellemann.
It is clear that she believes guns and bullets are not an issue for the Nordic Council of Ministers. But the invasion of Ukraine has many other consequences besides the military ones.
"The wave of refugees created by the war reached the Nordic region quickly. So far, it has been handled in an exemplary manner by the Nordic countries," she says. 
"The war has also led to a clear sense of togetherness since there is a very obvious external enemy."
In the Nordic region today, only people who have turned 80 have any personal recollections of WWII.
"The war is also creating stronger bonds with the Baltic countries, where there are much fresher memories of living without freedom. We also have to start thinking about what should happen after the war is over and how we rebuild Ukraine," she says. 
This summer, climate change has also made its presence felt in frightening ways. The evening before the Nordic Labour Journal was to fly from Oslo to Copenhagen, authorities published emergency warnings for the extreme weather Hans, linked to a loud alarm signal. Norway was split in two since all rail and road links between Oslo and Trondheim were cut. Rivers breached their banks, landslides carried with them houses and thousands of people were evacuated. 
"This should at least lead to fewer climate sceptics," says Karen Ellemann.
The last two aims in the ambitious Nordic vision to be the world's greenest, competitive and socially sustainable region by 2030 look reachable. But becoming the greenest region might be harder to achieve, according to a new report from the Nordic Council of Ministers. It says:
"It is obvious that greenhouse gas emissions, including consumption-based emissions, are still too high. The Nordic Region also faces significant challenges in terms of greenhouse gas intensity and material footprint. With regard to the latter, the trend is actually moving in the wrong direction – even more so than in comparable countries. 
How does Karen Ellemann herself consider the likelihood of reaching the green goals?
"I am an optimist at the end of the day. I believe our countries will manage this. The aims are ambitious, but at the same time it is completely necessary to reach these goals." 
Karen Ellemann underlines that the Nordic Council of Ministers' role is first and foremost to make sure there is solid research that can be presented in a way that is both concrete and understandable for citizens. 
"One example that really created a lot of debate in the early summer, was the report published by the Council of Ministers containing the Nordic nutrition recommendations.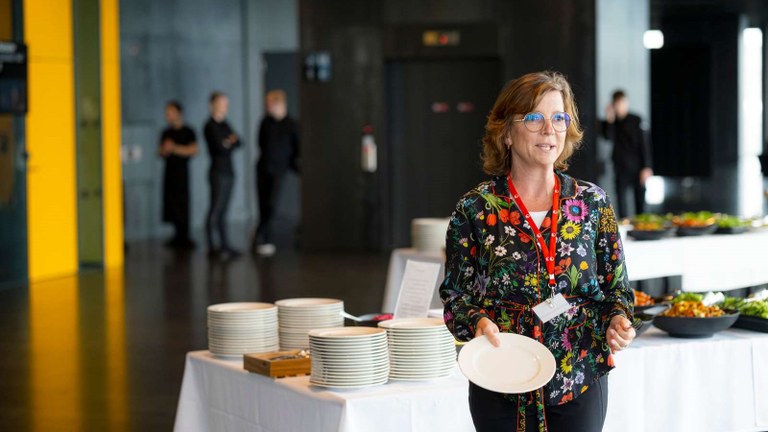 Karen Ellemann at a lunch break during the presentation of the Nordic nutrition recommendations. Photo: Kjartan Torbjörnsson
The photographer next to me laughs a little at this.
"I have a meat-eating husband and children," she explains. 
Karen Ellemann underlines that she is neither vegan nor vegetarian.
"But I also know, thanks to solid research and my own common sense, that what I put in my mouth matters. You only have to look at the connection between eating meat with a high fat content and bowel cancer. But this is also about eating things that have been produced in a certain area. For the first time, as a matter of fact, we have produced research that says something about the size of the carbon footprint and the climate impact of what we eat."
But is there not a risk that the Council of Ministers ends up pointing fingers and telling others what to do? 
"There is a risk that the Nordic Council of Ministers is seen as a nanny. This is a role that I really do not want to inhabit, but I insist that we live in enlightened societies and that we shall help member countries access the best possible research and that researchers can work on what recommendations to present to the public. After all, we don't tell the countries that they have to tell their citizens to become vegans – that would never cross my mind!
"But when you go food shopping for your own and your family's consumption, it should be easy to see whether an item is "locally produced" or not. The Nordic Swan Ecolabel is an excellent example of how you can find practical solutions. It has spread so much that you can now check in at a Swan-labelled hotel. It should not be easy to obtain a Swan label, but it is easy to choose."
What is damaging to the environment also changes constantly. Karen Ellemann mentions Iceland as an example, where exotic vegetables are grown in greenhouses heated with geothermal energy. 
"We cannot point to agriculture and say that they are the bad guys. On the contrary, they are the ones who will contribute to finding solutions. There is a lot that can be done in terms of the quantity, quality and what type of produce is being grown."
 But do people really care about the Nordic vision, or do they mainly care about what is happening in their home country? This summer saw the publication of a report that showed how Norwegians use 130 plastic carrier bags per person per year. In Sweden and Denmark, that number is around 30.
"I really love that kind of competition between the Nordic countries!" exclaims Karen Ellemann. 
"But in order to compete, you also need comparable statistics. That is when you can start talking about why Denmark and Sweden, like in this instance, succeed and why Norway lags behind."
A report from Nordic Energy Research published in March highlights that long processing times are the biggest challenge to reaching renewable energy goals.
What is your view on the dilemma that quick development processes can undermine the democratic process?
"I absolutely do not think we should compromise on the democratic process. We have to achieve the goals while bringing the citizens with us through the green transition."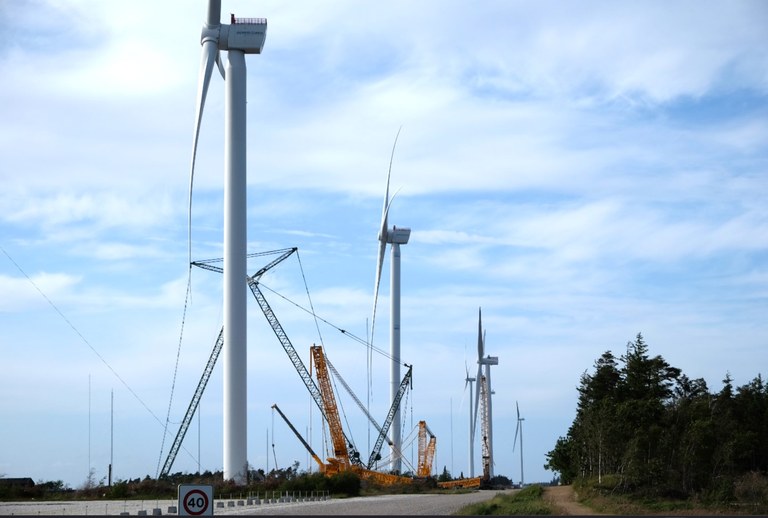 Østerild Test Centre was inaugurated in October 2012. The centre was expanded in 2019 and now fits nine wind turbines at a time Photo: Fredrik Clement. 
"But sometimes, of course, politicians have to make difficult decisions. I still have political bruises after I gave the green light as Minister for the Environment for the construction of a test centre for offshore wind, which impacted the Østerild nature reserve. But today, that site is a state-of-the-art test centre which the locals are proud of."