Major General Kristin Lund from Norway is the UN's first female commander of a peacekeeping force. She believes there will be a female commander-in-chief in one of the Nordic countries within four years.
"But there are no shortcuts. It takes the same amount of time to become a general or admiral whether you're a woman or a man," she says.
On 12 May 2014 the UN Secretary-General Ban Ki-moon announced that Kristin Lund would be leading the UN peacekeeping force UNFICYP from 13 August that year. He praised Kristin Lund's 34 year long career in the Norwegian armed forces and her international experiences from the UN's peacekeeping mission in Libanon, from Saudi Arabia where she served during Operation Desert Storm in 1991 and at the NATO headquarters for the ISAF force in Afghanistan.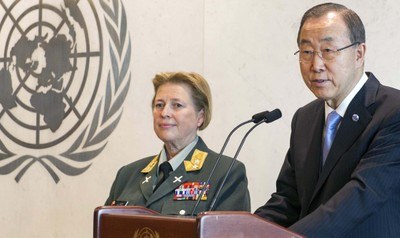 Was it a coincidence that Cyprus was the first place to get a female commander of one of the UN's peacekeeping missions?
"I think it was a coincidence that it was Cyprus, since you must wait for a position to become vacant. But there have been female UN soldiers in Cyprus since 1964. UNFICYP has been the largest Swedish operation, with a total of 28.000 Swedish soldiers serving here.
"It was not a coincidence that it was a Scandinavian female commander, however. Scandinavians had female UN soldiers very early on, and not many countries have women who have climbed so high in the hierarchy. There are no shortcuts if you want more female commanders for the UN missions.
"The UN's decision-making bodies are often male-heavy at the top. But 50 percent of the world's population is women and it is important that they too are included in order to achieve comprehensive peace agreements."
What has been your greatest challenge during your stint as the UNFICYP commander?
"Militarily this has not been the greatest of challenges, since it has been so peaceful. But everything you do quickly becomes political, and this is a small place. A tiny issue quickly turns into something which ends up on my desk. In the military you differentiate between different levels, like the tactical, operational and strategic level. Here, the differences between those levels has been more fluid. Everything you do is being noticed.
"Personally I have been made very welcome and I only have positive experiences. Apart from me there is one female civilian commander and a senior advisor from Canada who is also a woman. So I am not the only one, because three quarters of the leadership here are women. 
"As a woman in the armed forces you are not used to having so many women around you. But all of us female bosses have experienced how to work our way up in male-dominated environments, so we share a lot of the same experiences."
All in all, UNFICYP comprises 1,075 people, some 900 of them are UN soldiers. A total of 45 different countries contribute with military and civilian personnel. Argentina and the UK have the largest numbers of soldiers.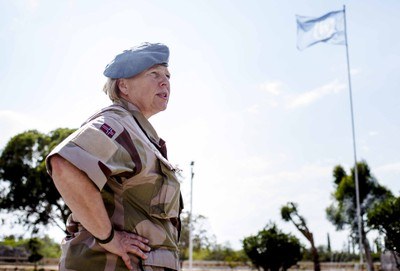 Out of the 900 soldiers, six percent are women. The UN peacekeeping average is 3 percent. The police force UNPOL has 16 percent women, and the average is 10 percent. 
What can you do as a woman that a man cannot do?
"In certain cultures being a woman means I have access to 100 percent of the population, while a man has only access to 50 percent. That is an important difference. Since we represent the UN, it is also fairly important to reflect what the UN stands for when it comes to issues like gender equality. 
"90 percent of the UNFICYP military staff are professional soldiers. We no longer have 'reservists' as we call them, with a different professional background and no connection to a unit. The reservists we do have, come from and have trained with a unit in their home country.
"I think it is a bit of a shame that we don't have more reservists since they have a life experience which can be useful when you work for a peacekeeping mission. Professional soldiers who come to Cyprus after serving in Iraq or Afghanistan need a bit of 'rebalancing'. Conditions here are different."
Could you give us some examples of situations where you have been forced to intervene?
"It could be people who illegally go into the buffer zones, for instance to hunt. We also have problems with people trapping migratory birds in nets. Mostly these are isolated cases. We have a very good relationship with the military forces and we usually sort out problems in a good way. But the military leaders on the Greek and Turkish sides never speak directly with each other. Everything goes through us."
How does geopolitical developments affect the local situation?
"Anything that happens in the Middle East can have an impact on Cyprus too. Luckily, so far we have had few challenges with refugees, but when Europe closes her borders it is not hard to envisage refugees turning to Cyprus as an alternative. It is close to countries like Syria both culturally, gastronomically and in terms of weather.  
"We are also worried about a terror attack like the ones in Paris or Tunisia. So far it has not happened, but we have had to disarm bombs and you cannot afford to be naive."
What do you do to ease the tension?
"We support various inter-communal events, like football matches between Greek Cypriots and Turkish Cypriots. The car race the Cyprus Rally has also been held for the first time on both the Greek and the Turkish sides. The rally cars even drove through the buffer zone. 
"We also play a part during religious events, and we pay attention to what happens in the northern enclaves, where both Greek Cypriots and Maronites live. 
Will Cyprus ever see a peace agreement?
"I believe there is a chance, but it is up to the people who live here. This is a country which has everything; lovely beaches, arable land and mountains where you can go skiing parts of the year. Young people deserve to grow up in a country without thousands of landmines."
How long before there is a female commander-in-chief in a Nordic country?
"I think there will be a female commander-in-chief in Norway in four years – at least I hope there will be female candidates when a new commander-in-chief is to be appointed. I am too old to apply and very happy with what I have achieved. 
"I want to live my life, too, and I have done what I can to prepare the way for women in the armed forces."