Norway's new Minister of Labour, Hanne Bjurstrøm, wants to sort out the Norwegian Labour and Welfare Administration, find efficient systems to deal with social dumping and help more people with reduced work capacity. Her vision: to help anyone who is able to do some work get out of being passive recipients of state support. To do that she needs the support of companies.
It's been four months since Hanne Bjurstrøm was appointed Norway's new Minister of Labour, just a couple of months into Jens Stoltenberg's second coalition government. 
The Prime Minister was so eager to have her as his Minister of Labour that he got a temporary replacement while she finished her role as Norway's head of negotiations at the UN climate summit in Copenhagen. Another government minister took on the Labour portfolio while Hanne Bjurstrøm was appointed government minister and chief climate negotiator. Since 2007 she had been Norway's head of climate negotiations at the UN climate summits and a special advisor at the Ministry of the Environment. 
"We didn't reach any binding agreements. We knew that, but it was very nice to be able to finish the Copenhagen negotiations," says Hanne Bjurstrøm.
The press release following her appointment reads: "She was born in 1960, trained as a lawyer and has held a range of positions in the central administration and in local Oslo politics."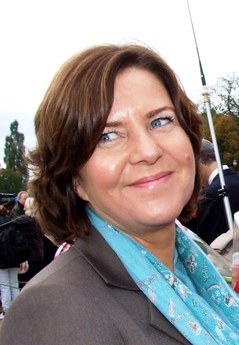 So what made her so attractive for the job as Minister of Labour that the Prime Minister took the unusual step to postpone the appointment? The job gives her responsibility for the entire welfare reform and more, and the Prime Minister has earlier awarded the position to male heavyweight politicians within the Labour Party. 
"My broad background and experience from many different environments is important for this job. Experience from negotiations is no drawback either. I have been criticised in the past for changing jobs too often, but now that has become an advantage," says Hanne Bjurstrøm in her direct and somewhat unassuming manner. 
Hanne Bjurstrøm is known to be attentive and open, listening to arguments before drawing conclusions. Skills which come in very handy if you want to be a good negotiator, and handy too for a labour minister when labour and welfare policies are facing considerable changes. 
No longer ill or healthy
The Prime Minister used his new year's speech to underline that employment is one of the main priorities for his government. He pointed out that "each other's work and each other's knowledge is what we have got to live off in the future". He is encouraging debate online about ways of stopping people from falling outside of the labour market and how to increase available man power.
One way forward, says the Minister of Labour, is to get rid of the labour market division where people are either in full time work or not employed at all. It should be possible to be a bit ill, as reflected in the new sick leave agreement, you can be a little bit retired, like the new pension reform allows you to and you should be able to hold down an ordinary job with reduced hours if your work capacity is slightly reduced. Hanne Bjurstrøm's vision is to make all this reality. She is in charge of the Norwegian Labour and Welfare Administration (NAV), and NAV is the tool she has at her disposal - along with the tripartite agreement on a more inclusive working life (the IA agreement). The IA agreement sets out three goals: reduce sick leave, include more people with reduced work capacity and get older people to stay in the labour market for longer. So far there has been some success with the latter, while sick leave figures and the number of outsiders have not changed since the first agreement from 2001.
Right now the focus is on social dumping - a threat to Norwegian working life, says Hanne Bjurstrøm.
Wants to fight social dumping
"When foreign workers are paid less and also must work under worse conditions than their Norwegian colleagues it is not only bad for the workers, but also for serious employers who are being undermined by employers cutting corners. We are working on this right now, not only by mapping the problem but by finding ways of doing something about it."
The government minister wants to extend the ID card scheme which was introduced to the building industry in 2008. There is currently a public consultation on a proposal for ID cards for the cleaning industry.
"The ID card scheme is funded in the tripartite agreement, and it is an important tool in the work to prevent temporary and foreign staff being paid less. Both the industry partners and the Norwegian Labour Inspection Authority consider the scheme to be a success. It has secured order within the industry, partly because employers must register workers who are given ID cards. 
"We are now looking at the hotel and restaurant industry, and later it might be interesting to look at even more sectors," says Hanne Bjurstrøm.
Fighting social dumping is clearly a task she has taken to heart. But she thinks problems must be solved first and foremost in the labour market - authorities should concentrate on providing the framework. One of the most important ways to fight social dumping is to increase union membership. 
"High levels of trade union membership is a guarantee against unprofessional conditions, but the parties in the labour market are the ones who must make sure this happens," she says.
Proud of NAV
NAV is the largest welfare reform in modern times in Norway. It has received extensive media coverage and a lot of criticism. So far this year the reform has featured in 2,979 smaller and bigger newspaper articles. Since joining the government, Hanne Bjurstrøm has been mentioned 469 times in relation to NAV. 
The Minister of Labour manages one third of the entire national budget though NAV, spending it on unemployment benefit, vocational rehabilitation, pensions, child benefit and cash benefit for parents. NAV's customer base is the entire population and employs some 17,000 people. That's why NAV is the greatest challenge to any minister in charge of labour and welfare policies. Her baptism of fire came with criticism from the Office of the Auditor General and a parliamentary hearing.
"NAV has met a lot of criticism," she admits. 
"What worries me most is delays in official procedures. I worry for all those who must wait much too long for the money they need to live," she says.
She's right to worry. Even if the number of cases in arrears has decreased there are still some 24,000 people who have been waiting for longer than the estimated procedure time. 
"But we are proud to have implemented such a major reform. All countries need to reform their welfare systems, and we have done it. But I don't think I would advise others to do it as fast as we did."
Now that there are NAV offices across the nation, her main concern is the content of the reform. The challenge is to find a good offer for every person who has fallen outside the labour market. 
"Our sick leave numbers are too high, and the rules on disability benefits are too lax. We cannot continue like this," she says sternly.
"At the same time people have very different needs. That's why we want individually tailored activity plans with education or work training to help people back to work."
The government has launched the qualification programme which helps tailor activity plans, and starting 1 March 2010 there is a new benefit called work clarification money which replaces rehabilitation benefits, vocational rehabilitation money and time limited disability benefits. The aim is to activate people and reduce the number of outsiders.
Employers wanted
"Threre are 98,000 people with reduced work capacity who want to join the labour market. They are very different individuals with different problems. Some need an adjusted workplace. Some will, with a bit of support, function well in an ordinary job," says Hanne Bjurstrøm. To make this happen, she adds, she needs help from the employers. 
"We have seen that the transition from training to working life can be difficult when the training happens isolated from working life.
"Another way of doing it is to compensate the employer for including people with reduced work capacity in ordinary working environments, and possibly also pay for training in the work place. 
"In Norway there are 3,000 people working on unlimited term wage subsidies. In Denmark there are 40,000. I believe we can use more unlimited term wage subsidies rather than relying solely on measures outside of working life," says Hanne Bjurstrøm.
She is currently working on a employment strategy which would include more people with physical handicaps. She wants to develop the strategy in cooperation with both the users and employers. 
"Companies themselves must help getting more people into work. They must tell me what we need to do to manage this task. What we need here is a tailored working life for people with different work capacity."  
And her vision?
"My dream is for people to stop being passive recipients of state benefits, and for that money to be used to secure their active participation in working life," says Minister of Labour Hanne Bjurstrøm.