"Yes, 4x4s are very much status symbols here," he replies smiling and with a sense of self-mockery. We have just climbed aboard a huge Land Rover and are driving off with a panoramic view into a wet landscape.
"They let you get over the terrain much more easily, it makes you less dependent on good roads. I often go on camping trips with the family at weekends. It's nice to be able to drive to places that are off the beaten track. I'm not a townie by any stretch of the imagination."
When he's not watching football or getting engrossed in Icelandic history, Gissur Petursson likes to recharge his batteries amongst the wonders of nature. The first impression you get of the Icelandic interior as a barren, stony landscape formed by the movement of lava and interspersed by dramatic cracks caused by earthquakes, does not tell the whole truth, he claims. There are many beautiful green areas to stop at, beautiful places you can visit and rivers where you can do some excellent fishing.
Forestry is the next thing on his private agenda. The Icelandic Ministry of Agriculture has initiated a major campaign to persuade farmers to move from unproductive farming to forestry. The idea is that tree planting and breeding will generate a new industry for the future.
Gissur Petursson agrees. Land on the family farm in Østlandet, where they spend their holidays, is to be given over to forestry. He believes that in 30 years' time the farm will be able to provide enough work and income to live off. That's all for the future. At the moment, it's all about big cars and status symbols, and that worries him. Imports of four-wheel drive vehicles and other luxury goods are making the economy unstable. In the last couple of years, private consumption has increased exponentially. Society has been gripped by a sort of fisherman's mentality - quick money and high consumption. Consumerism has reached such a level that young people leave school before they have finished higher education so that they be part of the spending spree.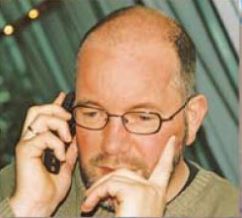 "Many more young people in Iceland leave the education system at an early stage than in the rest of the Nordic region," he says.
Those that don't leave usually take a job on the side. With a labour market that is crying out for workers and the lowest level of unemployment in the world, it is easy to be fooled into short-term thinking. Skills and expertise are nevertheless the keys to the future, not least in Iceland where reliance on fishing is far too high. The director of labour has taken this challenge seriously by instituting a scheme to give a second chance to young people who have left school too early and others who have fallen foul of the education system. Production schools, based on a system operated in Denmark, are a combination of school and vocational training, providing a new focus to raise skills levels.
The labour director's office is reminiscent of the bridge of a ship, with a half-moon shaped glass wall facing out into the harbour.
"A few days ago, the harbour was packed with fishing boats," he says and points to the empty quayside. "The fishermen were on strike. The situation was so deadlocked that the government had to resort to legal action and bring in an arbitrator. The fishermen wanted a bigger share of the profits from he sale of quotas. There was also a protest against attempts to end the old share system and make fishermen ordinary wage earners."
For a country that derives 70 percent of its export income from fisheries, the term 'fishing quota' has a special and controversial meaning he explains. On the one hand, quota provisions have led to improved resource management, whilst on the other the system has become deeply unfair. The purchase and sale of quotas has led to ownership of resources in the sea being concentrated in the hands of the few.
On the day in 1984 when the quotas were originally allocated, the lucky owners of boats weighing over 10 tonnes that had been fishing for three years were the participants in the new system. Today, they are fewer, bigger and even more important. They own the entire chain from trawler to factory, from catch to sale of the finished product. They have the power of life and death over local communities, and can influence the welfare of society as a whole.
Gissur Petursson is not totally enthusiastic about the quota system. He does not think it is right that anyone has sole rights to commercial exploitation of such important natural resources. He has the responsibility of taking action when natural resource managers do not show social responsibility, and it happens.
If just one of these bigwigs decides that he wants to spend the rest of his days in a warmer climate, selling his quota and, perhaps, his factory in order to ensure that he can live the remainder of his life in the lap of luxury, the entire local community may go into terminal decline. This trend has been a contributory factor in the migration of people to the capital city. Of a population of 280 000, 170 000 people currently live in Reykjavik and the surrounding area. The capital itself has a population of 110 000, making it almost a state within a state.
"Is it true that most Icelanders hold down two or three jobs"?
"I think that's just one of those urban myths, but it is true that many people put in a lot of overtime. In a small country such as ours, it is absolutely essential that everybody contributes to the smooth operation of society. This is done through an enormous amount of voluntary effort. Almost everybody has voluntary commitments in one field of society or another, particularly in the area of culture, be it theatre, music, sport, education or politics."
In his youth, Petursson was very involved in politics and is still a member of the Centre Party, like the cabinet minister he works for. The Icelandic Department of Labour is part of the Ministry of Social Security.
Petursson has headed up the Directorate of Labour since 1997, when Icelandic politicians took the decision to amend the country's unemployment insurance act and integrate services such as welfare payments, registration and job agencies into a single department. At the same time, responsibility for these items was taken away from the municipalities and given to the state. In sharp contrast to the prevailing trend, this centralised the labour market authorities. Regional offices were set up to deal with local problems. There are currently 8 regional offices, of which 3 have sub-offices. In places too small to have their own office, service agreements have been drawn up in conjunction with unions and municipalities; 60-70 associated service contracts are now in force.
"The change has been a great success," claims Petursson.
Of course, an economic upturn and low levels of unemployment in recent years have helped a lot. However, last winter there were problems.
"Many of our local communities are very vulnerable to change. A fish processing factory in Vestmannaeyjar burned to the ground and a shrimp factory in Bolungarvik went into liquidation. Around 1000-1500 people live in  Bolungarvik, and the bankruptcy of the factory meant 10-12% unemployment for the town. The regional office were on the spot immediately, in order to ensure that welfare payments were made and that measures to help those affected were implemented. It now looks as though the factory will start up again, but until then people must have something to do. Intermediate measures such as running truck driving courses or courses in joinery and cookery will ensure that people do not leave the town. The municipality also asked for support to employ people. It received a daily allowance to employ people in jobs for that would otherwise not be funded. It is in situations like this that we realise that the restructuring has worked," he says.
'At the service of working life' is the slogan he wants to permeate through the whole department:
"We have developed good and strong relationships with working life. We visit businesses throughout the country on a regular basis, prepare overviews of the situation and follow developments closely. Whenever anything happens,we must be there - at the service of working life."